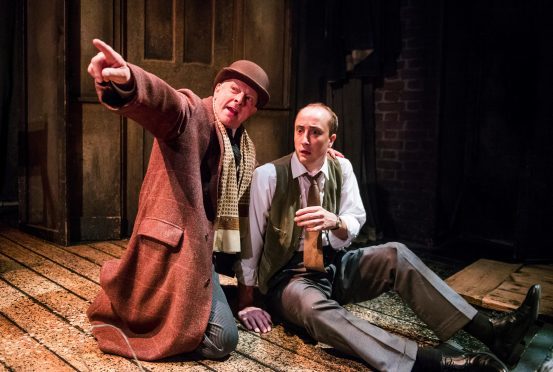 Having been promised a night described as "the most terrifying live theatre experience in the world" it was with some degree of trepidation that I took my seat at The Woman in Black, which is enjoying a week-long run at Eden Court Theatre in Inverness.
The set was pretty bare, dressed with just a couple of chairs, a wicker basket and a coat rack, yet the drab backdrop, curtains and lighting created an air of eeriness.
Slowly, Arthur Kipps (David Acton), a nervy, elderly solicitor, walked on to the set, clutching closely a manuscript which he opened and began reading out a sentence beginning: "It was 9.30 on Christmas Eve…"
In a voice barely above a whisper, he repeated the opening line several times until, from the back of the auditorium, a booming voice yelled for him to speak up, giving us our first fright of the night.
Susan Hill's famous ghost story is really that, an old-fashioned story of strange goings-on in a house that's said to be haunted.
It tells the tale of Arthur Kipps, a solicitor determined to find a way of telling his family and friends his strange life story as he believes he has been cursed by a woman in black.
In order for him to tell his tale properly, he engages the help of a young actor played by Matthew Spencer.
The first half hour of the play, which has been adapted from Hill's book by writer Stephen Mallatratt, is rather slow paced, but prepares the audience for what lies ahead which is quite a complicated plot and a play within a play.
The action switches rapidly between the actor and old Mr Kipps, and both of them playing different characters as they re-enact scenes from Kipps's earlier life, including his ghostly encounters.
Surprisingly, the dialogue between the two was often amusing, and for the first half of the play, which has been running in London's West End for 30 years, there were more laughs than screams to be enjoyed.
But as the action switched to spooky Eel Marsh House where young Kipps was going through papers belonging to the late Alice Drablow, a woman viewed with suspicion by locals, strange events began to unfold.
Sounds of a woman screaming, doors banging, an empty rocking chair moving by itself, a child's music box playing without being touched, strange mists and moaning winds, all created an air of tension, rather than one which was terrifying.
What was outstanding, and could not be faulted, was the performance delivered by Matthew Spencer and David Acton.
They made switching between the different characters seem effortless, while they superbly delivered dialogues which were often long but allowed the story, which at its heart is a sad tale, to be told.
Having already delighted Aberdeen audiences earlier this year, The Woman in Black is at Eden Court until Saturday, with performances nightly at 8pm and matinees on Thursday and Saturday.