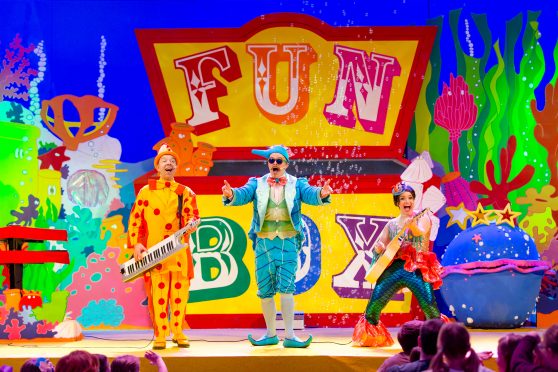 Kelp by boab! Funbox has brought its latest show, Underwater Adventure to Eden Court.
If you've little ones to entertain, it's worth splashing out on a ticket. And if you think these sea-themed  puns are cheesy, then just wait to you see the show!.
It's noisy, it's fun, and hugely entertaining,  with just the right balance of puns, songs and dancing to keep  adults and children  entertained.
.
The Funbox trio, Anya the mermaid, Gary the keyboard, trombone and accordion playing starfish, and Kevin the gag-a-minute sea horse, are all former members of The Singing Kettle, and two  years ago they , started their own children's theatre company.
They are masters of their craft but they were almost up-staged by Bonzo, an eight-foot tall dog who loves swimming and delivered some of the funniest rude jokes, while Shelby a giant clam, complete with sparkling  pearl, American accent and insatiable appetite was equally watchable.
But for sheer  'aww' factor you can't beat a bit of audience participation and twice during the show, six youngsters were invited on-stage to join in the fun.
Their interaction with the little ones generated lots of laughs while the look on the kids faces when they returned to the stage dressed in seagull, clown fish. starfish, lobster and shark costumes generated pure joy.
Packed with favourite songs such as Hole at the Bottom of the Sea and My Father went to Sea, Sea Sea, along with lots of opportunities to take part in action songs, shout and cheer, it really is an excellent show for families with youngsters.
Underwater Adventure with Funbox is at Eden Court Theatre, Inverness today with two performances at the venue tomorrow, Sunday, October 1.
The company will present another show, Highland Fling, In Elgin, Wick and Oban in October.