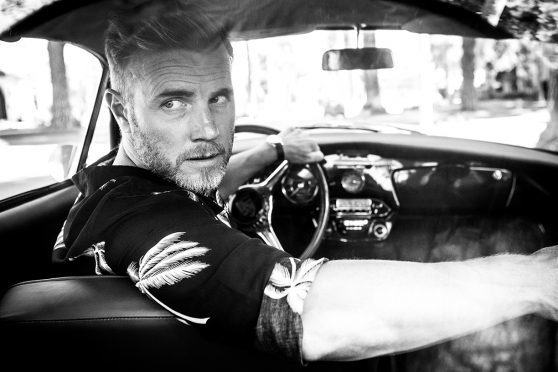 2018 is shaping up to be filled with some amazing events.
We look ahead to some of the biggest acts heading to Aberdeen in the new year.
JANUARY
BURNS NIGHT
Head to the Beach Ballroom for a Burns Ceilidh on January 26 and 27. Doors open at 7.30pm and tickets are £35, which includes haggis, neeps and tatties, raspberry cranachan and coffee. If you would like to register your interest or reserve a place, call the Beach Ballroom on 01224 647647.
FEBRUARY
MORRISSEY
On February 16, the controversial music artist will be visiting the AECC. A household name as The Smiths' frontman, Morrissey's new album Lonely In High School is the star's first album since 2014.
SHREK THE MUSICAL
Based on the story and characters from the DreamWorks Animation film, the spectacular production will enchant all ages. Running from February 28 to March 11 at HM Theatre, audiences will love the hilarious all-singing and all-dancing production. See www.aberdeen
performingarts.com/events/shrek-the-musical
MARCH
ED BYRNE
Spoiler Alert is Ed's new show, but he had originally wanted to call it I'll Millennial You in a Minute.
Go along to the Tivoli Theatre on March 13 and 14 to watch Ed as he discusses life and if we have the right to complain about the world.
His television credits include Mock The Week and Live At The Apollo, among many other shows. See www.aberdeenperformingarts.com/events/ed-byrne-spoiler-alert
APRIL
GARY BARLOW
The singing sensation hits the AECC on April 21 on his solo tour with more than 33 dates in 24 intimate venues. The British singer and songwriter has written 14 number one singles in his career and makes an exciting addition to the calendar. See www.aecc.co.uk/events/gary-barlow/
MAY
DISNEY ON ICE
Worlds of Enchantment is non-stop fun in the dazzling world of Disney magic. Watch your favourite characters as they step out on the ice with high-speed stunts from Lightning McQueen and dive into the underwater kingdom with The Little Mermaid. The Toy Story gang go on an exciting adventure and take a trip to the chilly world of Arendelle with Anna and Elsa.
Disney on Ice: Worlds of Enchantment visits the AECC from May 2 to 6. See www.aberdeenperformingarts.com/events/disney-on-ice-worlds-of-enchantment
JUNE
MICHAEL MCINTYRE
One of Britain's biggest comedians, Michael will be stopping off in Aberdeen this summer as part of his Big World Tour.
Hitting the Granite City on June 12 and 13, the floppy-haired comedian previously sold out to Aberdeen crowds when he visited in 2015. See www.aecc.co.uk/events/michael-mcintyre/
JULY
LITTLE MIX
One of the huge highlights of 2018, Little Mix will be playing outdoors at the AECC this summer as part of their The Summer Hits Tour 2018.
On July 28, the girls will perform some of their greatest hits in the purpose-built outdoor arena after already visiting the city during their last two tours. See www.aecc.co.uk/events/little-mix-outdoors-aecc/
AUGUST
IRON MAIDEN
Following the success of their 2016-2017 global tour, Iron Maiden are taking to the road again in the Legacy of the Beast World Tour.
Inspired by their mobile game and comic book, the stage design will feature a number of different worlds with a set list covering a large selection of material.
The group will be in Aberdeen on August 4. See www.aecc.co.uk/events/iron-maiden
SEPTEMBER
RUMPELSTILTSKIN
It is a fairytale many of us have grown up with, but now we will get the chance to see it come alive on the stage at HM Theatre. Directed by Liv Lorent and retold by poet laureate Carol Ann Duffy, the score is by Doctor Who composer Murray Gold and the costumes by Michele Clapton, of Game of Thrones.
Dance theatre for 21st-century audiences, the emotionally rich fairytale will enchant you on September 28 and 29.
OCTOBER
EVITA
Following its smash-hit runs in London, Evita is thrilling audiences once again across the UK.
Eva Peron journeys from humble beginnings. The wife of former Argentine dictator Juan Peron, she reaches an iconic status. From October 16 to 20, see the famous musical at HM Theatre, www.aberdeenperformingarts.com/events/evita
NOVEMBER
JEKYLL AND HYDE
The tale of Jekyll and Hyde will come to life at Aberdeen Arts Centre from November 14 to 18.
An evocative tale with a dark secret, the production depicts the battle between good and evil. Dr Henry Jekyll seeks to cure his father's mental illness, but along the way he unwittingly unleashes his own dark side which wrecks havoc on the streets of Victorian London. See www.aberdeenperformingarts.com/events/jekyll-hyde-398488
DECEMBER
DEACON BLUE
Founded in Glasgow, the band hit the headlines 29 years ago with their debut album Raintown. Since then they have had a string of bestsellers and continue to entertain new and old fans.
This December 18, they will be at the AECC as part of a major UK tour. See www.aberdeenperformingarts.com/events/deacon-blue-398724