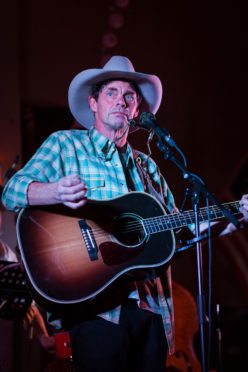 Susan Welsh saw Rich Hall at Eden Court, Inverness
According to American comedian Rich Hall, Inverness is the jewel in Scotland's crown, and those in showbiz say you visit the city to play Eden Court twice in your life…once on the way up, once on the way down.
This was, he admitted, his second visit.
The tall, crotchety comic was in the Highland capital as part of his Hoedown tour. Last week he played Las Vegas, last night it was Inverness.
"You can tell from that how the tour is going," he said with a deadpan expression.
Within minutes of taking to the stage of the packed theatre, he'd let loose with both barrels – taking careful aim at Donald Trump who he described as being similar to "an orangutan with a bad comb-over."
During the first half of his show, the man from Montana delivered laugh after laugh in his trademark grouchy style. While President Trump, America's gun rules and Brexit figured largely, one of the biggest laughs of the night came after he turned his attention to local issues.
This week's story about about a man keeping owl heads in a jar became comedy gold in his hands, as did death announcements where it seemed, here, people only die peacefully or suddenly.
The second half of the show saw the straight-talking comedian, who has previously won both a Perrier (Edinburgh Comedy Festival) and a Barry (Melbourne International Comedy Festival) Award, show off his musical skills.
Joined on stage by a guitarist and drummer, he sang a selection of country and western-style songs, many of them improvised on the spot, using information provided by some front-row audience members.
Laugh-out-loud funny, the songs covered everything from the difficulty of writing love songs for Scottish girls when they came from places like Ecclefechan, Ballachulish and Hawick, to tricking greyhounds into thinking they were chasing rabbits when it's really a bit of fur on a stick.
Clearly at ease on the stage and enjoying creating unique comedy – he show changes everywhere he plays – the evening ended with a very funny homage to Bob Dylan which suggested he should have hung up his harmonica years ago.
Rich Hall plays the Bowls Hall, Shetland tonight and the Universal Hall, Findhorn on tomorrow.