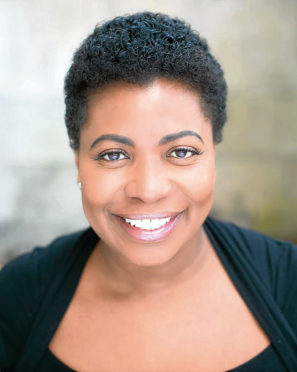 Brenda Edwards is sure that Aberdonian audiences will be jumping out of their seats to dance before the end of the show as Hairspray hits the Granite City this week.
"In Bristol they were literally dancing in the aisles," said the actress.
Having already wowed crowds in Inverness earlier this year, the cast are currently playing in Aberdeen.
Brenda, who plays the role of Motormouth Maybelle, described the hectic schedule of a musical on tour: "We arrive on a Monday and do a soundcheck in the afternoon. Since we are in a different venue each week we need to go over the entrances and exits. On a Tuesday we might have some time to look around where we are visiting."
With eight shows in a week, it is a full-on job, but one that Brenda couldn't turn down. Having already completed one tour with Hairspray, she jumped at the chance to come back and do it all again when asked.
"The first tour was so much fun. I love the show and the music. The cast is slightly different this time so there is a different energy and the choreography is a bit different too," she said.
"The show has such a brilliant story and says something which is important to society. The music and the story line are phenomenal and the dancing is out of this world. I get out of breath just watching it."
With songs that many will recognise and dance along to, Hairpray takes the audience to Baltimore in 1962 where they journey along with Tracy Turnblad.
"Tracy is a big girl who is larger than life," explained Brenda.
"She wants everyone to be integrated and needs help along the process. It is a story where sexism, ageism and racism is forgotten and everyone comes together as one.
"Everyone gets on well on the tour and hopefully that translates on the stage when we're having a boogie."
Even though Hairspray is set in the 60s and the show is based on the 1988 film, the musical is still relevant to modern audiences and youngsters now. Brenda said: "We still need to get across this message to be accepting, for the future of society as a whole. People need to take responsibility for yourself and to contribute. The youngsters in the show are the future.
"We have audience members from seven up to 70. You are never too old to learn something new. The show does cover some daunting topics but they aren't rammed down your throats. It is more sit up and listen then leave thinking about what you can do. Come and watch and get a good message and a lot of fun – a double dose!"
No stranger to music, Brenda has been singing in church since she was little. But it wasn't until she entered X Factor that she got her big break. The show introduced her to a wide audience and soon the phone was ringing with an offer to play Mama Morton in Chicago. And she has not looked back since.
"I always knew I wanted to perform and now I am making up for lost time. It is not an easy thing to do eight shows a week. Each show is different, which is refreshing. I love to sing and I even get to act a little bit. The world is my oyster," she said.
Due to her gruelling shedule, self care is very important. Brenda loves warm water with honey and sings backstage during the show to keep her vocal cords warmed up. Ahead of her first ever visit to Aberdeen, she said: "I have bought gloves and a warm jacket and insulated trousers, so I'm ready if it snows."
Hairspray is at HM Theatre in Aberdeen until Saturday, March 24. See www.aberdeenperformingarts.com for more information.