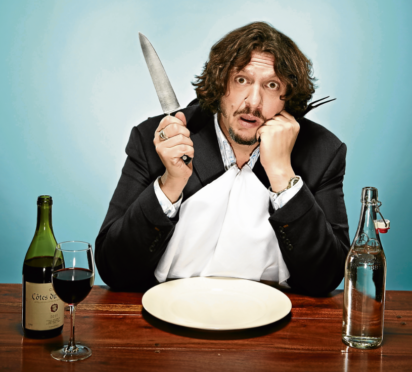 Jay Rayner is a man with fingers in many pies. If the restaurant critic and journalist isn't playing with his jazz quartet, recording his Radio 4 show, creating his column or writing books, he is touring with his one-man show.
The Masterchef judge is taking his show The Ten (Food) Commandments on the road and is travelling across the country, bringing wit, wisdom and some interesting titbits of culinary information you might never have considered before.
Have you ever been to Aberdeen before?
I have never been able to get around to visiting Aberdeen. The tour has been put together in partnership with my management and we visited St Andrews and Dundee a while back so now we are getting around a bit.
So the show was written alongside the book, The Ten (Food) Commandments?
A few years ago I put together A Greedy Man in a Hungry World, looking into food sustainability. When I wrote this book I also wrote the one-man show at the same time. For the commandments, 10 is a nice number and each commandment only went into the book if it could be done during the show.
So what can audiences expect from the show?
There is an audio visual element and the first half is a bit of a romp. The first half is a performance which I have done a number of times and know what it is. If I'm in a comedy club there might be more language but the show is essentially the same. In the second half, I ask for tweets about the food commandments and it is almost a bit of an open mic night and you can tell what kind of audience you have.
Is there a lot of pressure on you, having to do a show with only yourself on stage?
I am an utter control freak and the best thing to do with them is to leave them alone. I don't have to rely on other people and I quite like that – it lives or dies with me and is up to me.
What kind of an audience does your show attract?
I have a very funny impression that I have quite a broad inheritance: from Masterchef, from my Radio 4 show The Kitchen Cabinet and from my column. I think they will be mostly interested in food and sometimes an older audience from my very polite radio show, but I'm not always as polite after eight in the evening, which is just adolescent.
Why should people come and see you when you visit Aberdeen?
The thing that I try to get across is that while I am there to entertain, the commandments are the bottom of the show and research has gone into them. Hopefully there will be some interesting surprises with the information and people will be scratching their heads and will come away entertained but also thinking.
Between all of your different projects you must be very busy?
My job is always to entertain. Just before flying up for the show in Pitlochry I am playing at the Cheltenham Jazz Festival with my quartet which I am very excited about. I am working on my new book, about my last meal on Earth, and the recording of the last two Kitchen Cabinets. But I get bored easily. Sometimes when I'm sitting watching Netflix I think "oh this is nice" but then I get bored.
What is one of the questions you often get asked?
About the restaurants in the area. I've reviewed in places from Stornoway to Oban, not just Glasgow and Edinburgh. I can only answer honestly if I have been to anywhere. One thing that Scotland has been doing long before the restaurants in England is to promote the fine Scottish produce – beef and seafood. It is not always done with the upmost skill but there is an interest in ingredients.
What would you order in a restaurant?
I might be really boring and order a good steak, rib eye or sirloin, with some good chips.
Jay Rayner: The Ten (Food) Commandments will be in Aberdeen at The Tivoli on Tuesday, May 8. See www.thetivolitheatre.com