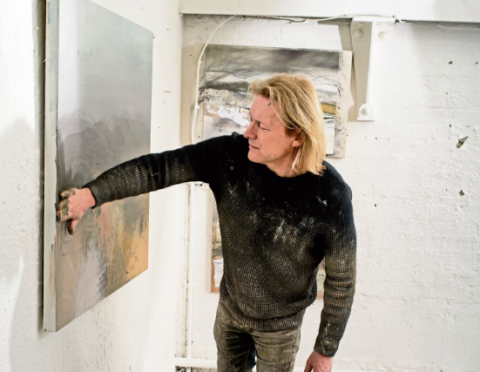 Artist Chris Bushe has used locations around the north-east and the rest of Scotland as inspiration for his work. Chris studied at Gray's School of Art in Aberdeen from 1980 to 1984 and then became a full-time artist in 1996.
Now an established artist, many of his works are held in public and private collections worldwide.
Chris's next exhibition is at the Open Eye Gallery in Edinburgh starting today. The exhibition is titled North, and all the paintings are from Aberdeenshire and the surrounding areas.
Is it mostly landscapes you paint?
I live in Edinburgh but grew up in Aberdeenshire and it was the first landscapes that I used to paint. I've also painted in the Hebridean Islands recently.
Is creativity in your family?
Both of my parents were artists and went to the Glasgow School of Art and my dad was a sculptor. Art was all around me and when you're surrounded by that kind of environment you do it naturally.
Do you mainly work in oil?
Yes, mostly oil but sometimes charcoal or other mixed media. Oil is a beautiful medium. There are things that you can do with oil, and an oil painting in itself has a quality and an interesting surface.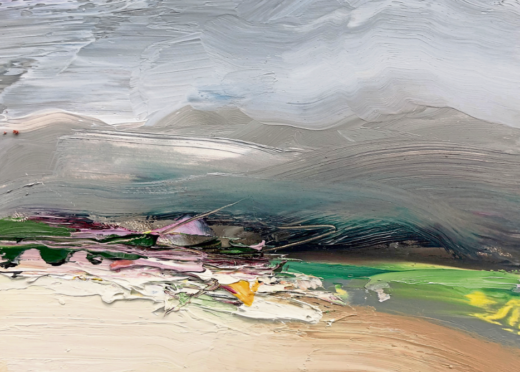 Does it take a long time to create a piece?
It does take quite a lot of time. Right now I am doing a one-man show which includes about 70 paintings and I started it about six or seven months ago.
How do you know when a painting is done?
Oil paintings are created in layers which takes so long to dry. Only experience tells you when it is done. Sometimes I don't stop and have lost paintings that way and had to start again. Every artist is different but it is experience that tells you.
Do you work from sketches or photographs?
I go to the place I'm working on and go with a sketch book, pencil and watercolours and do a quick sketch to capture the image. Some of the works are very big, 120cm to 150cm, which would be hard to paint on location.
I go away and gather information and ideas and then work in the studio but it is never exactly how real life is. I capture a sense of place and it is semi abstract.
What do you want people to think when they look at your work?
I paint because I want to paint. What people take away from it is up to them.
Has your work changed as your career has progressed?
It has certainly changed and evolved over the years but my current exhibition isn't a million years away from my Gray's degree show.
I have painted different isles, including the Greek isles and the place always changes the painting experience. Places make me want to paint. Your work should change and evolve.
You are donating a piece of work to the Wooden Spoon Aberdeen annual dinner?
Russell Watt, the treasurer, is an old school friend of mine and we met at a recent reunion. He asked me if I would donate a piece for the auction and I said to come down and have a look sometime at the works, so a piece called A Gentle Sea, the Sound of Taransay, is going to the auction.
The Wooden Spoon 21st anniversary dinner is being held at the Marcliffe Hotel in Aberdeen on May 24. If you are interested in making a bid for the painting, contact Mr Watt on 01224 861266. See www.woodenspoon.org.uk