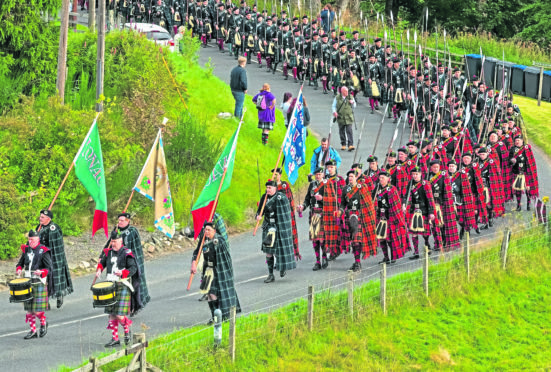 Hordes of tartan-clad Highlanders are descending on the Lonach Highland Gathering this weekend.
A chance for the community to come together, the Highland Games combines sport and culture in towns and villages across Scotland.
Always held on the fourth Saturday in August, the day of The Lonach Highland Gathering begins with the March of the Lonach Highlanders who depart Bellabeg at 8am before marching around the arena in the afternoon.
Jennifer Stewart, secretary and chief executive of the Lonach Highland and Friendly Society, said: "Saturday's annual Lonach Highland Gathering and Games will see the usual mix of events taking place. There are all the traditional events including piping, dancing, light and heavy athletics and tug o war, plus children's races, a hill race, around 70 trade stands and a funfair to keep visitors of all ages entertained.
"The highlight is always the march of the Lonach Highlanders, a stunning spectacle that visitors from all around the world really enjoy. It is unique to Lonach and can't be experienced anywhere else. There are often a few tears in the crowd as the lads march past. Following the Highlanders is Socks the horse, who is making his fourth appearance at Lonach and he is always a hit with the crowd.
"This year marks a decade since the Lonach Society School of Dancing was founded to encourage more local children to learn Highland Dancing and compete in the discipline at the gathering. In that time, pupils have appeared on Strictly Come Dancing and danced for a pop star. At the gathering, pupils will be showcasing their talents with a special performance at 12.30pm. We also have a new event, The Daily Lonach Mile, which will see about 75 schoolchildren taking part in the first such event at a Highland Games. Starting it will be Elaine Wyllie, founder of the ground-breaking Daily Mile initiative."
The games officially start at 12pm and you can grab your full programme of events on the day. General entry for adults is £10, children is £5 with under fours free. Adult ringside seats are £12, all children ringside seats are £7 and all covered stand seating is £20 with uncovered stand seating £15 for adults and £10 for children. See www.lonach.org
What other Highland Games are on this summer?
Glenurquhart Highland Games
https://www.instagram.com/p/BYVxMnvnUSa/?tagged=glenurquharthighlandgames
Held on Saturday August 25, the Glenurquhart Highland Games are on the fringe of Loch Ness at Blairbeg Park in Drumnadrochit. While you might not spot Nessie, you will get the chance to enjoy lots of traditional events such as tug o war and dancing and the Loch Ness Pipes and Drums will kick off the day with a parade. See www.shga.co.uk
Grantown On Spey Highland Games
Taking place this Sunday August 26 at Heithfield Park in Grantown, the games will include running and cycling events as well as the heavy weights. Head along and watch the solo piping and Highland Dancers. See www.shga.co.uk
Braemar Highland Gathering
On September 1, the spectacular event will transform the village of Braemar. Known for its attraction to the royal family, who are often in attendance, the gathering attracts spectators and competitors from all over the world.
Held on the first Saturday in September in The Princess Royal and Duke of Fife Memorial Park in Braemar, the gathering has been running since 1832 but has been held in one form or other dating back to the days of King Malcolm Canmore 900 years ago.
Events include dancing, pipe bands, solo bands, track events, heavy events, a hill race and tug o war. It is sure to be a colourful day out. There are still tickets available online. See www.braemargathering.org
Cowal Highland Gathering
https://www.instagram.com/p/BYWYpSuAhPp/?tagged=cowalhighlandgathering
There is something for everyone thanks to the children's entertainment, fun run, local food, Highland Dancing and many other events. It is held in Dunoon, Argyll from August 23 to 25. See www.cowalgathering.com
Birnam Highland Games
Little Dunkeld in Birnam becomes a hive of activity on Saturday August 25. Held against a stunning Perthshire backdrop, the family friendly day has been held for more than 150 years and has some special events including a haggis eating competition. See www.birnamhighlandgames.com
Strathardle Highland Gathering
Bannerfield in Strathardle hosts the games on Saturday August 25. With an agricultural show in the morning, running and tug o war events, the day can get quite competitive. See www.shga.co.uk
Pitlochry Highland Games
Taking place at the Recreation Ground in Pitlochry, these games will take place on Saturday September 8.
The community of the town and visitors will be able to enjoy all the usual events and you can even take along your well-behaved furry friend as dogs on leads are welcome.
Take some time to explore the picturesque town while visiting.
See www.pitlochryhighlandgames.co.uk