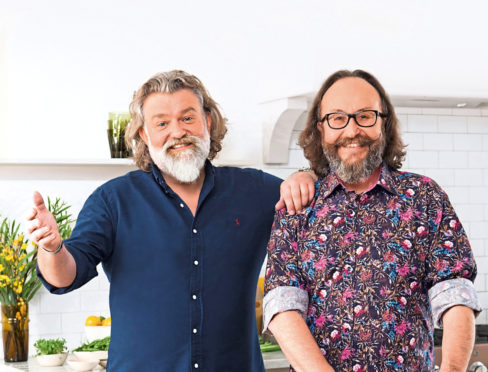 They are the sort of likeable chaps that you'd like to invite round to your place for dinner.
Even better, what if Dave Myers and Si King, better known as TV chefs The Hairy Bikers, offered to make the meal for you?
Well, unless you're a very good pal that's unlikely to happen but going along to their show at the Music Hall in Aberdeen on Saturday night could be the next best thing.
"It will be a bit like coming round to our house for a bit of craic and dinner on the night," said Dave.
"We're going to be doing hors d'oeuvres and beer in the first half then mains, pudding and wine.
"Our colleague Dean will be MC and will have a sort of lottery and we'll pick some lucky people to come and join us on the stage, where we'll have a kitchen and dining room.
"And they needn't worry about what to say as Si and I have never run out of anything to talk about yet!"
The duo's most recent cookbook, The Hairy Bikers' British Classics, hit the shelves last year, so will they feature recipes from it, I wondered?
"Not really, as this will be a proper night out," said Dave.
"People are coming to listen to us, not hear us try to flog them a book.
"What we desperately want is to give them a good time."
And for Dave, the visit to Aberdeen will be a bit of a homecoming as his heart belongs to the north-east of Scotland – he previously lived in Huntly.
"The Bikers really began life in Aberdeenshire," said Dave.
"I lived there for 15 years and Si would ride up on his motorbike from Newcastle to visit me, then we'd visit all sort of places in the north and west coast.
"I also had a house in Buckie and in the summer, Si and his kids would spend their summers there, visiting Sandend and Portsoy.
"It's been a very big part of both our lives so it's cool that we're getting to end our tour in Scotland."
Big hearted, down-to-earth cooks with a love of good food, Dave and Si have been cooking together for more than 20 years.
They have created haute cuisine dishes with Michelin-starred chefs and travelled the world in the pursuit of great food.
They've also explored the length and breadth of the British Isles to discover brand new recipes and create their own fresh takes on cooking classics.
No strangers to the live arena, Dave and Si present An Evening With The Hairy Bikers, at Aberdeen Music Hall on Saturday April 6. Contact Aberdeen Performing Arts on 01224 641122.