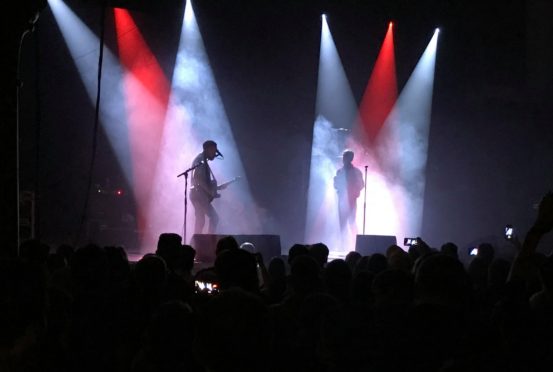 Scottish stalwarts Idlewild concluded their latest tour with a barnstorming show at Aberdeen Music Hall.
Local band The Xcerts set the tone with a well-received support set, before the sound of Too Young To Know by the recently departed Scott Walker filled the room, the lights dimmed and the main attraction arrived.
An excited cheer went up as the stage was bathed in an orange glow and the musicians emerged amid clouds of smoke.
The concert began with Dream Variations from their new album, and an old favourite in the form of Roseability.
While making the short walk from the P&J's office in Marischal Square to the Music Hall, I had noticed a large number of reddened locals appeared to have made the most of the bank holiday weekend.
It was an observation which lead singer Roddy Woomble also made.
He greeted the audience by asking: "What's going on in Union Street? There are so many people out of their minds.
"Aberdeen has got a spirit about it and, anyway, it's nice to be here."
A huge crowd-pleaser followed as the six-piece launched into You Held The World In Your Arms.
The front man later thanked the city for ensuring impressive sales figures for the new album.
A mix of old favourites followed throughout the night, and the fast pace never relented.
American English was the standout song, with every word roared back by the appreciative crowd.
The encore began on a poignant note with a cover of Heads Roll Off by Frightened Rabbit – in tribute to singer Scott Hutchison, who took his own life last year.
I was only a very casual Idlewild fan before the concert, but attended with a friend who was marking his 24th time seeing the band since 2005.
By the time they were thrashing their way through a spectacular performance of A Modern Way Of Letting You Go at the end, I could understand why the indie veterans were capable of inspiring such devotion.