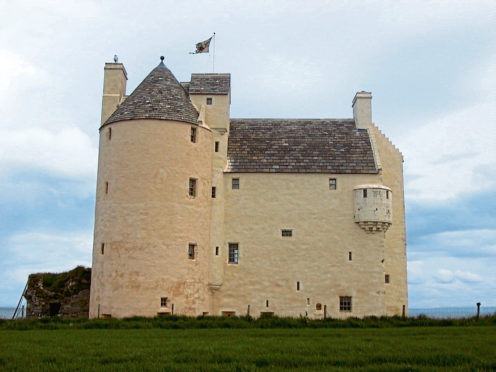 Ever looked at a building and wondered what it's like inside?
Doors Open Days, which are taking place throughout September, allow you to step inside buildings rarely open to the public.
The idea for these days first began in 1990 in Glasgow, forming part of the celebrations which marked Glasgow being named European City of Culture.
A runaway success, the idea of hosting similar open-door days quickly spread to other areas of Scotland.
This month, once again, thousands of people can gain free access to hundreds of interesting and unusual buildings.
Some areas have already staged their special days, but there are still lots of places waiting to be explored, from Royal Boxes to Sheriff Courts and stunning ballrooms.
Here's a few suggestions of places you might like to visit during the festival, which is co-ordinated nationally by the Scottish Civic Trust as part of European Heritage Days.
For the full list of what's on, where and when,click here.
The Highlands
Ballone Castle, near Portmahomack
Ballone Castle, near Portmahomack, was built in 1590 on the cliff edge above the raised beach, and has dramatic views out across the Moray Firth.
It's had an interesting history, but by the mid 19th Century had lost most of its fine details.
In 1990, it was bought by Lachlan and Annie Stewart who took on the immense task of restoring it and making it their family home.
The house, which featured recently on the TV show Scotland's Best Home, is a fascinating fusion of authentic medieval and modern styles.
The house and gardens will be open with guided tours every 40 minutes on September 7.
Hugh Miller's Birthplace Cottage and Museum, Cromarty
Hugh Miller's Birthplace Cottage and Museum, Cromarty, is open from 1-5pm on September 7 and 8.
Regarded as one of Scotland's greatest men, Hugh was a fossil hunter, geologist and social justice campaigner.
Visit the thatched cottage where he was born, and the Georgian house his father built, which is now a museum.
Cromarty Courthouse Museum, Cromarty
Cromarty Courthouse Museum, Cromarty, is a fascinating building once used as a Sheriff Court and now restored as a museum and visitor centre.
Visit the cells and don't miss the courtroom packed with lifelike figures, with an audio enactment of a historic trial.
Open from noon-4pm on September 7 and 8.
Nucleus: The Nuclear and Caithness Archives, Caithness
Nucleus: The Nuclear and Caithness Archives, Caithness, is home to the archives of the UK civil nuclear industry and the historical archives of the county of Caithness.
Since opening to the public two years ago, the award-winning building in Wick has provided a unique visitor experience for those wishing to carry out research or delve into their family history. Pre-booked tours available at 1pm and 3pm on September 14.
Wick Heritage Museum
Home to a fantastic collection of artefacts and pictures telling the history of Wick and its herring fishing industry, Wick Heritage Museum sits within a house designed by Thomas Telford which is now a category A-listed building.
The museum is also home to the Johnston Photographic Collection containing more than 45,000 images, all offering a fantastic insight into bygone eras.
The museum is free to visit from 10am-5pm on September 29.
Aberdeenshire
Auchtavan
On September 15 there's a chance to visit the abandoned 18-19th Century township of Auchtavan with its restored cruck-framed cottage.
Located at the head of Glen Fearder, it's a two-and-a-half-mile hike to reach the settlement, but you'll be rewarded with fine views across the River Dee to Lochnagar.
Among the restored buildings are the hingin' lum cottage, horse mill and a picnic cottage used by the Queen Mother.
Open noon-3pm, on September 15.
Ballater Masonic Lodge
The distinctive looking building that is the Masonic Lodge in Ballater is open from 11am-4pm on September 14 and 15.
Situated close to the Victoria Barracks, visitors can enter the main hall, view photographs and browse through membership records and minute books all going back more than 100 years. Masonic Jewels will also be on display.
Royal Pavilion, Braemar
Another Aberdeenshire must-visit building is the Royal Pavilion in the Princess Royal and Duke of Fife Memorial Park in Braemar.
The Braemar Royal Highland Society has agreed to open the Royal Pavilion, usually only open during the Braemar Gathering and used exclusively by the Royal party, on September 14 and 15, from 10am-4pm.
It will be fully decorated in all the Royal resplendent giving visitors the chance to experience a Royal taste of life.
Glen Tanar Estate
Glen Tanar Estate is full of hidden treasures, woodland and river walks, and home to a stunning ballroom that's regularly used for weddings and special events.
On September 15, visitors can enjoy a short walk, visit St Lesmo Chapel, the ballroom and enjoy some refreshments.
Open from 10am-4pm on September 15.
Moray
All Doors Open Days events in Moray takes place on Saturday September 21.
BenRiach Distillery
Highlights include, BenRiach Distillery on the outskirts of Elgin, which is offering visitors a chance to step inside Warehouse 13, the oldest dunnage warehouse and where the distillery's experimental casks are resting.
Tours take place on the hour and booking is essential on 07719 531840.
Darnaway Castle in Brodie
Darnaway Castle in Brodie, has been the historic seat of the Earl's of Moray for centuries. Its crowning glory is Randolph's Hall, with the largest and oldest open timber roof in Scotland.
Tours lasting around 45 minutes are on offer, but must be pre-booked on 01309 672213.
Elgin Sheriff Court
You don't really want to be making an appearance in Elgin Sheriff Court – unless it's Doors Open Day!
Built in the 1860s, the interior was extensively renovated in 2006 to accommodate the Justice of the Peace Court.
There's guided tours at 10.30am, 12.30pm and 2.30pm when Sheriff Court staff will be on hand to answer questions.
Visitors can also see inside the cell blocks and prisoner escort vehicle.
Falconer Museum in Forres
Within the Falconer Museum in Forres there's a store where objects are collected and sorted.
These range from the forgotten to the weird and wonderful.
Behind-the-scenes guided hour-long tours at 10am, noon and 2pm. Free, but booking is essential via
https://moray
dod2019falconerstore.eventbrite.co.uk
Orkney and Shetland
Orkney Wireless Museum
Orkney Wireless Museum is home to a fascinating collection tracing the history of early domestic radio and wartime communications in Orkney.
It's home to maps, charts, valves, transistors, rare exhibits, wartime memorabilia and photographs. It's open on September 21, from 10.30am-4.30pm and September 22, 2.30pm-4.30pm.
Orkney Fossil and Heritage Centre
Housed in converted farm buildings on the island of Burray, Orkney Fossil and Heritage Centre has an intriguing collection of fossils from Orkney and around the world, including some rare and beautifully preserved specimens.
There are also local heritage displays, including a fascinating exhibition about the construction of the Churchill Barriers. Open September 22 and 23, 10am-5pm both days.
Coastguard Operations Centre in Shetland
Join a guided tour of the Coastguard Operations Centre in Shetland and learn about the work of the HM Coastguard, the UK search and rescue national network.
It's one of 10 operations centres plus the National Maritime Operations Centre which make up HM Coastguards National Search and Rescue network responding to emergencies on the shoreline and at sea within the UK Search and Rescue Region.
Tours at 10am, noon and 3pm on September 28 and 29.