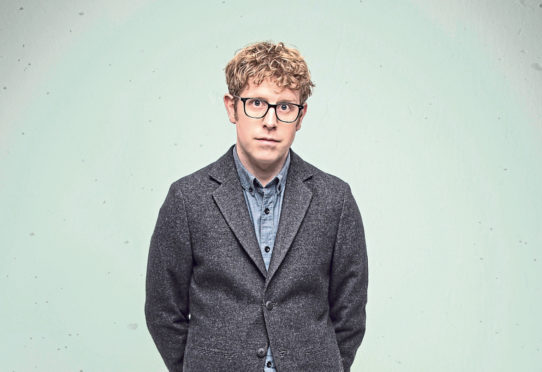 Following his debut comedy gig in 2008, things have moved fast for Josh Widdicombe.
After establishing himself on the live circuit supporting huge talents such as Kevin Bridges, Michael McIntyre and Alan Carr, Josh went on to headline two sell-out UK tours and multiple runs at the Edinburgh Festival Fringe.
Despite his roots on stage, audiences perhaps know Josh best from the award-winning Channel 4 series The Last Leg, which he has hosted since 2012.
He's a regular on other panel shows too, including Mock The Week, Insert Name Here and Hypothetical on Dave.
Several years spent hosting radio shows has led to Josh having his own podcast, which has in turn become a spin-off tour.
A BBC sitcom aptly named Josh also ran for three series and is currently available on Netflix.
He's certainly a busy guy, but it seems that's the way he likes it. And following a short break from stand-up, he's raring to get back into it.
Your last UK comedy tour was back in 2016, have you enjoyed taking a break to focus on other projects?
It was the first time since I started doing stand-up that I had some time off and I absolutely needed it. I'd been doing stand-up for eight years, and I'd kind of forgotten why I was doing it in the first place and why I enjoyed it. Now that I'm back on the circuit, I've been working to make the show better than ever. I wanted to do the best "pure me" stand-up show, and see if I could do 80 minutes that was just… well, unremitting is probably the wrong word, but I like the idea of a show being almost relentless. I think when you watch comedians like Michael McIntyre, it feels relentless.
What sort of topics do you cover in the new show?
I'm not going to be banging on about Trump or Brexit. I much prefer talking about the smaller things in life, the everyday annoyances that drive us all to distraction. That's what makes me laugh, do you know what I mean? It's different strokes for different folks, but I'd much rather watch Frank Skinner or Sean Lock than I'd watch a highly-politicised hour of stand-up, just because that's what I'm into really.
Is it more difficult to play big theatres than the comedy clubs where you started out?
Oh, it's a lot more fun these days. The absurdity of stand-up is that when you start you're at your worst, and the gigs are the toughest. It just gets easier, because you've got people that want to come and see you now, and you know what you're doing. Those first two years, it's about getting over that.
Do you enjoy touring the country and visiting new places?
I do, but it's a lot of sitting in a car with my tour manager and the support.
Let me put it this way – last time on tour, the most extreme it got was we would have a running £5 wager on what the next band playing on Radio X would be. Still, there are occasional perks. I'm obsessed with hotel breakfasts. That's the real excitement. I'm already excited about staying in the Lowry in Manchester because the last time I was there I saw (footballer) Ian Rush. That's the kind of thing I'm into.
It seems like you're constantly busy recording a new TV show, do you feel like you thrive in that environment?
I just really enjoy it. Mainly, it's having a laugh with your mates.
My favourite panel shows are the ones where you're all having a laugh and you're just in the moment. Reacting in the room rather than trying to get your jokes out. And it's a lovely way to earn a living, it's as simple as that.
Your TV career began with The Last Leg which was originally part of Channel 4's Paralympics coverage. Why do you think it was such a runaway success?
I think the first secret of the show's success is that it had no pressure on it at the start. Instead, the format and the chemistry between Adam Hills, Alex Brooker and myself was allowed to develop organically. It was just a late-night show that was allowed to – it sounds as though I'm looking for a pun – it was allowed to find its feet. I think people like to spend time with the three of us and I think we take Brexit, or whatever topic, and we're trying to understand it as much as other people are trying to understand it.
You've never really paused for breath in your career, are there still lots of things you want to tick off your career bucket list?
I think I'm really easily bored. I think if I just did stand-up I'd go mad, or if I just did The Last Leg I'd go mad. The great thing about what I do is I can do different things and not get bored. I'd like to try and do something new every year – something I haven't tried before, and that scares me.
Like, I wouldn't suddenly go, "Yeah, actually, my dream is to be in EastEnders," or "my dream is to present Location, Location, Location". I don't want to be the next James Bond or anything like that. Though I mean, if it was offered, I would take it.
Josh Widdicombe is currently touring the UK with his show Bit Much… stopping off at the Music Hall in Aberdeen on January 26 and Inverness's Eden Court on May 4. For tickets, see www.joshwiddicombe.com