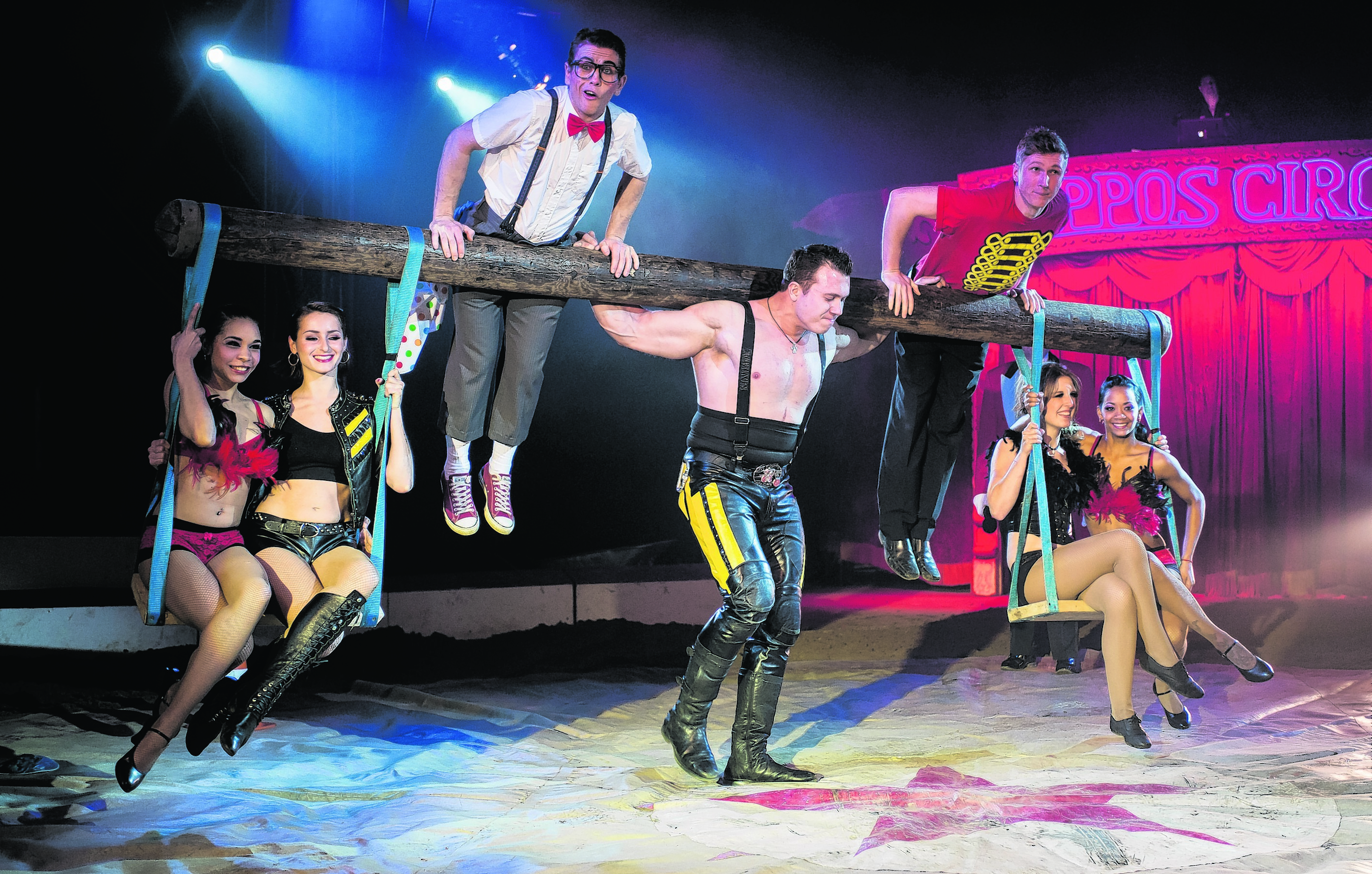 With Zippos Circus currently touring its latest spellbinding show around north Scotland, Your Weekend takes a peek at the biography of its strongman – the amazing Hercules
Last season, Zippos Circus introduced a fantastic new act, one which dates back to the early days of circus: the superhuman strength of the musclebound strongman in the shape of mild-mannered Ukrainian Denys Ilchenko, aka Hercules, the World's Strongest Man.
Brought all the way from the eastern-bloc nation, blond-haired, blue-eyed Denys is just 29 – still quite young in "strongman" terms.
However, Denys's family are no strangers to this muscle-bound world. For many years, his father performed in circuses all over the world, demonstrating his jaw-dropping feats of mighty force.
Records show that the Ilchenkos' ancestors as far back as Denys's great, great-grandfather were also travelling with circus shows at the beginning of the last century. Young Denys himself began performing aged just nine, initially as a juggler and balancing with a roller act. However, even at that age, the young lad had inherited the family's stocky build, indicating that he might follow in his father's footsteps.
The family has their own small show at home in Ukraine, in which Ilchenko sen performed initially, thereafter spending three years with the Moscow State Circus (from 1987) and then, in 1993, the family joined the Kiev National Circus.
Denys's sister, too, took to the ring and even today is still performing in their homeland with a well-known whip routine. However, being only 21, she has chosen to stay at home as she is dovetailing studies in with her performing life.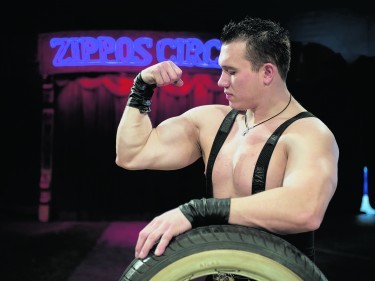 As time passed, Denys decided that his destiny lay in being a strongman and so he began to power lift and build his muscles more and more.
When he reached the age of 16, he and his father joined forces and became a double act, travelling subsequently to China and Taiwan and showing off their skills to great acclaim.
Denys's impressive physique continued to develop with each passing year and, when he reached 21, he started to compete in many national and international championships back home in Ukraine. Year on year, his experience and strength grew still more. By the time he reached 24, he had became overall champion and quite a household name.
In latter days, Denys's father has begun to take more of a back seat in performing, letting his son take centre stage, but still travelling with him and acting as his mentor, trainer and assistant.
For the past two years, the team has been appearing in France and it was while there that the talent scouts from Zippos spotted him.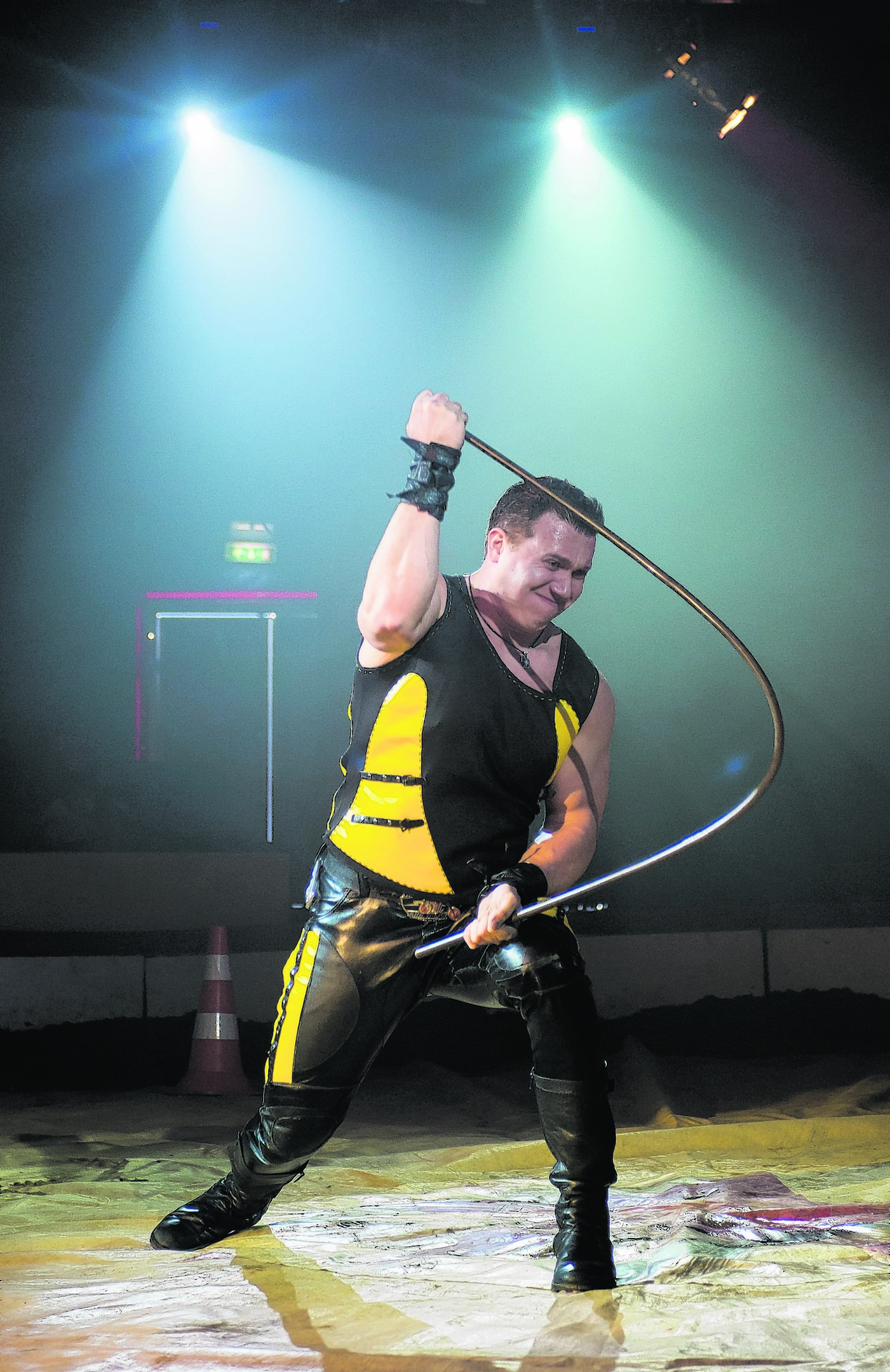 Dressed in Germanic biker/rock-star-style clothes – leather trousers, a black vest and big boots – the Zippos mighty muscleman makes his entrance into the ring to suitably stomping macho music.
Being a strongman isn't all about just lifting weights, though, and Denys soon shows this by demonstrating many facets of his art in which he mixes circus and non-circus elements with modern twists – including juggling with three car tyres, bending an iron bar and then pulling a car with his teeth and, just like in his record-breaking accomplishment last year, he lifts a log with four people sitting on it.
As the performance reaches its climax, the young Titan tackles a trial not for the fainthearted. With his father at the wheel of the team truck, Denys lies down on the ring floor, has two ramps placed on his stomach and, taking a deep breath, composes himself as his dad drives the truck right over his son's abs – definitely not one to try at home.
Not being one to rest on his laurels, Denys plans
to make it into the Guinness annals once again
this year by pulling a minibus loaded on to a large truck and towing a car behind – weighing a massive 40 tons in total – over five metres with his teeth.
Furthermore, he plans to try to break another record during the shows – that of pushing a 100kg stone up into the air with one hand to beat the current record of 147 times.
For the time being, though, audiences around the north of Scotland can gasp in awe at the Ukrainian Hercules's epic strength on the Zippos Circus summer tour, Unchained.
Zippos Circus is at the Auction Mart Site, Elgin, until Sunday, July 20, as part of its north Scotland tour. It will next stop in West Links, Banff, from July 21 to 23; then Market Muir, Huntly, from July 25 to 27, and the Thainstone Centre, Inverurie, from July 28 to 30. For full tour dates and show times visit www.zippos.co.uk