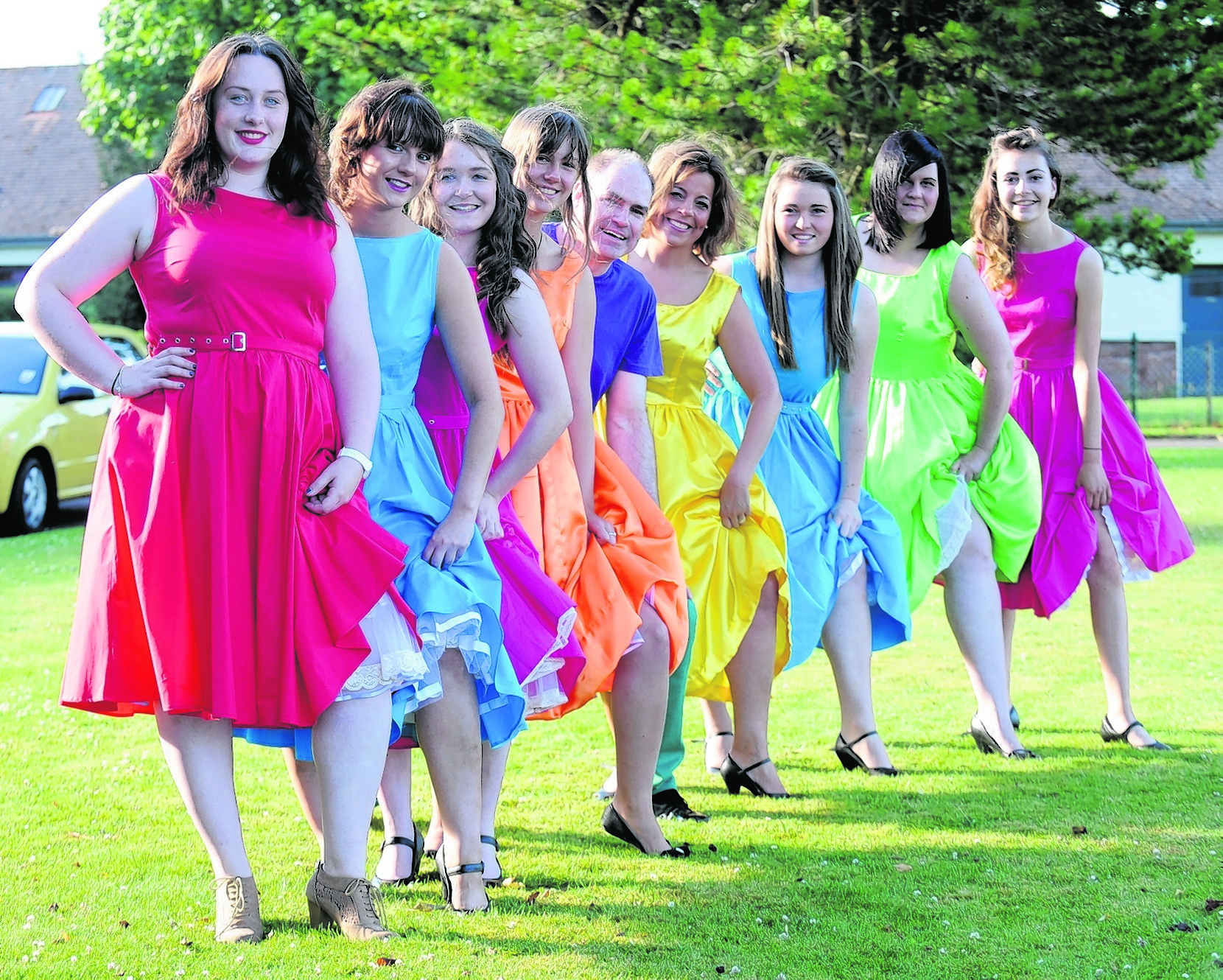 Prepared to be transported to the tension-filled streets
of New York, writes Susan Welsh
Inverness-based Starlight Musical Theatre has always punched above its weight, and delivered some knockout shows.
This time, it is taking on the show that's regarded by many, critics and audiences alike, as the greatest musical of all time – West Side Story.
Instead of spending their free time outside soaking up the sunshine we've enjoyed all summer until this week, the talented and dedicated bunch of performers have been largely indoors, rehearsing for the classic Leonard Bernstein/Stephen Sondheim show.
Set in the upper west side of New York City in the 1950s, in a hot, sticky summer not unlike the one we've just experienced, the show deals with the gang culture of the time, focusing on two main gangs, The Sharks and The Jets.
The Jets regard the neighbourhood as their patch and are unhappy about The Sharks – Puerto Rican immigrants – who want a piece of the turf.
Caught up in all of this are star-crossed lovers Tony and Maria.
Tony, formerly a Jet and now trying to carve out a better life for himself, is the best friend of current gang leader Riff.
Bernardo is the leader of The Sharks, and Maria is his sister.
When Tony and Maria meet up, sparks fly and, just like Romeo and Juliet, they fall in love, despite being aware that if their families and friends knew, they'd put an end to the romance.
The show is packed full of classic tunes that are instantly recognisable – Maria, Tonight, I Feel Pretty, Somewhere, and Gee, Officer Krupke, to name but a few.
Starlight co-executive producer and long-time performer Donnie Matheson said:
"We have exceptional leading players this year.
"The parts of Tony, (James Twigg), Anita (Nicola Gray), Bernardo (Garry Black) and Riff (Liam MacAskill) were all pre-cast before open auditions took place, as we wanted to secure the best possible people available to take on these roles, and I know our audiences will agree that we made the correct choices.
"However, the female leading role of Maria was up for grabs at open audition, after we advertised our Search for Maria.
"We had some fantastic auditions for the part.
"However, the auditioning panel were unanimous in offering the part to Matilda Walker, from Fortrose, who completed her studies recently and goes on to the Conservatoire of Wales in the autumn to continue her singing studies."
All the leading performers are well known to Highland audiences, the exception being Nicola Gray, who is normally the company's choreographer.
However, Donnie and co-executive producer, Peter Kelly felt the role of Anita was made for Nicola, so she's now starring in the show, as well as choreographing it.
"This has been a huge challenge for Nicola, but she has risen to the occasion admirably, and has had help in the choreography from dance captain Jasmin Ford, and Noel Hernandez Roques, who is well known for his expertise in salsa," said Peter.
"We just cannot believe we have managed to put together such a fantastic cast and production team this year."
Company stalwart Rona MacAskill is directing the show, while Steve Jones is musical director.
His wife, Moira, a professional singer, has been giving the cast vocal coaching while Steve has got together a 23-piece orchestra which will put the finishing touches to what will be a slick and professional show.
Peter Kelly is also doubling up on duties, playing the nerdy Glad Hand, while Officer Krupe, the local cop, will be played by Martin Bannon, who took the lead in Jesus Christ Superstar three years ago.
Ginno Conti, a local broadcaster, is stepping out from behind the mic to play a member of The Sharks.
The production will have a full professional set, and Starlight's stage manager Niall MacAskill will ensure some spectacular effects, with the help of Eden Court's technical team.
West Side Story is at Eden Court Theatre, Inverness, from Wednesday, August 20, until Saturday, August 23, with evening performances at 7.30pm and a Saturday matinee at 2.30pm. Contact 01463 234234 or visit www.eden-court.co.uk