Zandra Rhodes: 'Aberdeen Art Gallery exhibition is far better than when we showed it in London'
By
Danica Ollerova
February 18, 2022, 5:00 pm
Updated: February 18, 2022, 5:16 pm
"It looks so pristine and lovely and it's far better than when we showed it in London," said famous fashion designer Dame Zandra Rhodes after seeing her 50 Years of Fabulous exhibition for the first time at Aberdeen Art Gallery.
"The space that you've got…(there is) enough room to look around and appreciate the different things. It's been a new adventure for me."
The collection of her attention-grabbing dresses and fabrics has been on display at the Art Gallery since late November, but the designer – who dressed the likes of Princess Diana, Freddie Mercury, Elizabeth Taylor and Barbra Streisand – has just seen it due to Covid-19 delays.
She also met her Aberdeen fans and fashion enthusiasts last night (Thursday February 17) during an event hosted by the exhibition's curator Dennis Nothdruft.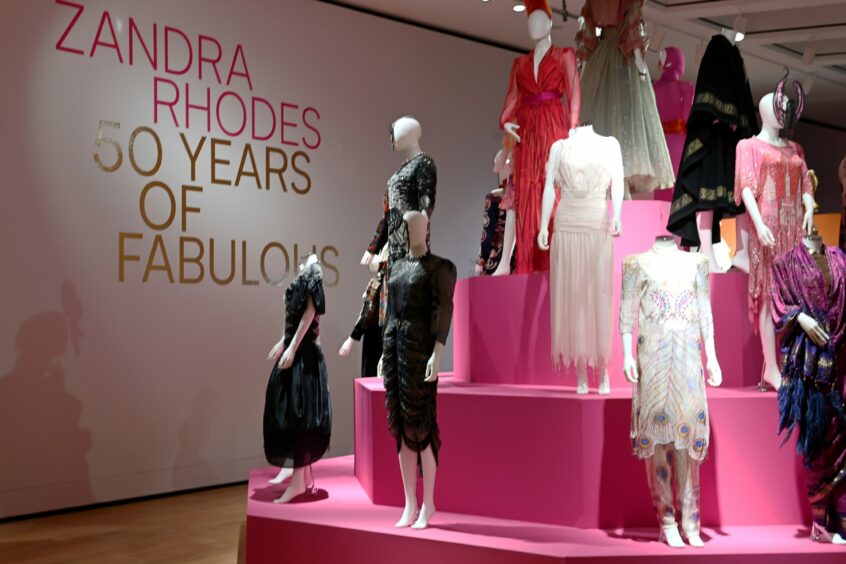 The designer said: "I've had such a good time. Today (Friday February 18) we had a whole lot of students, yesterday we had a whole lecture about my work and just seeing this new fabulous gallery… it couldn't have been a more wonderful adventure to see my clothes in lovely pyramids here in this spectacular gallery.
"It's been full-on with a whole lot of fabulous students to encourage and keep the Scottish design industry going."
Dressing Freddie Mercury and Brian May
Catching up with the P&J at Aberdeen Art Gallery, Zandra also reminisced of the time she dressed the late Queen singer Freddie Mercury who was also known for his bold fashion.
She said: "Freddie came to see me in 1974. He came with Brian (May) and I made Brian a pleated printed jacket – he had three of those done because they always got stolen.
"And Freddie had the wonderful wing one – it was a wedding top – and I said 'Move around and see how you feel in it' – which he did.
"I went to the concert and I was at least 15 years older than most of the audience at that time so I never went back until much later when Brian asked me after Freddie had gone.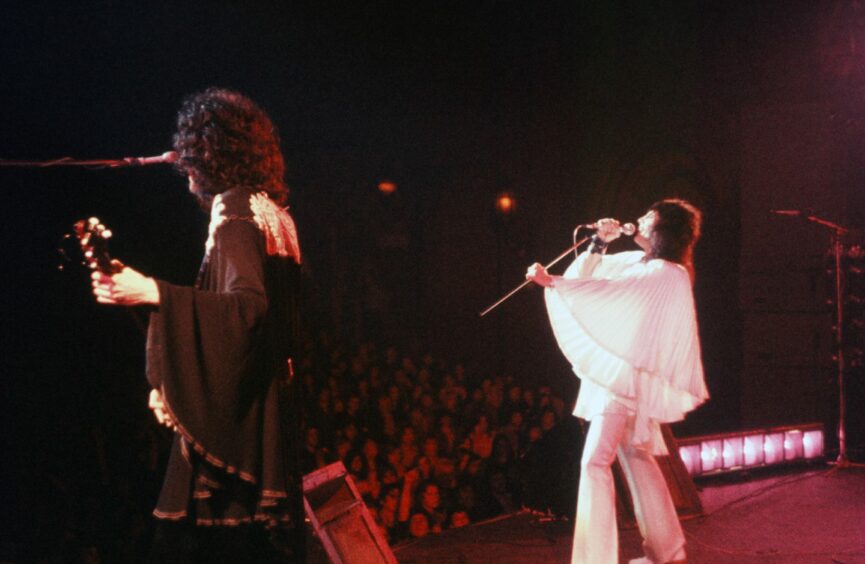 "It was wonderful having that (top) reproduced to be in the film (Queen biopic Bohemian Rhapsody)."
Princess Diana's famous pink dress by Zandra Rhodes is on display at Aberdeen Art Gallery
Another iconic dress featured in the Aberdeen collection – the largest exhibition dedicated to the British design legend – is the sequinned pink dress Princess Diana wore.
"That was the one she tried on in the shop," said Zandra, who recently received a Lifetime Achievement Award at the prestigious Drapers Awards for her significant contribution to British fashion.
"It was the one we then reproduced for her… she wore it when she announced she was pregnant in Japan. It is a wonderful memory of that dress."
Complementing Zandra's stunning gowns are fabrics and sketches which the designer says are a great background to her designs.
She said: "I sketch every single day if I'm on holiday – when I'm working I sometimes only do it on the weekend, but I try and sketch a lot because it's always a wonderful memory and it preserves things better than photographs."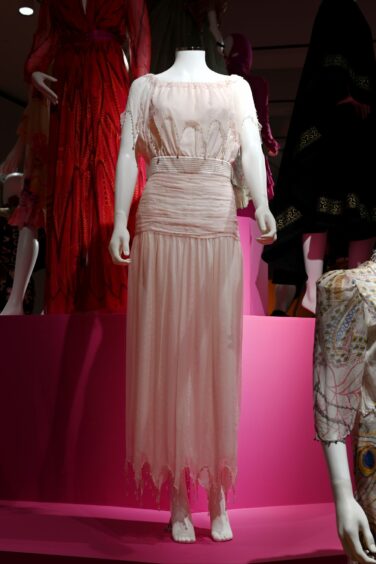 Fabulous friendship with Aberdeen designer Bill Gibb
While Zandra was thrilled to finally make it to Aberdeen to see her collection, she revealed another reason why she wanted to return to the north-east was to visit the hometown of Aberdeen fashion designer Bill Gibb whose work she adored.
She said: "Bill and I did shows together in the mid-70s. He was a wonderful person and I think he represented Scottish craft so well with knitwear.
"There are two fabulous pieces on display here (at the Art Gallery). One with a wonderful cloak and another one with a dress that used to belong to Kate (Franklin) who worked very closely with him."
And Zandra has also been admiring Aberdeen's unique architecture.
"I just want to see more of those wonderful stone houses – it's so grand," said the designer.
"And all the stone glitters in the snow and the light. I think it's going to be fun. I'm going to have a look at that after I've been to Wool For Ewe for my rainbow knitting wools."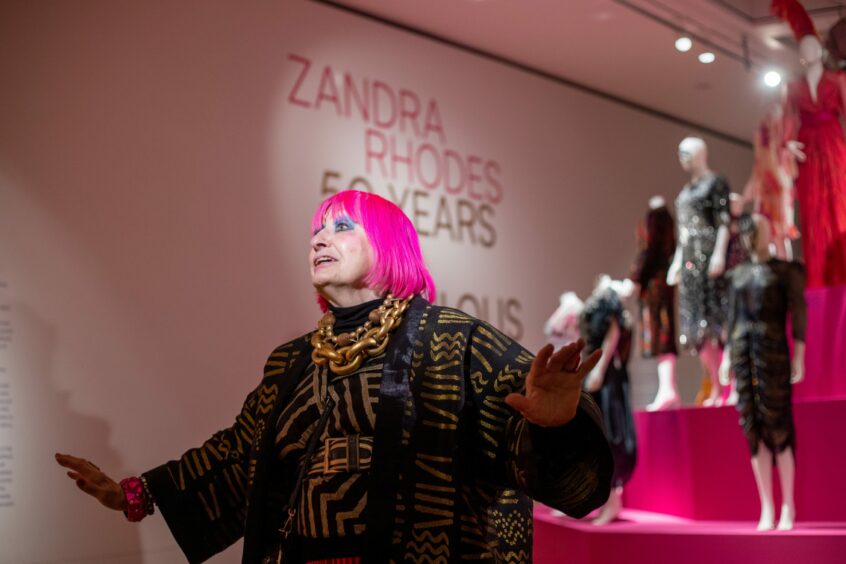 When asked if she would like to give some fashion advice to the people of Aberdeen, Zandra said: "My Aberdeen fans, never give up and come and see the exhibition, and be inspired!"
---
Zandra Rhodes: 50 Years of Fabulous will be at Aberdeen Art Gallery until March 20.
---
You might also like…