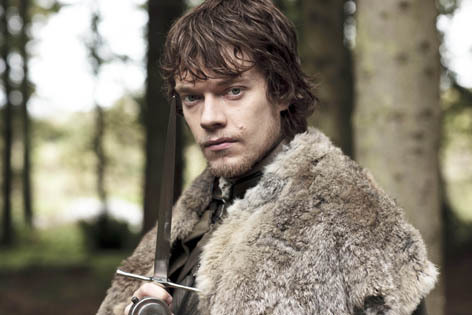 Game Of Thrones can be pretty dark, but Theron Greyjoy has really been put through the ringer. For Alfie Allen, the pain has been worth it – he tells of the doors that have opened as a result, and the fun of playing baddies
Alfie Allen was first introduced to the public through his big sister Lily's less than flattering ditty dedicated to her sibling's laziness.
The single, simply titled Alfie, was released in 2007 and included the lyric, 'You need to get a job because the bills need to get paid'.
Eight years on, and he's emerged from his teen slump with a starring role as Theon Greyjoy, in the hugely popular medieval fantasy series Game Of Thrones.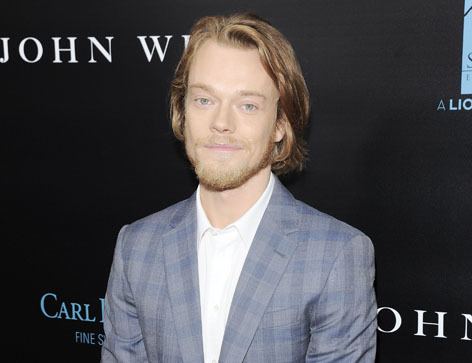 "When I got the part, I was watching The Wire, so to be part of an HBO show was just a dream," admits the 28-year-old. "I always thought it would get attention in America, but not be huge throughout the world."
The show, based on the books by George R.R. Martin, might be a phenomenal worldwide success, but none of the cast can rest on their laurels where this hyper-violent show is concerned.
Many characters held by leading names (including Sean Bean and Cinderella's Richard Madden) have been beheaded and mutilated since the series launch in 2011.
"Yeah, I am worried if I'm going to live or not, because I've got a mortgage to pay," jokes Allen, the son of hellraiser Keith.
If you've so far missed the show, Theon was taken hostage as a youngster and brought up with the Stark family at Winterfell castle. He became friends with Robb Stark but later betrayed him and captured the fort, only to find himself at the mercy of captors following a siege.
That was back in series two, and the actor recalls how the writers, knowing his concerns over being killed off, decided to play a prank on him.
"I was asking whether or not I was going to be alive for the third series and the writers gave me a fake script, which said I was stabbed in the heart."
As it was, his character wasn't slain but hauled off to prison, where he spent series three being physically and psychologically tortured at the hands of the psychopathic Ramsay Snow, played by Welsh actor Iwan Rheon.
"I think it's meant to make the audience feel uncomfortable. But my poor mother Alison Owen, a producer, I feel sorry for her," says Allen, grinning.
In one particularly gruesome scene, Theon was castrated. "I only ever get men talking to me about that," notes the actor, who was born in South-West London, attended school in Portsmouth and returned to the capital for college.
And as for the prosthetic penis, that makes numerous appearances at Game Of Thrones conventions.
"It makes me laugh, that my most prized possession, or Theon's, is in a box going to exhibitions. But it's a huge box!" he quips.
By the end of series four, the once arrogant Theon is a broken, submissive man, referred to as Reek because he resembles "stinking meat", Ramsay spits at him, and even assists his tormentor-turned-master's plans.
"The Stockholm syndrome in which hostages can end up empathising with their captors was just touched on in the past series," says Allen, who admits that despite the gruelling scenes, he's enjoyed exploring his character's tormented state.
"I'm sure there are people baying for more blood, but also through the efforts of co-creator David Benioff, and hopefully my acting, you can empathise with the character slightly.
"He's been stripped down to nothing. The bedroom was his only point of authority, and so his only weapon has been taken away from him."
He's keen not to ruin any surprises about series five, but will say: "There may be some light at the end of the tunnel in some weird, dark way."
Although Game Of Thrones takes up most of the year, he does have a few months off, and instead of just sitting back and relaxing, Allen's used this time to forge a burgeoning big screen career.
"Without a doubt, Game Of Thrones has helped me get into rooms that I wouldn't have been able to get into before," notes the actor, who in 1998 popped up in the comedy You Are Here, created by Matt Lucas and David Walliams, and the movie Elizabeth, which his mum produced.
He went on to land roles in the teen action flick Agent Cody Banks 2, the critically-acclaimed Atonement, starring James McAvoy and Keira Knightley, and then in 2008, took over from Daniel Radcliffe in the national tour of Equus, a role that required him to strip off on stage each night.
In recent years, he's filmed the thriller Confine with his model friend Daisy Lowe, Plastic, alongside rising star Will Poulter, and this month stars alongside Speed's Keanu Reeves in the action-thriller John Wick.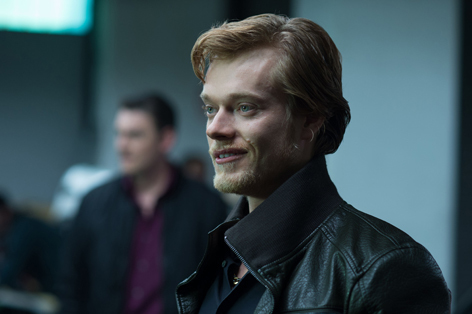 "Keanu's directed a documentary recently, so he's not just the actor. He's a very cool dude and I definitely learnt a lot just being around him on set, and off it as well," says Allen.
In the movie, he plays Iosef Tarasov, a thug whose sadistic actions reawaken a retired hit man (Reeves). He reveals he was "excited about the idea of learning some Russian" for the role, and playing one of the villains.
"I think Chad Stahelski, the director said I had the best bug eyes in the business, so just needed to give it some intensity," he says, laughing.
"When people say I make a great baddie, I take it as a compliment. It's fun to get to be something that hopefully you're not."