Aberdeen Arts Centre will celebrate its 60th birthday on Wednesday October 18.
Some Press and Journal online content is funded by outside parties. The revenue from this helps to sustain our independent news gathering. You will always know if you are reading paid-for material as it will be clearly labelled as "Partnership" on the site and on social media channels.

This can take two different forms.

"Presented by"

This means the content has been paid for and produced by the named advertiser.

"In partnership with"

This means the content has been paid for and approved by the named advertiser but written and edited by our own commercial content team.

---
The centre will celebrate the milestone over the next 12 months, with a highlight being its new co-production, The Maggie Wall, during a special programme of events from Saturday October 14 to Saturday 21. They will encapsulate everything that is special about this cultural landmark with educational science shows, searing theatre, children's activities and more.
They will also showcase the importance of Aberdeen Arts Centre to the people it serves. Throughout its six decades, the venue has been the beating heart of the community, engaging audiences and promoting local talent. Generations have grown up with it and seen it as a central part of their families' lives.
Amy Liptrott, director of the centre, says: "We feel privileged at Aberdeen Arts Centre to be a place where different generations of the same families have trod our boards! We're really proud that grandparents who performed here in their younger days can come back to watch their grandchildren performing now. It's unusual to have that facility at the heart of a community."
Here we take a look at the centre – its history, its impact and the bright future ahead.
A vital community hub is created
Aberdeen Arts Centre opened its doors in 1963 after a £53,000 conversion of what had previously been the North Parish Church in the city's St Nicholas Parish.
In the ensuing decades it would host countless productions and act as a hub for creativity. But perhaps most importantly it gave a space for the local youth to express themselves, notably through its collaboration with Aberdeen Children's Theatre.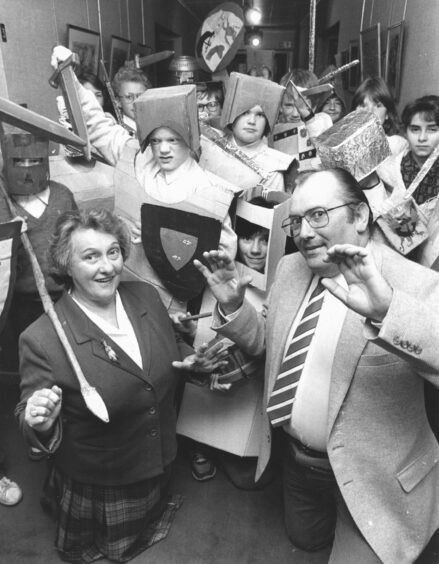 There were many major events over the years. In 1973 the centre staged the first production of The Cheviot, the Stag and the Black, Black Oil, which went on to be broadcast on the BBC. Major stars to have performed at the venue include Dreams singer Gabrielle.
At its heart though, the centre remained a focal point of the community, delighting audiences with its annual Christmas panto and providing a voice to creatives across the city.
That vital role was never more apparent than in 1998 when the council cut its core funding. Step forward Annie Inglis MBE who collected 45,000 signatures in her campaign to 'Save the Arts Centre'. Annie established The Aberdeen Arts Centre Association and in 1999 Castlegate Arts Limited was founded to support the building's creative activity.
With that, Aberdeen Arts Centre became both an arts venue and an independent charity.
Continuing to serve the people of Aberdeen
Along with events and activities for music lovers, families and children, the heart of the 60th Anniversary celebrations sees an exciting new venture for Aberdeen Arts Centre who are in their first co-production to bring new writing to Aberdeen. In a co-production with Pitlochry Festival Theatre, October 18 sees the newly refurbished Children's Theatre open with The Maggie Wall, a new play written by Martin McCormick. This collaboration shows the potential for Aberdeen Arts Centre to commission and produce their own work. It also feeds into the vision of Aberdeen Arts Centre's Artist Development Programme supporting local professional North East talent to make work in and for Aberdeen.
Amy says: "Promoting local professional talent alongside supporting amateur groups is going to be a privilege for the arts centre going forward. We want to help create a thriving development space where creative professionals at any stage of their career can experiment, make new work, gather feedback, and share that work with new audiences in a safe and supportive space. Aberdeen has brilliant local talent and we want to shout about that and support new work turning up the volume on local talent.
"This will also provide local young people with a visible career path into the arts.
"A career in the arts is so rewarding and showing young people a pathway into that career is so important. They say you've got to be able to see it to be it and I hope the Artist Development Programme will provide that visual aid for young people to explore their passions professionally."
So what does the future hold?
There are many more exciting projects in the pipeline with productions such as this year's panto, Rapunzel, set to draw audiences in. As a charity, fundraising too will be a vital part of the picture with donations helping support the centre's vital work.
Looking forward, Amy wants to see Aberdeen Arts Centre go even further in nurturing the creative talent that surrounds them. Four bursaries have been set up to support young artists and help them realise their ambitions. It's all part of their Artists Development Programme which sees initiatives such as rehearsed readings where local creatives can experiment with their work and get feedback.
Amy says: "We want to create a space where creatives are allowed and encouraged to experiment, and to take their audience on that journey too. Supporting work that has its roots in Aberdeen and the North East which can then go on to fly and take Aberdonian stories and voices further is our long term hope. Continuing to promote brilliant local amateur talent and building our support of local professional talent is our aim for the future. We're really excited to continue our work at the heart of our community."
---
Find out more about Aberdeen Arts Centre and its 60th birthday celebrations.