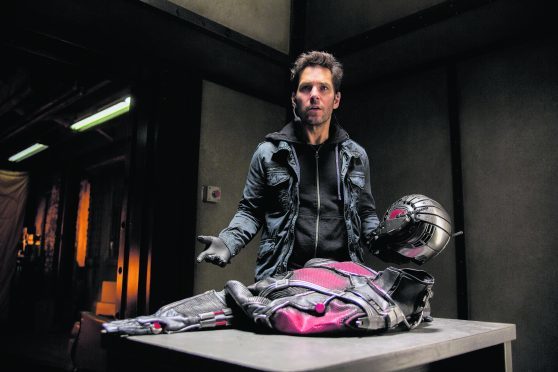 ANT-MAN (12)
4 stars
Cat burglar Scott Lang (Paul Rudd) is released from San Quentin penitentiary and resolves to go straight for the sake of his daughter, Cassie (Abby Ryder Fortson).
Desperate to pay child support, Scott agrees to a lucrative heist set up by his former cellmate (Michael Pena) and two pals (David Dastmalchian, Tip "T.I." Harris). Unfortunately, the robbery lands Scott in a police cell.
Inventor Hank Pym (Michael Douglas) offers Scott a way out if he agrees to don a superhero outfit, which shrinks the wearer at the touch of a button. Aided by Hank's feisty daughter (Evangeline Lilly), Scott masters the suit and learns to mind-control four species of ants.
Humans and insects take on Hank's former protege Darren Cross (Corey Stoll), who has replicated the Ant-Man technology for a Yellowjacket suit, which he intends to sell to Hydra.
Ant-Man is a boisterous action adventure, anchored by a winning performance of charm and chutzpah from Rudd. The actor flexes his comic muscles as well as his abs and pecs, which are flaunted in an obligatory scene of toplessness to prove he hit the gym for the role.
Douglas and Lilly provide solid support as the feuding father-daughter dynamic destined for reconciliation.
Peyton Reed's film mines a rich vein of humour to underscore the high-speed acrobatics. The 3D format – available exclusively on Blu-ray – is only noticeable when Scott activates the suit and seemingly benign household features, like a running
tap, become life-or-death obstacles a la Honey I Shrunk the Kids. A new star in the Marvel Comics firmament is born.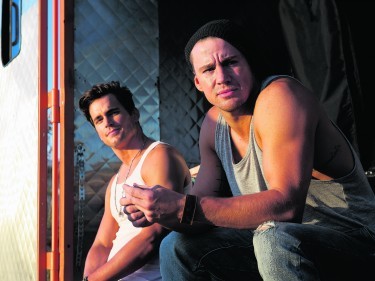 MAGIC MIKE XXL (15)
2 stars
Times are tough for Mike Lane (Channing Tatum), who turned his back on stripping to pursue his dream of running a custom furniture business. Consequently, he reunites with fellow dancers Ken (Matt Bomer), Richie (Joe Manganiello), Tito (Adam Rodriguez) and Tarzan (Kevin Nash) for one final pelvis-thrusting hurrah as the Kings of Tampa at a strippers' convention in Myrtle Beach.
En route, the team's MC, Tobias (Gabriel Iglesias), is waylaid in hospital; Richie finds a potential soulmate in an uninhibited Southern belle (Andie MacDowell), and the men learn new tricks from smooth operators Andre (Donald Glover), Malik (Stephen "tWitch" Boss) and Augustus (Michael Strahan) at a private club called Domina run by sassy businesswoman Rome (Jada Pinkett Smith).
Magic Mike XXL is a pelvis-gyrating sequel that dutifully thrusts its crotch towards the target viewers. Tatum is the film's strongest asset and his athleticism and agility are repeatedly tested by choreographer Alison Faulk. Unfortunately, the breathlessly staged performances are forced to bump 'n' grind against a script that is flimsier than a moth-eaten G-string.
Rome's affirmative message that all women deserved to
be worshipped as "queens" by their men might ring true if
the women in the film weren't dragged, pushed and spun around the floor like supermops by the male dancers. The narrative lacks pace and
purpose, most of the characters are limited to one scene of personal development, and a central romance between Tatum and on-screen love interest Amber Heard remains unappealingly limp.