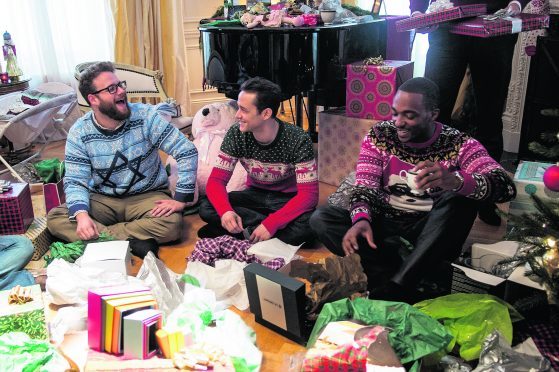 THE NIGHT BEFORE (15)
3 stars
Ding dong merrily, get high.
So sayeth The Night Before, a drug-fuelled comedy of errors in which a trio of friends encounter the ghosts of Christmases past, present and future during a madcap quest to attend a secret yuletide party called The Nutcracker Ball.
En route to this nirvana of free-flowing booze and dancing girls, the luckless central characters endure interludes drenched in bad taste humour and rediscover their brotherly love by overcoming outrageous misfortune on the snow-laden streets of New York.
Four screenwriters stoke the escalating madness with a colourful cameo from Miley Cyrus and the obligatory smattering of pop culture references.
Thus when a thief covers her tracks by throwing tiny toy cars on the pavement so her pursuers take a tumble, one bruised pothead shrieks, "She Home Alone-d me!"
There's a glimmer of genuine sweetness beneath the tomfoolery, which occasionally casts a warm glow over characters as they learn valuable lessons about the power of friendship to overcome every obstacle.
However, we've seen this lunacy many times before from leading man Seth Rogen, most notably in the delightful buddy comedy Pineapple Express, which demonstrated a similar affection for illegal substances as an escape from reality.
Santa Claus (Tracy Morgan) narrates the sorry tale of Ethan Miller (Joseph Gordon-Levitt), Isaac Greenberg (Rogen) and Chris Roberts (Anthony Mackie), who have spent Christmas Eve together since 2001, when Ethan became an orphan.
Fourteen years later, the men have grown apart and realise they must bid farewell to festive tradition. Chris is a superstar American football player, who secretly injects steroids to compete with teammates including star quarterback Tommy Owens (Aaron Hill).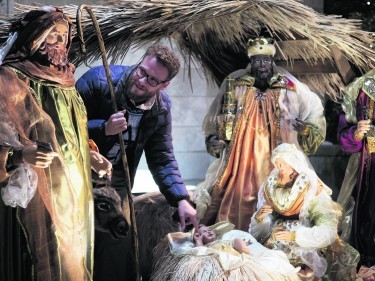 Isaac has an adoring wife, Betsy (Jillian Bell), who couldn't be more proud of his transition from goofball to expectant father.
"You've been my rock through this whole pregnancy," she coos. "You're my Dwayne Johnson."
As for Ethan, he has recently split from long-term girlfriend Diana (Lizzy Caplan) because he refused to commit.
He now realises that he wants Diana back, but she is footloose and fancy free, flanked by best friend Sarah (Mindy Kaling).
The lads go out in a blaze of glory by attending the most exclusive party in New York, armed with pot procured from avuncular local dealer Mr Green (Michael Shannon).
Needless to say, the festivities don't unfold as planned.
The Night Before has some amusing moments, but gags fall horribly flat more often than they hit their target.
Isaac's hallucinogenic misadventures grow tiresome at alarming speed and the hare-brained theft of a horse-drawn carriage is missing a punchline.
Rogen plays to type but Gordon-Levitt and Mackie bring a touching vulnerability to their wide boys, who are their own worst enemies.
Jonathan Levine's film is a Christmas cracker missing its snap.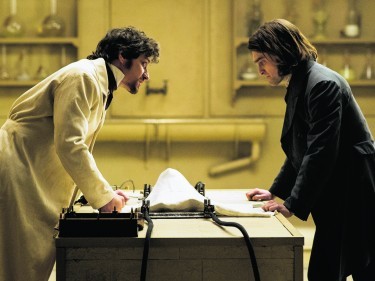 VICTOR FRANKENSTEIN (12A)
2 stars
In her 1818 novel Frankenstein, Mary Shelley paints a vivid portrait of a wretched monster, whose "unearthly ugliness rendered it almost too horrible for human eyes".
Scottish director Paul McGuigan's clunky reworking of the Gothic masterpiece, which recounts man's ill-fated meddling with Mother Nature from the perspective of Frankenstein's assistant Igor, is a similarly lifeless and unappealing mess.
The disfigured, snivelling servant doesn't feature in Shelley's haunting text but was popularised by Hollywood in the 1930s and 1940s.
As played here by Daniel Radcliffe, Igor is a kind-hearted circus clown, who pledges his loyalty to Dr Frankenstein in return for liberation from a life of bullying and brutality.
He isn't a hunchback at all, but a victim of a nasty bulging abscess beside the 10th vertebrae, which is drained of puss in stomach-churning close-up as a centrepiece of the film's pedestrian first half.
The fraternal bond between scientific master and much-abused whelp is one of the more interesting aspects of Max Landis' misguided and misfiring script.
Alas, it's not sufficiently developed ahead of a cacophonous second act replete with flashes of lighting and the birth of a homunculus, patched together from stolen organs and body parts.
Victor Frankenstein (James McAvoy) is a student at the Royal College Of Medicine with lodgings in the west end.
During a visit to a circus run by sadistic ringmaster Barnaby (Daniel Mays), Victor encounters a lowly clown (Radcliffe) with a burning passion for anatomy.
A bond is forged and Victor rescues the clown from his cage and asks the performer to become his assistant under the guise of his morphine-addicted flatmate, Igor Straussman.
Together, they blaze a trail in medical science by harnessing the power of electricity to reanimate dead flesh.
"I am of the strong belief that death can be made a temporary condition," gushes Victor.
Success emboldens Frankenstein and the student dares to create a fully formed being with support from a wealthy patron called Finnegan (Freddie Fox).
Meanwhile, Igor fans the flames of a fledgling romance with a circus acrobat Lorelei (Jessica Brown Findlay) and God-fearing Inspector Roderick Turpin (Andrew Scott) vows to bring down Victor for mocking his religion.
"You toy with wrathful forces and there's no mercy in nature," growls the police officer.
Victor Frankenstein lumbers and lurches rather like the monstrosity that the title character jolts to life with a bolt from the heavens.
Radcliffe and McAvoy are an awkward double-act: the former stilted and earnest, the latter wide-eyed and manic.
Scott verges on unintentional hilarity as a man of faith, undone by the grief of losing his wife.
"Something reeks here – reeks of an evil, sinful mischief!" he cackles as the police investigation gathers pace.
Lamentably, he's right: Victor Frankenstein stinks.