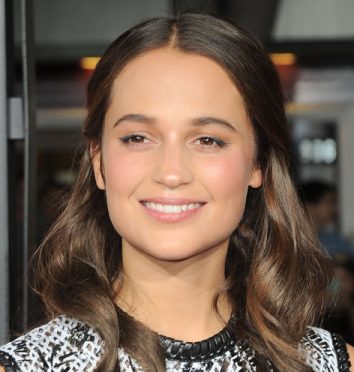 Alicia Vikander ended 2015 the same way she started the year – with a clutch of award nominations to her name. But all the industry nods in the world haven't stopped her from feeling nervous when she doesn't have her next job lined up.
"It's always there," says the rising star, of the pressure to find new roles.
"It's a scary thing. I think most actors carry that with them. You never know what's around the corner, and even if you are lucky to know what's next, that's still just a few months ahead of what you're doing at the moment."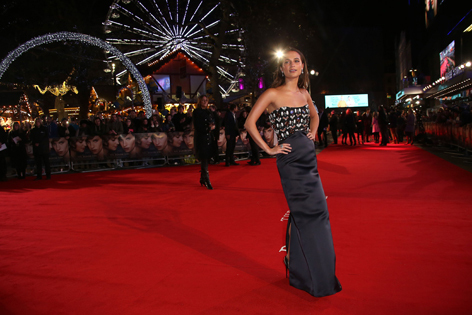 Known for her stirring performance as Vera Brittain in 2014's Testament Of Youth, enigmatic robot Ava in Ex-Machina – which has earned her a Best Supporting Actress Golden Globe nomination – and the no-nonsense Gaby in Guy Ritchie's slick Sixties-set comedy The Man From U.N.C.L.E, there's arguably plenty in the Swedish actress' schedule over the next year to help keep the fear at bay.
There's a role in the new Bourne film, as well as parts in drama The Light Between The Oceans with Michael Fassbender and Submergence with James McAvoy – not to mention her first release of 2016, The Danish Girl, which sees Vikander also nominated in the Best Actress category at the Globes.
Despite the steady stream of work in Hollywood, the modelling contract with Louis Vuitton and the rumoured boyfriend in her co-star Fassbender, her perception of her own situation remains modest.
"For three years, I had about 250-300 dollars after I paid my rent, so you get used to [just having] that," Vikander reflects. "I think it's a great thing."
From the outside looking in, her rise appears seamless – though that hasn't always been the case.
Growing up in Sweden, the 27-year-old trained in ballet as a child, but dreamt of acting and harboured ambitions to pursue that goal.
The only child of a stage actress and a psychiatrist – who separated when she was very young – Vikander briefly flitted with the idea of training as a lawyer and was accepted on a law course, after twice failing to get a place at drama school.
"I loved going to school and I loved to read and a part of me really wanted to go to university," says the actress, who managed to land a few small TV jobs and parts in short films during this time.
"I had a dream that maybe if I can't act, because the industry [in Sweden] is so small and I hadn't really seen actors go internationally and work abroad, I would love to produce films. Most people I knew who worked as producers came from a background of being lawyers."
But just before term started, she was cast in a gritty drama called Pure. Doors were opened, and roles in the likes of 2012's A Royal Affair, Anna Karenina and The Fifth Estate, alongside Benedict Cumberbatch, soon followed.
And much as she once fancied spending a few years furthering her training in a formal setting, so far, Vikander has found just one drawback to her career.
"The only thing that I think is quite tough sometimes is the personal aspect of family and friends and people," she says with a laugh.
"You can't make any plans with them about anything, even though when they actually ask you, 'So what are you doing in three months?' You say, 'I don't know, but I don't know if I can make any plans'.
"But it's always that case [with acting]," she adds. "You're on your toes all the time, and I think that's very exciting."
The Danish Girl, in which she shares the screen with Eddie Redmayne, certainly kept her on her toes.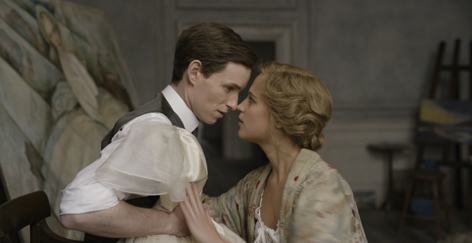 Based on true events, the Twenties-set drama explores how the relationship between married artists Einar, played by Redmayne, and Gerda Wegener changes, when Einar admits that he believes he's been born with the wrong body and wants to live as a woman – called Lili Elbe – eventually undergoing pioneering gender confirmation surgery.
Vikander plays Gerda, who is struggling to find a place for herself in the art community, but whose fortunes change when she starts painting Lili. The role saw her learn how to draw with charcoal.
"With Lili as her subject and, in a way, muse, Gerda is given inspiration, finds her voice of expression, and is able to be the artist that she always thought she could be," the actress explains. "The paintings reference whatever state our characters are in for different parts of their lives."
Despite proving beneficial professionally, Gerda's life is irrevocably altered when she decides to support Lili through the transition.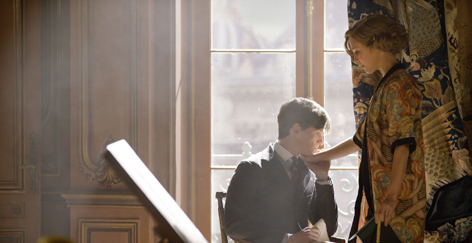 "Gerda and Lili almost come off as soulmates," says Vikander. "They have an ability to be extremely playful with one another and see each other for the people they are.
"Of course, it is a journey, but it feels like I was totally able to relate to this marriage and relationship, in a way of going on a big journey when a big change is happening.
"They have to find new feet and new ground. It's the fear of thinking that a change will mean you lose the person that you love, but what's extraordinary is the fundamental love and support between them in this film."
Already, the movie has attracted support from outside the industry and was recently shown at The White House at an evening honouring 'champions of change'.
Vikander beams with pride at the memory. "I'm very proud that we are telling this story in a time when people can be a part of this movement," she adds.
Much as the film is important for the wider world, it could also be a huge stepping stone for the actress, with the Golden Globes often proving something of a guide as to who's likely to be nominated for an Academy Award. How does she feel about the hype?
"I feel immune to it all," Vikander says with a smile.
"It's been wonderful. It's a wonderful thing when you get to release a film to the world. I can't wait for hopefully an audience to finally see our film."