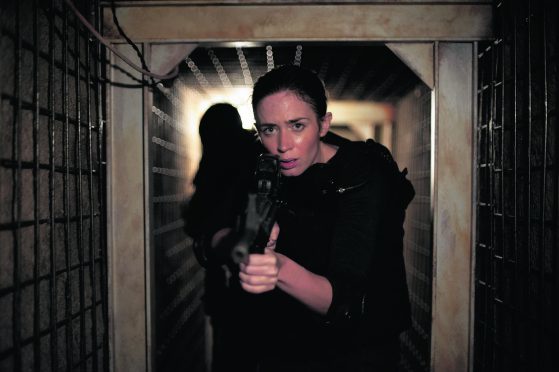 SICARIO (15)
4 stars
Kate Macer (Emily Blunt) is part of the FBI's Special Weapons and Tactics team, who are at the forefront of the war against drugs on American soil.
Flanked by her partner Reggie Wayne (Daniel Kaluuya), Kate storms a safe house and uncovers dozens of rotting corpses. Soon after, a government agent named Matt Graver (Josh Brolin) asks Kate to join his top-secret taskforce, which intends to cripple the drugs cartel fronted by Rafael (Raoul Trujillo) from the top down.
Haunted by the loss of men under her command, Kate willingly signs up and she heads to El Paso for her briefing, where she learns that she will be venturing on to Mexican soil.
A Colombian former prosecutor (Benicio Del Toro) with a personal vendetta joins the taskforce. Bullets fly and Kate's conscience is spattered in blood.
Sicario gradually tightens the screws on our frayed nerves until we're begging for mercy.
At the blackened heart of the film is a tour de force performance from British actress Blunt, whose steely heroine might have to sacrifice more than her idealism in the crucible of machismo and political double-dealing.
Scriptwriter Taylor Sheridan sidesteps glib solutions to a complex global epidemic and skilfully weaves together sinewy subplots involving morally flawed characters on both sides of the Mexican border.
Desperation comes dripping like rivulets of sweat from every expertly crafted frame and French-Canadian director Denis Villeneuve heightens our discomfort with some thrillingly orchestrated action set-pieces, including a wonderfully mesmerising finale that exposes sins under the cover of darkness using night-vision and thermal-imaging cameras.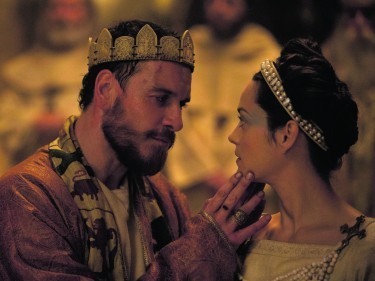 MACBETH (15)
4 stars
Macbeth (Michael Fassbender) and Lady Macbeth (Marion Cotillard) are inconsolable at the loss of their beloved son. On the battlefield, the Thane encounters a quartet of prophetic hags (Lynn Kennedy, Seylan Baxter, Kayla Fallon, Amber Rissmann) who foretell his rise through the ranks and eventful coronation at the expense of King Duncan (David Thewlis).
Aided by his wife, Macbeth murders the monarch and frames his manservants. The king's son Malcolm (Jack Reynor) flees and Banquo (Paddy Considine) – who is party to the witches' proclamation – naturally suspects Macbeth's trembling hand in the foul play.
Subsequently, Macbeth turns his attention to rival Macduff (Sean Harris) and orders the execution of Lady Macduff (Elizabeth Debicki) and her children so that no one stands in his way, as decreed by the hags.
The Scottish play bares its teeth and draws blood in Australian director Justin Kurzel's muscular and unflinching adaptation that accentuates the carnage as the doomed title character is undone by paternal grief and naked ambition.
Shot on location in Scotland and England, this Macbeth is rugged and raw, stripped bare of some of Shakespeare's lyrical text for the sake of dramatic expediency and visual spectacle. Fassbender delivers a mesmerising lead performance of snarling intensity that overwhelms everyone else on screen, not least Cotillard, as his wife in mourning, who doesn't always seem comfortable with the iambic pentameter.
A cold, earthy colour palette reflects the icy blast of an ill wind that whips through every frame, including majestic castle interiors where the scheming and treachery reach a horrifying crescendo.