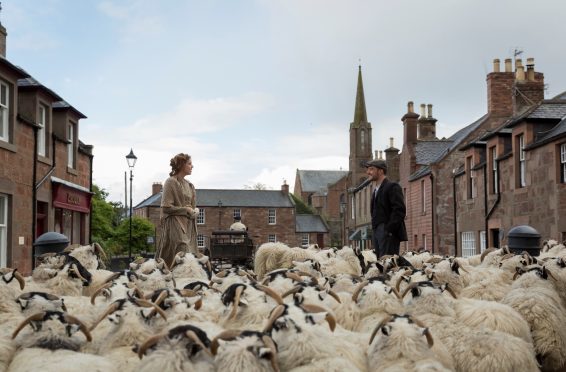 Since Aberdeenshire novelist Lewis Grassic Gibbon wrote Sunset Song in 1932, people have been raving about his book, which is regarded widely as one of the most important Scottish novels of the 20th century.
Over the years, there have been several adaptations, including a major TV series in the 70s, while Terence Davies's acclaimed new big-screen adaptation, released last year, brought this much-loved story of young Chris Guthrie – a woman driven by an intense passion for life – to a new audience. As well as reminding audiences what a great story this is, the film also served as a reminder that the north-east of Scotland is a very attractive place.
A number of Aberdeenshire locations which feature in the film, including Glen Tanar Estate, Fettercairn and Arbuthnott Church, have been highlighted in a new movie map produced by VisitScotland. The national tourism organisation has teamed up with Metrodome, the film's distributors, to produce the map, which will be available in VisitScotland Information Centres throughout the region and for download at www.visitscotland.com/films
As well as highlighting the filming locations, the publication also points visitors in the direction of the Grassic Gibbon Centre at Arbuthnott and other locations with a connection to the novel. It also provides details on the author and explains why Sunset Song continues to be compulsive reading.
Filming locations featured on the Sunset Song map include: Glenmuick Estate, near Ballater – where the standing stones were created; Fettercairn – Chris and Ewan meet amid a flock of sheep running through the village; Glen Tanar Estate, near Aboyne – Chris studies at the old school house; Arbuthnott Church – the family attend regular services there, along with the villagers. Filming also took place at Invercauld Estate and Ballogie Estate.
Philip Smith, VisitScotland's regional director for Aberdeen city and shire, said: "It is wonderful that the beauty of rural Aberdeenshire has been captured on film in Sunset Song. Our locations map will allow visitors to explore these amazing landscapes and also learn more about the region that inspired one of this country's most enduring works of literature.
"Aberdeenshire's stunning film locations are truly coming to the fore. Not only do they play a key role in our new publication Set in Scotland: A Film Fan's Odyssey, but, with last year's Victor Frankenstein and the upcoming Whisky Galore also being filmed here, the region's cinematic stock is continuing to rise, making it an even more popular destination among set-jetters."
Councillor David Aitchison, chairman of Aberdeenshire Council's infrastructure services committee, said: "From the Cairngorms to the Mearns, our dramatic mountains, sweeping farmland and traditional granite villages are undoubtable showstoppers. I would encourage both locals and tourists to take a closer look at Aberdeenshire."
The Sunset Song map will be available in VisitScotland Information Centres throughout Aberdeenshire, at locations featured on the map and for download at www.visitscotland.com/films