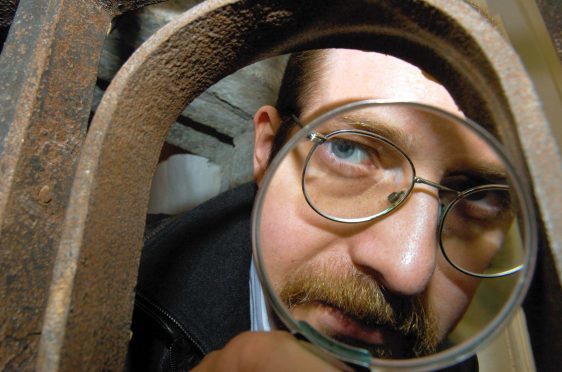 The full line-up for Aberdeen's new crime writing festival has been announced.
Some of the most celebrated talent from the Nordic Noir scene will join Scotland's own Tartan Noir authors for Granite Noir, which takes place in the city from February 24-26.
Among the names from the Nordic Noir genre will be Norway's Gunnar Staalesen, Sweden's Kristina Ohlsson and Thomas Rydahl from Denmark.
Already announced as headliners are renowned crime writers Denise Mina and Christopher Brookmyre – as well as the north-east's very own crime fiction stalwart Stuart MacBride.
APA Chief Executive Jane Spiers said: "We're delighted to be bringing masters of the Nordic Noir genre to Aberdeen for Granite Noir. Over three days we'll pay homage to the wealth of talent from Scotland and Scandinavia, delving into the 'Northern Phenomenon' and what makes the genre so compelling.
"Our programme is designed to cater for crime novel enthusiasts right down the line to those just discovering Noir. We hope to see people approaching the festival programme with a spirit of adventure – come along to see your favourite authors in action, and stick around to discover something new and exciting."
Events are designed for readers and writers alike, ranging from workshops and panels hosted by star authors, to exhibitions and film screenings.
There will also be family-friendly events for 'Little Criminals', a 'poisoned' high tea and the chance to 'solve' a mystery from the city's past.
Events fall into seven categories: Most Wanted (headline events); In Conversation sessions; Nordic Noir; North-east Noir, Little Criminals (family events); Crimewatch (film screenings) and Granite Noir Workshops. The full programme can be viewed at
aberdeenperformingarts.com/granitenoir
. Events will take place in city centre venues including The Lemon Tree, Aberdeen's Central Library, The Town House, The Belmont Filmhouse and His Majesty's Theatre.
The festival will open with Crime-stoppers Turned Crime Writers, which will see Stuart MacBride talk with DCI Daley author Denzil Meyrick and Kate London, who has a fascinating background of working in London's Metropolitan Police, France's police nationale and the Met's Homicide Command.
This will be followed by Atmospheric Pressure with authors Doug Johnstone and Sarah Ward. Participants will discover why choosing the right location for a novel is as important as identifying the killer.
Also on the Friday evening will be two In Conversation events with Stuart MacBride and Chris Brookmyre.
Festival programmer Lee Randall added: "Who better to kick off our opening night than local legend Stuart MacBride. He'll be talking to Gordon J Brown, one of the founders of Bloody Scotland, about his bestselling Sergeant Logan McRae novels, which put Aberdeen in pride of place on Scotland's Noir map. Christopher Brookmyre is one of Scotland's finest and funniest writers and his event may even give us a sneak preview into his new novel out this spring."
The Saturday events also include Pantsers Versus Planners – a frank discussion with authors Chris Brookmyre, Kati Heikkapelto, Doug Johnstone and Kate London. The subject matter? When writing a novel, is it better to plan meticulously, or fly by the seat of your pants and see where the story takes you?
Blurred Lines with Denise Mina and Nicola White will tackle the differences between true crime books and crime fiction.
It will be followed by Does Evil Exist? – a discussion with Denise Mina, Richard Holloway and Dr Zohar Hadromi-Allouche, about the historical concepts of evil and our perceptions of wrongdoers.
Whether you're a reader or a writer wrestling with these dilemmas on the page, this is a conversation you won't want to miss.
Saturday evening will bring The Customs of the Country, in conversation with Bloody Scotland co-founder and director Gordon J Brown and Iceland Noir festival co-founder Quentin Bates. Hot Scandi Crime with Thomas Enger and Thomas Rydahl will put the spotlight on those Scandi Noir authors and their work, and Nordic Noir event Meet Sweden's Queen of Crime will hone in on beloved Swedish author Kristina Ohlsson, famed for both her crime fiction and children's books.
For the 'Little Criminals', there's a free children's workshop, What Happens Next? With acclaimed author Vivian French, who will lead budding writers on a hair-raising trip into Aberdeen's past.
The final day of Granite Noir will host North East Noir, in conversation with Claire MacLeary and Clio Gray, followed by Challenging Conventions with Antii Tuomainen and Russel D McLean, two accomplished authors who aren't afraid to break the rules. Crime with a Social Conscience will be led by writers Kati Kiekkapelto and Eva Dolan, both talented authors who are so adept at weaving controversial social issues through their thrilling mysteries that you never spot the join.
And what could be more inviting on a chilly Sunday afternoon than a plate piled high with scones, pastries and dainty sandwiches… but beware! Poisoned High Tea is an event with a twist. Dr Kathryn Harkup, author of A is for Arsenic, will be there to remind us that in the hands of queen of crime Dame Agatha Christie, everything on the menu could become a lethal weapon.
North-east writer and artist John Bolland and Aberdeen-based writer Shane Strachan will lead a Dark Doric Workshop, an exploration into the darker side of the North-east. Places for this event are limited to 12, so book early.
Taking Inspiration from the Past with Elly Griffiths and S G MacLean will see the two masters of their form reveal their top tips for writing historical fiction. Youngsters can sharpen their pencils for a fun, free Drawing Baddies session with bestselling author and YouTube sensation Shoo Rayner.
Another free workshop, Who Killed David Dun? with William Hepburn of the University of Aberdeen, gives participants the chance to try and solve a historic crime.
A film screening of Cold Hearts will take place at Belmont Filmhouse, with an exclusive conversation and audience Q&A held with the author of the novel that inspired the film, Gunnar Staalesen himself.
Granite Noir's closing event, Noir at the Bar, will also take place at The Belmont Filmhouse, as an informal gathering of festival and local talent for a night of readings and hi-jinks in the bar, with an appearance by Gunnar Staalesen.
The format for this event originated in Philadelphia and has sprung up around the world to become an international phenomenon. Anything could happen – guests are likely to hear new work, readings from published novels, maybe even a song or two! It's the perfect chance to get up close and personal with some of your favourite writers in a relaxed setting.
Events are individually priced and tickets are now on sale. They are available from aberdeenperformingarts.com or by phone on 01224 641122.
Discounts apply as follows: 10% off when booking 4-7 events; 15% off when booking 8-12 events; full weekend pass £90 (pass excludes some events – please check programme for full information).