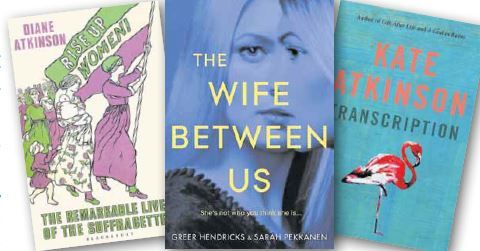 So, what are we going to be reading this year?
Well, there's a plethora of big anniversaries, a promise of 'the next Girl On The Train' and, of course, a certain royal wedding on the horizon – all of which will throw up plenty of possibilities.
In fact, 2018 should see a raft of books to mark the centenary of the Armistice, while others celebrate the 100th anniversary of the first general election in which women (over 30, at least) could vote, predicts Caroline Sanderson, associate editor and non-fiction previewer of trade magazine, The Bookseller.
"Ones to watch include Rise Up Women! The Remarkable Lives Of The Suffragettes by Dr Diane Atkinson (Bloomsbury, Feb 8). It covers the lives of more than 200 suffragettes, not just Pankhurst and the names everybody knows," she says.
"There's also a book by Helen Pankhurst, the great-granddaughter of Emmeline, called Deeds Not Words (Sceptre, Feb 6), which looks back at the last century and the way forward for equality."
Of course, the royal wedding is likely to attract some quick-response publications, she notes.
"There are bound to be books pegged to the Harry and Meghan story. Pitkin rushed out Harry & Meghan: A Royal Engagement by Halima Sadat in December, but there will be more. You can imagine there will be some funny takes on it as well, with the American/British connection."
Novels from celebrities include Never Greener (Bantam, Apr 5), the debut from Gavin And Stacey actress and writer Ruth Jones.
There's a moving and surprisingly humorous book from Clare and Greg Wise (the husband of Emma Thompson), based on Clare's blog, which she started when she was diagnosed with cancer in 2013. When she became too weak to write, he completed Not That Kind Of Love (Quercus, Mar 1).
Denise Fergus, the mother of murdered child James Bulger, is bringing out I Let Him Go (Blink, January 25), which is bound to attract a lot of coverage.
"Denise doesn't want her son to be remembered as a murdered child and with this beautifully written book, she succeeds. It's about the legal battle to change the way the law treats victims of crime, so it's campaigning as well," says Sanderson.
On a lighter note, Strictly Come Dancing contestant Susan Calman is bringing a book out in the autumn called The Kindness Quest: Dancing For Joy (Two Roads, Sep 6), which aims to persuade people to be kinder to each other and spread more joy.
In the world of fiction, publishers are elbowing each other in their quest to find the next blockbuster thriller, says Alice O'Keeffe, books editor of The Bookseller.
"In the past few years, domestic noir has been really strong. It kicked off with the success of Gone Girl and The Girl On The Train, so every publisher is still looking for this year's Girl On The Train. Domestic noir is still where everybody's at," she says. "The stand-out debut is The Wife Between Us by Greer Hendricks and Sarah Pekkanen (Macmillan, Feb 8). It's terrific. It starts with a narrator who you believe to be a wronged divorcee, whose wealthy ex-husband has traded her in for a younger version, and she talks about the revenge she is going to take. It stands out in a very crowded market."
Close To Home by Cara Hunter (Penguin, out now), about a girl who goes missing, and Lullaby (Faber, Jan 18) by Leila Slimani, which focuses on the power struggle between a working mother and the nanny she employs, leading to a double murder, are other novels to watch.
"Sophie Kinsella has a new book coming out – Surprise Me (Bantam, Feb 8) – about a couple who realise they are going to have had seven decades of married life together if all goes well, so they concoct this plan to keep their relationship fresh and exciting, which goes really wrong because a secret comes out.
"Joanna Trollope is another stalwart. She has picked a topical theme for her next book, An Unsuitable Match (Mantle, Feb 22), about a middle-aged couple getting married, but they both had families before – and its how their respective children get along. She's very good at taking modern life dilemmas and turning them into fiction."
O'Keeffe predicts that 2018 is going to be a good year for historical fiction, too.
"The Essex Serpent by Sarah Perry has opened up the public's interest in historical fiction more. Sarah Waters has sold in big numbers and that has further fuelled interest.
"The Mermaid And Mrs Hancock (Harvill Secker, Jan 25) is a terrific debut by Imogen Hermes Gowar, which opens in 1785 with a sailing merchant whose boat has been missing for months, with no contact from the captain. Then one night, the captain arrives home – he has sold the ship for what appears to be a mermaid."
Broadcaster and non-fiction writer Sally Magnusson's debut novel The Sealwoman's Gift (Two Roads, Feb 8) takes a real event in which barbary pirates turned up in Iceland and raided the coast, kidnapping 400 Icelanders and taking them to Algiers to sell them into slavery. This tells the story of the wife of the pastor.
Keep an eye out for well-established authors who always deliver, including Kate Atkinson, whose new novel Transcription (Doubleday, Sep 6) features a post-war Secret Service heroine whose life starts to unravel; crime writer Belinda Bauer, whose next psychological thriller Snap (Transworld) is out in May, while Sarah Pinborough follows Behind Her Eyes with a twisty new thriller Cross Her Heart (HarperCollins), also out in May.
And there are plenty of follow-up novels to get your teeth into, she adds, most notably the last in Jojo Moyes' barnstorming trilogy which began with Me Before You, After You and now Still Me (Michael Joseph, Jan 25), which is expected to be huge.