GALLERY: School's out as Graffiti Granarchists and local kids splash colour across Aberdeen street
By
Daniel Boal
October 11, 2019, 6:50 am
Updated: October 11, 2019, 10:57 am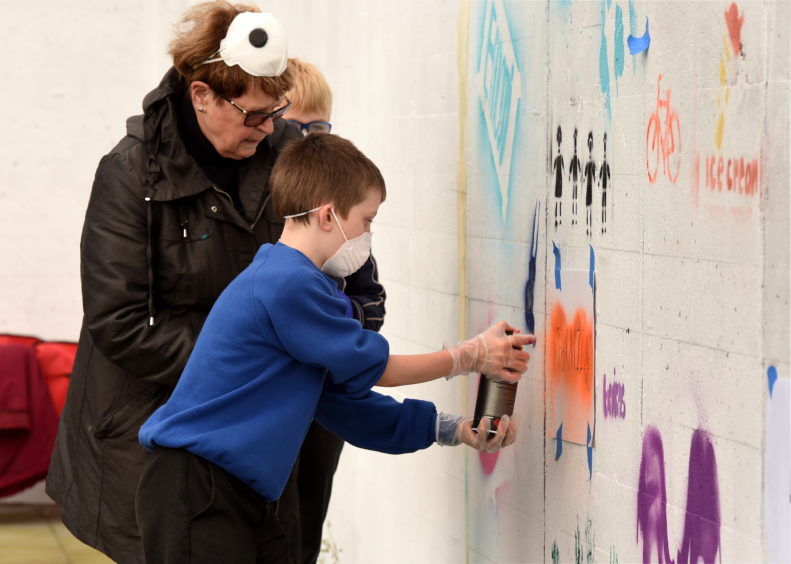 A drab wall has been transformed into a vibrant canvas by an inter-generational team of pensioners and schoolchildren.
The Graffiti Granarchists worked with 240 students from Gilcomstoun School to splash colour across the Skene Street wall.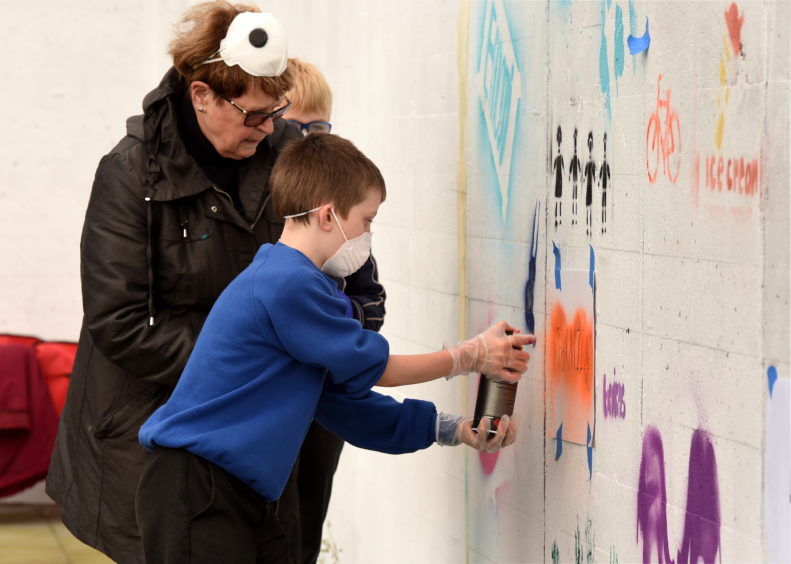 The group previously made headlines across the country for their street art and were even invited onto ITV's This Morning programme to showcase their skills.
Secretary for the group and former headteacher, Rosemary Murray said: "This inter-generational team has been great and both groups have taught each other so much.
"We've taught them that street art is a great outlet for creativity and they have shown us just how well young and old can work together."
Aberdeen City Centre Community Council had been keen to spruce up the area for years and have now achieved that objective with the involvement of Aberdeen Alcohol & Drug Action, Graffiti Granarchists and Gilcomstoun School.
Organiser, Angela Joss said: "The piece is set to be a multi-cultural feature that will celebrate the diversity of the school, where there are 30 languages spoken by pupils."
Children decorated the imposing grey wall with words meaning "play" in their native tongues, alongside stencils they created themselves, depicting images of happiness.
The Skene Street Project has been a long-running effort from Aberdeen City Centre Community Council to make the area more attractive.
Aberdeen Alcohol & Drug Action, laid the foundations when they provided the whitewash canvas that students started with yesterday morning.
---
>> Keep up to date with the latest news with The P&J newsletter
---
With the partnership of pensioners and primary school kids, the blank space became a colourful tableau as the day progressed.
Chairman Dustin Macdonald, who has two children who attend the school and helped with the spray painting said: "It's great to see the area get a bit of life breathed into it, and the kids were really excited to join in.
"Every child's hand print features on the wall giving them all ownership of this newly brightened space."
The group who were brought together for the city's NuArt Festival now has 13 members and, with the festival behind them, the Graffiti Granarchists are looking to continue their work across the city.
Members of the group are encouraging other people over the age of 65 to join them, and look forward to sharing their skills and mutual love of art.