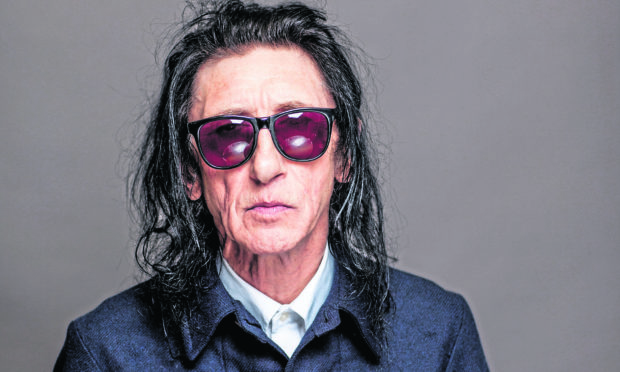 John Cooper Clarke lives life in razor-sharp focus.
The first giveaway is his traditional garb, unchanged from when he first got up on stage as a young poet in the 1970s.
From the pointed tip of his boots to the starched collar, sharp blazer and hair which looks like it just withstood a hurricane, John cuts a recognisable silhouette.
He turned 70 this year, but time has faded neither his quick-witted demeanour nor penchant for ultra-skinny drainpipe jeans.
Modern articles claim he "shot to fame as the original people's poet", perfectly capturing the ethos of the punk era. But John remembers it differently.
"I'm more famous now than I ever was in the pop punk era," he scoffs.
His voice is a thing of wonder, deep and cracked, every slow syllable evidence of too many cigarettes smoked in decades gone by.
"And that's not me being big-headed.
"Most of the time I was playing on bills where I wasn't the main act and there was no guarantee that people who were there to see the Sex Pistols would like me."
For years he fought raucous audiences to be heard and over time it paid off, earning him the unofficial title of Bard of Salford.
"In the '80s my profile dropped," John said.
"You see, in the '80s, if you were perceived to be anything to do with punk, then you weren't flavour of the month any more.
"But I never stopped writing and carried on doing smaller gigs.
"Poets are supposed to be under-appreciated, you know?
"But I got a bit of international relief when The Sopranos unexpectedly featured Chickentown (one of John's most famous recordings).
"Oh that tickled me, it did. I'm a huge fan of the show, you see, and they never contacted me in advance so it was a total surprise."
In 2012 John was the subject of a BBC Four documentary and in the same year featured in rapper Plan B's feature film Ill Manors and the subsequent Ill Manors album.
A year later, his poem I Wanna Be Yours was also adapted by rock band the Arctic Monkeys for their fifth album, AM.
As well as the ears of music fans, John's punk poetry was also infiltrating the school syllabus, with a selection of his work used in the English GCSE curriculum.
But John is conflicted over his new-found audience.
"I'm in this unique position where my audience are completely pan-generational," he said.
"Obviously this is thanks in a large part to the work of the Arctic Monkeys and Plan B and it has ensured me a new generational wave of fans.
"In that sense, it couldn't have gone better."
It's the educational side he has some trouble making peace with.
"A poem is not a puzzle to be solved," he said.
"Schools are guilty of burdening poetry with such big heavy subjects, then stripping them down bit by bit 'till the magic is gone.
"It's one of the greatest shames that many people conflate poetry with war and it's because they come away from school with the idea that poetry is all about death and despair.
"In reality, poetry is a luxury to be enjoyed."
And in his time as a professional poet John has certainly enjoyed himself, living the rock 'n' roll lifestyle which saw him battle a dominating heroin addiction for many years.
But today things are bright. He has just released a new book, a collection of poetry written over several decades called The Luckiest Guy Alive and is touring a show which stops off in Aberdeen tomorrow night.
"It just seems like an accurate representation of my life at the moment," John said.
"First, there's my domestic situation, my wonderful wife and family.
"And then this other life where I walk out on stage every night.
"The Luckiest Guy Alive? I rest my case."
• John Cooper Clark is performing a selection of his poetry readings at the Tivoli Theatre in Aberdeen on Friday. For tickets, see johncooperclarke.com