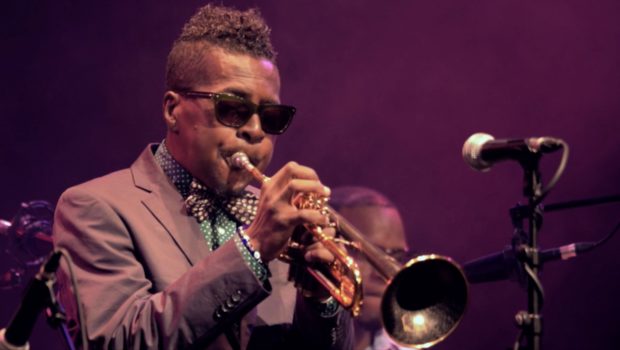 The "young master" of the jazz industry, Roy Hargrove, has died at the age of just 49.
His death last Friday was caused by cardiac arrest brought on by kidney disease, according to his manager.
Mr Hargrove, who previously toured the UK and played in several Edinburgh festivals, won two Grammys as a result of his contribution to jazz.
Born in 1969 in Texas, he attended Booker T Washington High School for the Performing and Visual Arts, which produced other successful artists such as Erykah Badu and Norah Jones.
From an early age, Mr Hargrove developed a close bond with music.
In one interview he conducted with the New York Times, he said: "My parents weren't around that much, I was pretty much in solitude."
"Originally I wanted to play the clarinet, but we didn't have any money.
"My dad had a cornet that he had bought from a pawn shop, so I just played that. And I learned to love it."
The Great Roy Hargrove. He is literally the one man horn section I hear in my head when I think about music. To watch him harmonize with himself stacking nine horn lines on mamouth 10… https://t.co/ytaw0i8RWV

— Lavondrius Meagle (@questlove) November 3, 2018
Mentored by his high school band teacher, Mr Hargrove showed his talents early and played at jazz-education festivals with his high school band, and rumors of his virtuosity spread.
When he was in 11th grade, the trumpeter Wynton Marsalis visited his high school during a tour stop and was so impressed that he invited the youngster to join him at a nearby club date, and his career skyrocketed from that point.
During his career, he released 21 albums as a soloist and provided his sound to over 50 collaborative projects, effortlessly flitting between different styles and genres.
He expertly blended his jazz with African and Latin sounds, R&B, soul, pop, funk and hip-hop and led the famed genre-melding group The RH Factor.
In 1995, with the vocalist Lezlie Harrison and the organizer Dale Fitzgerald, he founded the Jazz Gallery, a downtown venue in New York which fosters young talent and shines a light on little-known jazz musicians.
Mr Hargrove is survived by his mother, wife, daughter, and brother.
Rest in Power ?? ? #RoyHargrove pic.twitter.com/vnLZNZFwCC

— Christian Sands (@christiansands1) November 3, 2018