Get ready to enjoy the 'craic' and enjoy some Motown magic at Eden Court next week, writes Susan Welsh
If you want to forget the chills of winter, even for a few hours, then make tracks to Eden Court Theatre next week and you'll be able to surround yourself with the warm sounds of Motown and Irish folk music.
First up is The Dublin Legends, featuring Sean Cannon, Eamonn Campbell, Gerry O'Connor and Paul Watchorn, all formerly of The Dubliners, who make one of their regular and much-anticipated appearances in Inverness at the theatre on Monday, January 26.
The lads, all true legends of Irish folk music, celebrated 50
glorious years together before they suffered a major body blow with the sudden tragic death of founding member "Banjo" Barney McKenna. Quite naturally, this meant that the remaining members chose to sit down and decide
upon the band's future. John Sheahan, after 48 years of touring, decided it was time to step off the tour bus and it was agreed that The Dubliners, as a touring band, would come to an end.
But from that came The Dublin Legends, who will continue the legacy started by Ronnie Drew in 1962.
"While we were all saddened and shocked by Barney's sudden death, we decided it would have been his wish that we continued on until the end of 2012 at least. His motto had been it's too late to stop now," said Eamonn Campbell.
Do the band feel as though he's still there in spirit with them when they take to the stage, I wondered?
"Most definitely. I've even got a photo of him pasted on to my guitar," said Eamonn.
"Barney had this annoying habit of needing to use the bathroom just before we'd be due on stage, hence I still find myself sometimes looking for him in the wings.
"Ronnie had this little gem of life's three great imponderables which were: What is life? What is art? and where is Barney?" said Eamonn, laughing at the memories.
The lads are looking forward to entertaining and meeting all their old friends and fans, particularly those from the Highlands.
Eamonn said: "We're all Celts and there's always been a great affinity between the Scots and the Irish – not to mention our whiskies. To me, it's that the audiences see these guys on stage who are obviously enjoying what they're doing, no frills attached and no airs and graces. We're the same off stage as on, that's why we look forward to meeting the people after the gigs for a chat and a few photos and whatever – maybe even a wee dram."
During the show, the band will play all the classic songs and ballads known the world over, such as Whiskey in the Jar and Dirty Old Town.
"My favourite would have to be The Irish Rover, which we played on Top of the Pops with The Pogues in 1987, and it brought us to a much wider, younger audience. Favourite songs of the audience would have to be Whiskey in the Jar, The Wild Rover, Black Velvet Band and Seven Drunken Nights.
"We're really looking forward to meeting up with our fans and perhaps even winning over some new ones. Whatever your age, just treat our gigs like a Hogmanay party. Let's hear you singing and clapping along with the songs and the music, even dance if you wish. For a couple of hours at least, forget the cares of the world.
"Let your hair down and enjoy the craic," said Eamonn.
There's plenty of opportunity to dance and sing later in week, too, when Motown's Greatest Hits – How Sweet It Is takes to the stage on Thursday, January 29. Motown, The Detroit record company, founded by Berry Gordy jun, was responsible for creating a distinct style of soul and pop music and a host of legendary artists such as Stevie Wonder, The Four Tops, Jackson Five, The Isley Brothers, The Temptations, Lionel Richie, Smokey Robinson, Marvin Gaye, Edwin Starr and many, many more.
Bringing back memories of these wonderful artists is the non-stop musical show Motown's Greatest Hits – How Sweet It Is, which brings all the joy, sounds and slick choreography associated with the artists. Now in its 13th year, the show is the creation of Peter Brent and his partner Arlene Johnson. Peter, a long-time musician in his own right, not only co-produces and directs the show, but plays bass in the five-piece band that accompany the all-male cast of singers on stage, too.
"I've been a professional musician for the last 40 years and been a band leader for several years, often providing the backing for tribute bands, of which one was a Four Tops tribute show. We felt that it was such a good show that it would work well in theatres, so put a show together. We very quickly realised we didn't want it to be just about the Four Tops, but about Motown, so enlarged the repertoire, but also wanted to make it clear that we are not a tribute show – we don't pretend to be, sound or look like any other artist, but simply play a selection of music from the Motown spectrum.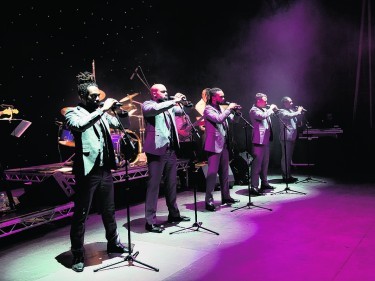 "You mention any male Motown act – Stevie Wonder, Marvin Gaye, etc – and we'll cover them. The band, The Formations, are a five-piece and each are good singers and all extremely accomplished dancers. The energy and excitement of their routines is second to none, and will leave you absolutely mesmerised."
The singers include, Martell O'Neil, a one-time backing singer for Amy Winehouse, former child model and actor who has appeared on The Bill, London's Burning and Dempsy and Makepeace, to name but a few, and Jordan King, who has worked with Edwin Starr, Damage and John Legend. Delroy Blake has had principal roles in musicals which have allowed him to combine acting, singing and dancing.
"The secret of the show's success can be put down to two things: everybody likes Motown music and everybody likes a good night out," said Peter.
"There's quite a lot of humour in it, too. We get a lot of Motown fans coming to the show. But as the band is pretty established, it attracts fans in its own right.
"Overall, this show is a live concert and a totally live experience, as we use no prerecorded tracks whatsoever, so what you see is what you get – great Motown music played as it should be, live, for that great Motown feel."
The Dublin Legends will play at Eden Court Theatre, Inverness, on Monday, January 26. Motown's Greatest Hits – How Sweet It Is is at Eden Court on Thursday, January 29. The concert starts at 8pm. Contact Eden Court on 01463 234234 or visit www.eden-court.co.uk