Take That have teamed up with director Matthew Vaughn once again, with a lead song on the soundtrack of new spy caper Kingsman: The Secret Service. Gary, Mark and Howard tell Andy Welch about being involved with the film, and why they won't be scaling back their forthcoming tour now they're a three-piece
It's Take That's first day back at work.
If you can call sitting around talking about themselves "work", of course.
"I can never bring myself to refer to what we do as work," says Gary Barlow. "Certainly not at home. This is the thing that we play around with."
He does have a point. Their current project has involved more playing around than normal.
Barlow, along with bandmates Mark Owen and Howard Donald, have a song on the soundtrack of Kingsman: The Secret Service, the spy caper starring Colin Firth, Samuel L. Jackson and newcomer Taron Egerton, that opened in cinemas recently.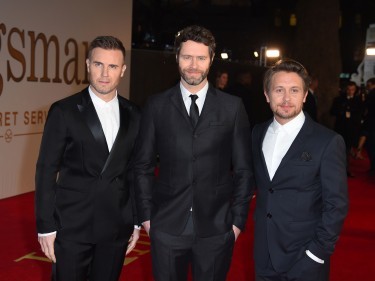 They saw the film in its rough state last May, when director Matthew Vaughn asked them, as he previously did with his other films Stardust and X-Men: First Class, if they'd like to offer a song for the soundtrack. The band agreed; their song Get Ready For It plays over Kingsman's closing credits.
"What we got from watching it was that the film was very beautifully shot, expensive looking and very dramatic, so we needed a dramatic, headline statement of a track," says Barlow, 44. "We went into the studio and came up with Get Ready For It almost straight away."
There was a nervous wait while Vaughn made his decision, and finally the song got the green light.
The accompanying video sees the Take That trio living out their spy fantasies, in the same way Firth et al do in the film.
For Owen, a bit of a film buff, appearing on a film soundtrack is something of a dream come true.
"When I get a day off, I'll go to the cinema and watch three films in a row. And I love soundtracks," says the 43-year-old, before reeling off a list of his favourites, including Cinema Paradiso ("so, so beautiful"), The Secret Life Of Walter Mitty ("really euphoric") and last year's The Fault In Our Stars ("perfectly chosen").
Barlow looks incredulous at this. "There's only one choice for best film soundtrack, isn't there?" he says, leaving the other two waiting for his answer. "It's Star Wars, hands down."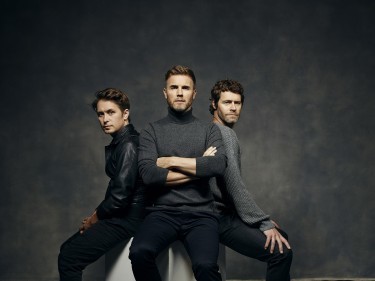 All three would be interested in writing a full soundtrack for a film, although given their schedule for the rest of 2015, if it were to happen, it's highly unlikely it would be this year.
There's the small matter of their arena tour, after all, which begins in April. Compared to their recent stadium gigs, which included, among other things, a 60ft-tall moving robot called Om, circus performers, and a giant wall of water which the band and a team of acrobats abseiled down, their tour of UK arenas is relatively small.
However, they all laugh at the thought of playing to around 10,000 people each night being called "intimate" or "small" – planning is no less challenging, they say.
"We had our first meeting this week," says Donald, 46, just days after his wedding to illustrator Katie Halil.
"We always like to go away to do our planning, all staying in a house just planning it all, set lists and things."
"It's early, really," says Barlow, "but our stage will be getting made very soon. There are only a few companies that make these stages, so we have to get in while they can do them. We have to hire the right lights, all that technical stuff. Big decisions. But it's very exciting."
On the subject of set lists, they all wince slightly, thinking about how they're going to manage to fit in all their hits.
"I suggested one giant medley, so we can do everything," says Owen, "but that didn't go down very well."
"We've nearly been together 25 years, so there are a lot of songs," adds Donald. "And for every new song we play, there has to be something left out that fans might absolutely love, so we have to get that balance just right. We've got so many songs in our catalogue, so it's very difficult."
"That's the thing that makes me proud," says Barlow. "When we sit down and write down the songs we want to play – there are just so many now. We can't play for five hours, so we have to choose, and there are so many we want to get in.
"Touring is unquestionably the best thing we do," he continues. "It's our audience in front of us, total creativity and expression on stage, no media in between us. It's the best part."
One other thing they will have to consider this time around, is what they'll do with the extra stage they'll have to fill.
Jason Orange decided to call it a day last September, releasing a statement saying: "I have spent some of the best years of my life with Take That and I'd like to thank everyone who has been a part of my journey, including my band mates, who are like brothers to me."
This news came a few months after Robbie Williams announced that he wouldn't be returning to the fold as he had done for their previous album, Progress, and resulting tour – although he did hint he might return again in the future.
While the remaining three say Orange's departure was a "huge loss", they say no concessions will be made, and fans will still get the show they always would've done.
"It's not a time to scale things back," says Barlow. "Absolutely not. Take That is a brand and people expect a big production extravaganza when they come to see us, and that's what they're going to get."
Take That's seventh album III is out now. Their song Get Ready For It features in Kingsman: The Secret Service, in cinemas now. Their tour begins on April 27 in Glasgow. For full dates, visit www.takethat.com
EXTRA TIME – BESTSELLING FILM SOUNDTRACKS
1 – The Bodyguard (Whitney Houston)
2 – Saturday Night Fever (Various)
3 – Purple Rain (Prince)
4 – Dirty Dancing (Various)
5 – Titanic (James Horner)
6 – The Lion King (Hans Zimmer/Various)
7 – Footloose (Various)
8 – Top Gun (Various)
9 – Grease (Various)
10 – Waiting To Exhale (Various)