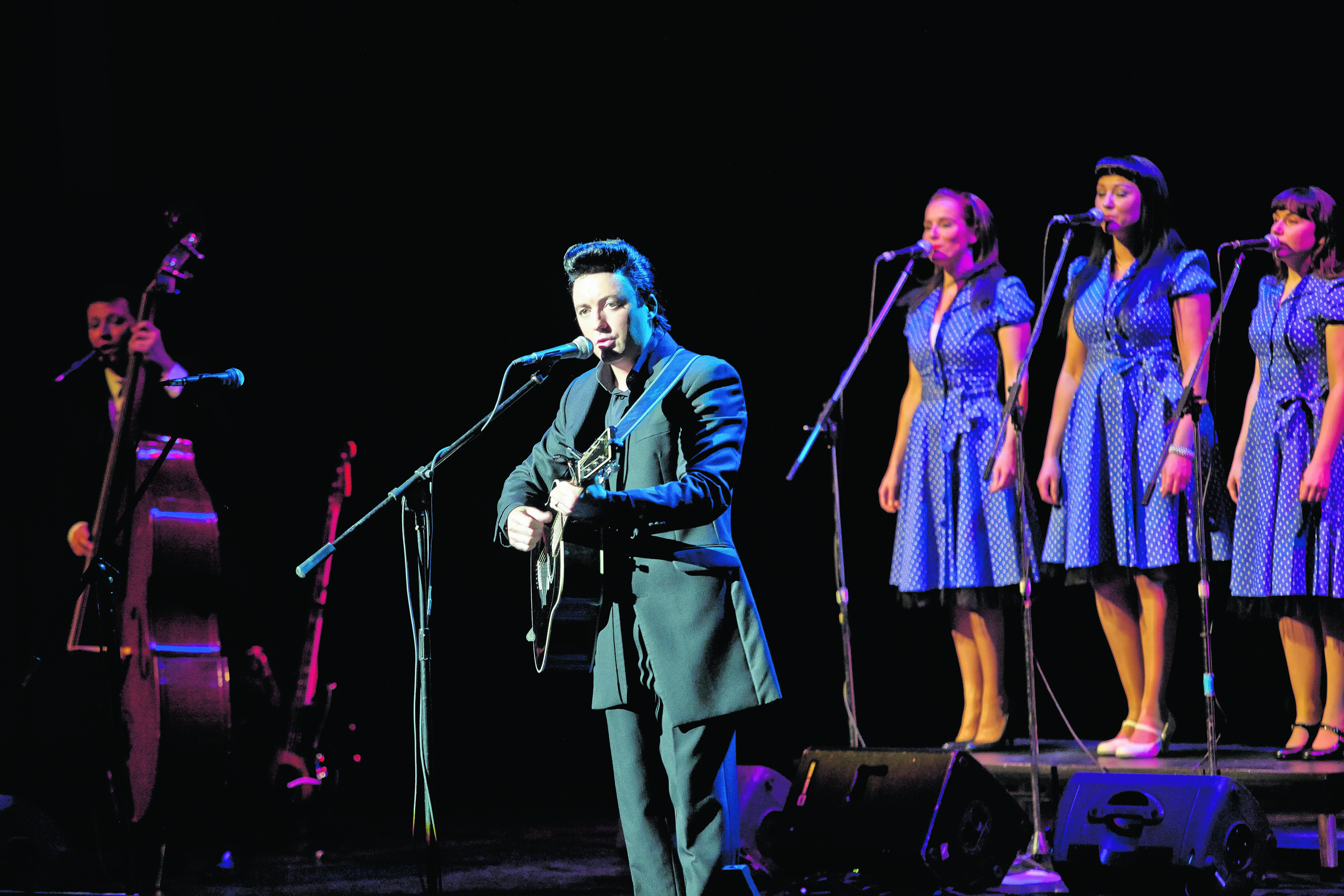 Clive John walks the line and creates an extraordinary tribute to the man in black, Johnny Cash, writes Susan Welsh
Whether you're a professional performer or an amateur stepping up
to the mic for the first time, it can be a pretty nerve-racking experience waiting to go on stage. One can only imagine, then, how nervous Clive John, who makes a living out of paying homage to Johnny Cash, felt when told that in the audience one night was one of Cash's close relatives.
"Just before I went on stage, the stage manager told me a lady with a deep southern accent, claiming to be Johnny Cash's granddaughter, had turned up and was sitting in the audience. I thought it was a wind up, but then arranged to meet her at the interval," said Clive.
"It turned out to be Caitlin, daughter of Roseanne, Johnny's eldest daughter, who is a famous singer-songwriter in her own right. When I met her at the interval, she said: 'Oh, my God, you're just like my grandpa.' I couldn't believe it and was delighted to have my photograph taken with her. She has e-mailed me several times since then and knowing that she thinks I'm doing a good tribute to her grandpa is, for me, real praise," said Clive, who stars in the Johnny Cash Roadshow which visits Eden Court Theatre, Inverness, in September and the Music Hall, Aberdeen, in November.
Having taken the UK and Europe by storm, selling out hundreds of the largest theatres and auditoriums available, the Johnny Cash Roadshow has become one of the most successful shows in Europe. It's had personal visits and endorsements from members of the Carter-Cash family and allowed Clive to share the stage with the likes of Matt Bianco, Joe Satriani, Elvis Costello and Jeff Beck, among others.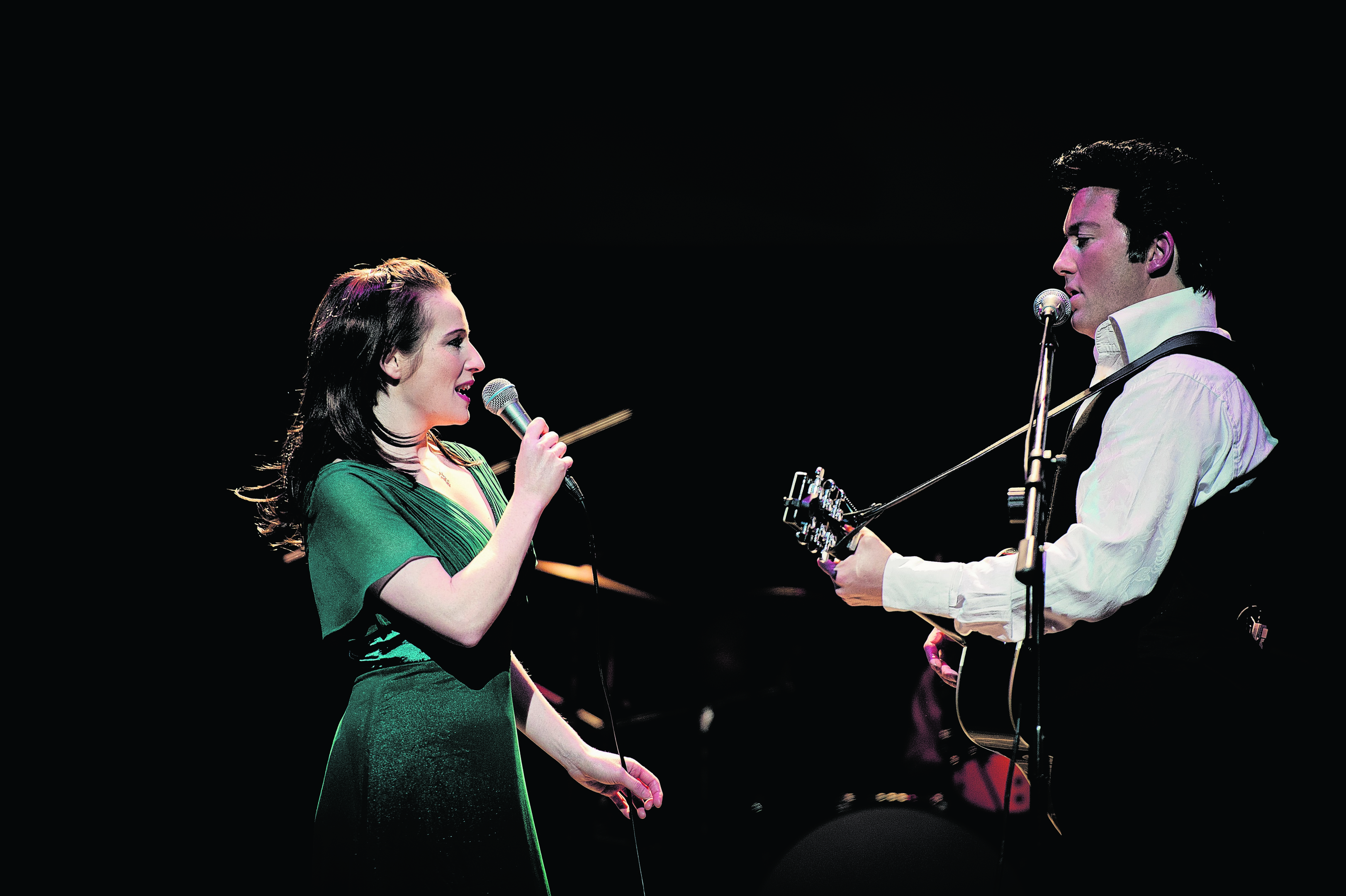 And while many of Cash's ballads tell a cracking yarn, Clive's story of how he ended up recreating the legendary American singer sounds itself a little like the sort of heartwarming tales that country songwriters love so much.
"When I was two, my hands were severely burned and the surgeon recommended that, when I was older, I learned to play the piano as a way of keeping my hands flexible. I had plastic surgery on my hands for years and, when I was five, began playing the piano. I then progressed on to the guitar and, before I knew where I was, I was seven and singing at assembly in front of the whole school," said Clive.
"I've been getting paid to sing in front of the public since I was about 14. When I was 19, I considered going to university to study to become a surveyor, but I knew I wouldn't really be happy not spending a lot of time on music, so made the decision then to become a professional musician."
Over the years, the talented singer, songwriter and multi-instrumentalist has recorded seven albums of his own material, with his last album, The Spirit, being nominated for the best British and Irish country album of the year in 2011.
"When I was a teenager and in my early 20s, my peers weren't really into country music, but more the likes of Guns N' Roses, but I really liked it. As country music became more accepted, I was able to do what I really wanted, which was play not country and western music but country music such as Garth Brooks, Kris Kristofferson and so on," said Clive, who quickly established himself as a popular musician.
Tragedy occurred when his best friend and right-hand man on the music scene died from a brain tumour when he was only 28.
"About six months before he passed away, he gave me a Johnny Cash album which I didn't really listen to until after he died, then I really got into Cash's music. I thought he had a unique sound and discovered that all the songs he sang were in a key that suited me."
Having learned more and more of his songs, Clive then put together a show in which he paid tribute to Cash. This was just after the movie Walk the Line was released, and the show went down a storm, with fans praising Clive's voice, look and his ability to make the audience feel as though they're watching the man himself. Since then, the show, which features Clive and an eight-strong group of singers and musicians, has become a must-see event for Cash fans.
"I hate the word tribute as people tend to think of tribute acts as being a bit of a cabaret act. It's also not a sort of west-end show like Buddy. A more accurate description of the show would be a celebration of his life.
"As the years have gone on, the show has got bigger and better and I've introduced visuals so each song has its own pictures or moving
images from throughout his life – from when he was a young man to the end of his life. What I do is capture the essence of him and alter my voice depending on which song I am doing. I pay my respects to each song and the man without doing an over-the-top impersonation."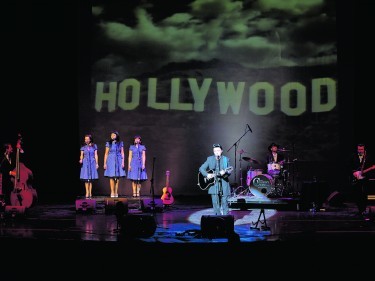 Years of constant work and development have resulted in The Johnny Cash Roadshow, a fitting celebration of the life and work of the legendary Johnny Cash. Starring Clive as the man in black, it features a full live band, brass section and the Carter Sisters, who together take audience members on a musical journey through the incredible life of the iconic singer.
And while Clive may be at pains to point out that he's not a tribute act, he's so like the real thing that Johnny's daughter has described his resemblance to her late father as "uncanny", while his granddaughter Caitlin Crowell said of his show: "This was absolutely authentic, to the point where it felt as if it weren't a tribute, per se, it was a rock'n'roll gig, given by some sincere rock'n'rollers. I am a fan."
"It's a high-energy show and, during the evening, we'll play about 40 songs, starting from the early years and including all the famous hits such as Ring of Fire, A Boy Named Sue, Folsom Prison Blues, Man In Black, One Piece at a Time, Sunday Mornin' Comin' Down, and Hurt, plus there are duets with June Carter including Jackson."
Clive also had a message for all the Cash fans in Scotland: "It's really good to be coming back again as, in Scotland, everyone is so enthusiastic about his music. I'm also looking forward to visiting Inverness as I love the fact that there's so much live music going on in the pubs there."
The show is now starting to move into festivals as well as theatres and TV at home and abroad, thanks, Clive says, to its amazing army of
fans who, like Johnny's daughter and granddaughter, can't get enough of this young man and the music of Johnny Cash.
The Johnny Cash Roadshow is at Eden Court, Inverness, on Tuesday, September 29, and the Music Hall, Aberdeen, on Friday, November 20.