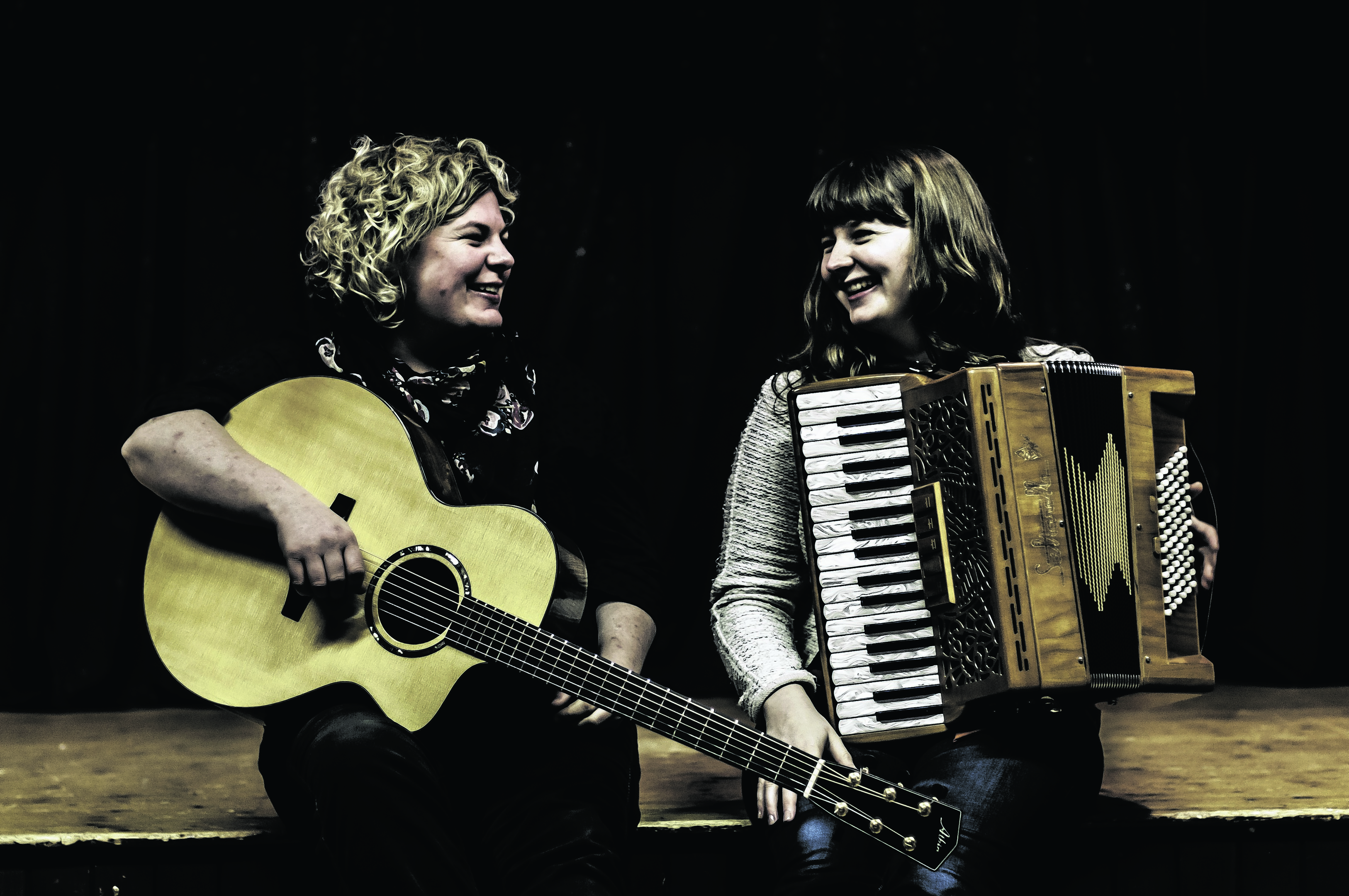 Cheryl Livingstone catches up with revered multi-instrumentalists Mairearad Green and Anna Massie as they get ready to launch their third album and embark on a 14-date UK tour
SO, CAN YOU TELL ME YOUR AGE AND WHERE YOU ARE FROM?
M: I am 31 and I'm from Achiltibuie.
A: I'm 32, from Fortrose in the Black Isle.
HOW DID YOU MEET?
A: We first met when we were around 13. My dad had gone to Achiltibuie for a meeting with Mairearad's dad. They thought it would be good for us to meet and have a tune, so my fiddle and I were deposited in the Greens' kitchen, where I proceeded to show off and play the hardest, most difficult tunes I knew. I don't think Mairearad was impressed. I remember her playing a really beautiful, sensitive waltz, and immediately realised I'd been a bit of a prat.
A few years after that, we were both involved in the McDonald's Our Town Story project at the Millennium Dome, where all the regions of the UK were invited to tell the story of their area in music, dance and drama. We were both in the Highlands team, and that's when we first performed together. From that, we formed a band called Full Tilt with Gillian Fleetwood (The Duplets), Ewan Robertson (Braebach), Hamish Napier (Nae Plans) and Fraser Stone (The Treacherous Orchestra), all of whom have also gone on to be professional musicians – a pretty amazing result from a teenage band.
FOR THOSE WHO MAYBE HAVEN'T HEARD ABOUT YOU BEFORE, CAN YOU TELL US WHAT YOU DO WITHIN THE BAND AND HOW YOU WOULD DESCRIBE YOUR MUSIC?
M: I play the accordion, the bagpipes and sing in the duo. Our music can be lively and toe-tapping; it has moments of humour and playfulness, and, on the more emotional side, there are also some songs in the set.
A: I play mainly guitar in the duo, but also fiddle and banjo, as well as singing. Our music is based largely in the tradition that we both learned while growing up in musical families in the Highlands. That's at the heart of what we do, but we also play modern tunes and have many other influences. We have great fun playing this music, and I'd hope that listeners get a sense of fun from our music.
WHAT DO YOU LOVE ABOUT PERFORMING?
M: We have lots of fun on stage and I love that people leave our gigs with a smile on their faces.
A: I love the sense of excitement that comes from being on stage. Every gig is different, because every audience is different, and every venue. At some gigs, the synergy between the two of us on stage, and with the audience, is electric. Those moments when everything just seems to click make everyone in the room feel really connected. You can't beat live entertainment for that.
DO YOU HAVE ANY HIGHLIGHT FROM YOUR 12 YEARS OF
PLAYING TOGETHER?
M: Our first gig as a duo at Leith Folk Club: it was a particularly good audience and it was exciting playing everything on stage for the first time.
A: There are so many highlights, it's hard to pick just one. I remember an early duo gig in An Tobar in Tobermory. It's one of our favourite venues, anyway, and we always love playing there. This particular night was sold out, which is always really exciting. There was one of those moments I mentioned earlier when everything just came together, and it felt just brilliant.
WHAT CAN AUDIENCE MEMBERS EXPECT FROM YOUR GIGS IN OUR AREA?
M: Pipes, banjo, guitar, accordion, fiddle
and voice – many tunes, songs, and stories, with lots of laughter in between.
CAN YOU TELL ME A BIT ABOUT BEST DAY? HOW DID IT COME ABOUT? HOW WOULD YOU DESCRIBE IT?
A: This is our third album, and follows on from the way we made the first two. Our first album was recorded live; just the two of us in the room, only two instruments on each track. For Doubling, the second album, we added to that sound by layering up instruments to create our own band. It's still just the two of us playing, but there are tracks on which we're both playing a few different instruments.
For Best Day, we've stuck with just the duo, but gone for the layering approach again. However, this is the first time we've done any singing, and the addition of songs to the album gives it that extra dimension. I really enjoyed the singing part.
Mairearad and Anna will play Woodend Barn, Banchory, on November 13, Resolis Community Arts, in the Black Isle, on November 14, and the Glen Urquhart Publi c Hall, Drumnadrochit, on November 15.