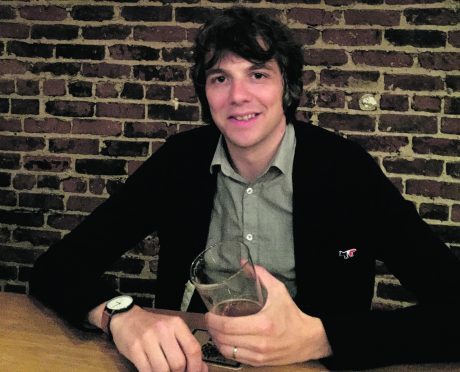 When does your weekend start?
On a Friday after work; The Little Kicks usually have band practice and that always seems a good way to start.
Perfect night in?
We have a big front room with lots of records in it so to sit listening to those with my wife, Suzanne, and friends having a few drinks and a nice takeaway.
Perfect night out?
A drink in one of my favourite Aberdeen haunts (Bar 99, Brewdog, 6 Degrees North, Tippling House, Under the Hammer) before going to see live music or a DJ.
Ideal weekend partner?
Spending time with my wife, we always try and make the most of having some time off together.
Favourite weekend shopping destination?
Stockbridge in Edinburgh, The Lanes in Brighton or Northern Quarter in Manchester.
Favourite place to walk?
Torry Battery or anywhere by the sea.
Weekend you'd love to live again?
Our wedding was very special and really flew by, so I would love the chance to do that again and see all the bits I missed.
Weekend you'd hate to live again?
The band once went to Shetland to play, but miserable weather, bad promotion and a folk festival on another island meant there was nobody around.
Perfect Sunday breakfast?
Extra-strong coffee, pineapple juice, eggs and bacon on a pancake with a banana on the side would suit me fine.
Your cure for the Sunday blues?
Going to the cinema to see a long film.
Your dream weekend (if money was no object)?
Go back to Japan and pay for all my friends and family to go with me.
Steven Milne is with the band The Little Kicks, who play Brew at the Bog, Bogbain Farm, near Inverness, on June 3-4.