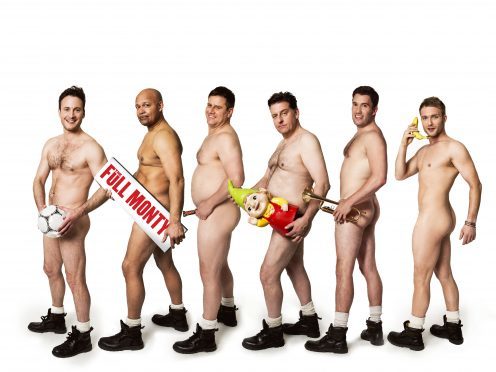 Director Jack Ryder on the stage show, The Full Monty, which arrives in Inverness next week.
TICKETS FOR THE SHOW HAVE BEEN SELLING LIKE HOTCAKES FOR MONTHS. WHEN DOES IT FINALLY ARRIVE?
Simon Beaufoy's The Full Monty arrives at Eden Court Theatre, Inverness, on Monday, October 17 and plays there until Saturday, October 22.
WHO IS IN THE SHOW?
The cast is led by Gary Lucy as Gaz, with Andrew Dunn as Gerald, Louis Emerick as Horse, Chris Fountain as Guy, Anthony Lewis is now playing the role of Lomper and Kai Owen as Dave. Also in the cast are Andrew Ashford, Adam Beresford, Pauline Fleming, William Ilkley, Jonathan McGarrity, Charlotte Powell, Jess Schofield and Fiona Skinner. The role of Nathan is shared by Reiss Ward, James Burton, Monty Poole and Felix Yates.
TELLS US ABOUT THEM.
Gary Lucy is best known for his roles as Danny Pennant in EastEnders, DS Will Fletcher in The Bill, Kyle Pascoe in Footballer's Wives and Luke Morgan in Hollyoaks, and was a past winner of Dancing on Ice.
Andrew Dunn is best known as Tony in Dinnerladies and for his regular appearances playing Alastair Campbell on Bremner, Bird and Fortune. Louis Emerick played Mick Johnson in the long-running soap Brookside and PC Walsh in the even longer-running Last of the Summer Wine. Chris Fountain played regulars Justin Burton in Hollyoaks and Tommy Duckworth in Coronation Street, and he was runner-up on Dancing on Ice. Anthony Lewis is best known as regular Marc Reynolds in Emmerdale. As a teenager, he played the title role in the children's TV series Adam's Family Tree and Scott Morris in Children's Ward, the children's TV series created by Paul Abbott and Kay Mellor. Kai Owen is best known for his portrayal of Rhys in Torchwood and recently played Pete in Hollyoaks.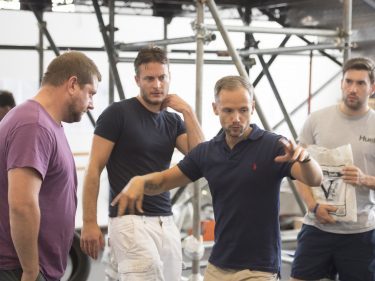 WHAT'S THE PLAY ABOUT?
In 1997, a British film about six out-of-work Sheffield steelworkers with nothing to lose, took the world by storm becoming one of the most successful British films ever made. The story still resonates today, probably more so now than ever.
Simon Beaufoy, the Oscar and BAFTA-winning writer of the film, has adapted his own screenplay for this hilarious and heartfelt stage production, which features the iconic songs from the film by Donna Summer, Hot Chocolate and Tom Jones. It's his first work for the theatre while his screen credits include The Hunger Games and Slumdog Millionaire.
WHAT MAKES THIS TALE SUCH AN ENDURING STORY?
It's the writing. Simon Beaufoy really gets that balance between comedy and heartfelt truth. You have drama and big moments and then on the next page you find hilarious comedy. He is so clever at that light and shade, and also at writing in a way that means that actors and directors connect so readily with the material that it makes the process of getting it on its feet so easy – it's all just there. And it endures because of its truth.
You can take off all the clothes in the world but if the audience hasn't been on the journey and believed every moment then it won't amount to a thing; you'll never get that incredible reaction. At that final dance they don't just think "Yay! We're at a strip show!" The audience has followed these characters and they're watching Lomper, Gaz, Dave and the boys; they're with them and they believe them.
WHAT ABOUT THAT FINAL SCENE?
My hand is extremely tight on the reigns when it comes to the cast staying in character and forgetting the audience completely. But I have cast some amazing actors and so as a director I don't have to get too mechanical; the boys bring an authenticity to the rehearsal room that is a breath of fresh air.
Many of the performances for the show are sold out but there are some tickets left. Contact Eden Court on 01463 234234 or visit www.eden-court.co.uk