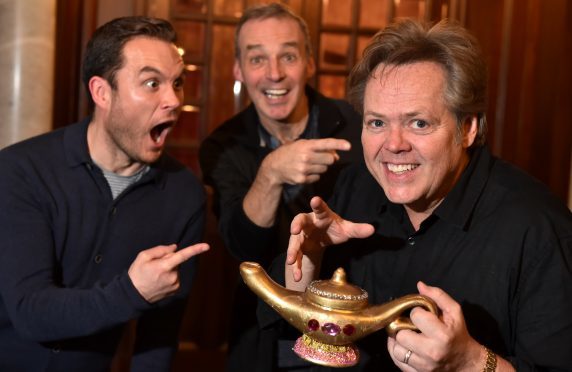 Long Haired Lover from Liverpool singer Jimmy Osmond will catch the eye of "Widow Twankey from Tillydrone" when he appears in an Aberdeen pantomime.
The pop star shot to fame alongside his singing siblings and became the youngest person to ever reach number one in the UK when he was just nine.
But he is preparing for a challenge like no other in his 50-year showbiz career when he takes to the stage to play Abanazer, an evil sorcerer, in Aladdin at His Majesty's Theatre (HMT).
The 54-year-old arrived in the Granite City from Utah yesterday, and said he was relishing the chance to ditch his "nice guy" image when he transforms into the cackling villain of the show.
He said: "These days I enjoy doing what I want to, and the crowds up here know how to party.
"It'll be fun doing something people don't expect me to, like being the baddie."
While Abanazer seeks to elicit jeers from the crowd, Jordan Young is aiming to lap up cheers as Aladdin.
The 10-year veteran of the HMT show usually provides comic relief as Buttons, and says his version of Aladdin will be a "silly" one.
As the star, Mr Osmond is taking over from actress and comedian Elaine C Smith – who bowed out after eight years of performing in the Aberdeen production.
Writer and director, and Widow Twankey actor, Alan McHugh said writing the panto without its mainstay had been a challenge.
But he believes the former Osmonds singer will offer a "breath of fresh air".
Mr McHugh said: "Jimmy is happy to have the mickey taken, and we have a parody of Long Haired Lover from Liverpool as Widow Twankey from Tillydrone."
The pantomime will begin its run on Saturday, with the final show taking place on Sunday, January 7.