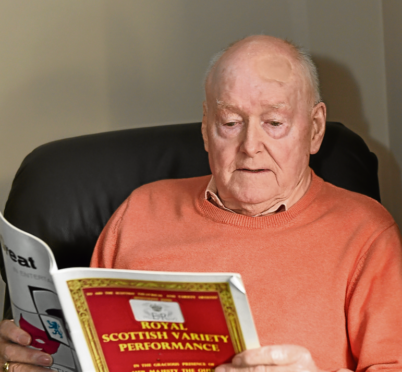 Audiences have been flocking to the cinema to see The Greatest Showman, a film inspired by the story of American showman Phineas T. Barnum, creator of the famous Barnum & Bailey Circus.
A year before the circus launched in 1871, in the quiet village of Newhills, another showman was born – James F. Donald.
He would go on to found a family business full of showmen – the Donald Dynasty – one that had connections to every person in Aberdeen.
His grandson is Herbert Donald, who, over the next two weeks, will share his memories of his unusual showbusiness life with YL readers.
Herbert was born into a family determined to provide entertainment to people from all walks of life. Director of Aberdeen's Capitol Theatre for more than 20 years, he brought some of the biggest names in showbusiness – Tina Turner, Status Quo, The Rolling Stones – north to Aberdeen.
Looking back over his remarkable career, Herbert said: "I'm from an interesting family, I have to admit.
"I was the grandson of James F. Donald. He was a successful businessman but also a great dancer and founder of the popular Donald's Dance Academy on North Silver Street.
"He entered the cinema business in 1915 and when His Majesty's Theatre was in financial trouble in 1932 and put up for auction, he bought it and saved it for the city before selling it back to the city in the 1970s.
"My father was Herbert M. Donald and he had three brothers, James R. Donald, Peter J.P. Donald, and Richard M. Donald. Every one of them was taught how to dance and was able to teach others how to dance.
"My dad was involved in the world of theatre from an early age, but he also ran an opticians in Back Wynd (now the Oxfam Bookshop).
Over the years, the family business, which was owned by all four brothers, each of whom owned 25% of the business, expanded hugely and at one point they owned an ice rink, 12 cinemas in Aberdeen including The Majestic, The Playhouse and the Queen's Cinema, as well as cinemas in Inverurie and Stonehaven.
"I liked going to the cinema but was always very keen on the theatre, especially the production side of things," said Herbert.
"That said, it was a huge thrill for me when, at the age of nine, my father took me to London for the first time, and introduced me to Laurel and Hardy."
Stan Laurel and Oliver Hardy were huge Hollywood movie stars at the time, famous for their slapstick routines. The bowler-hatted stars were regularly mobbed by thousands of fans when they visited the UK.
"My father was friendly with Stewart Cruickshank who, at the time, was a director at the London Coliseum. Laurel and Hardy were appearing there and Stewart arranged for us to attend a matinee performance then go backstage and have afternoon tea with them.
"I was pretty excited to meet them, having only seen them on the big screen prior to that. They were both really lovely and very friendly.
"I remember going back to school and telling my pals, who were pretty impressed."
Herbert said the smell of greasepaint and roar of the crowd crept under his skin from the time he was about nine.
"Between the age of nine to 15, my parents took me to London regularly to see some of the big stars and big shows of the day.
"On one occasion, during a family holiday to Bournemouth, we discovered that Lou Costello, of Abbot and Costello fame, was staying at the same hotel as us, The Palace Court Hotel.
"My father got chatting to Lou, who was a delightful chap, and we were invited to attend a birthday party he'd organised for his son who was about the same age as me.
"It was a very different experience to the birthday parties I was used to; really great fun while Lou Costello was a great host and did everything he could to make me laugh."
During these trips, Herbert always brought along his autograph book. Asking for a pic of yourself with a star was deemed rude, but requesting an autograph, fine.
"I'd a signed picture of Laurel and Hardy and my book was full of famous autographs, including those of stars who had appeared at The Beach Pavilion, in Aberdeen.
"When I was 30, I put my autograph books up for auction with Christie's. Let's just say I was very happy with the return."
During his final two years at school, Herbert spent his summer holidays working as a stagehand at the Beach Pavilion and later trained as a projectionist at the old Majestic Cinema.
At 18, he was called up for National Service and joined the Army Pay Corps. Meanwhile, his father and uncles, who now called themselves The Donald Brothers, were building up a showbusiness empire in Aberdeen.
One popular venue was the Beach Pavilion.
"They had some big stars there including Ted Ray and Julie Andrews. I first saw Julie when she was 16 in a show called Picadilly Hayride in London. Her father, Ted, and mother, Barbara, were both theatricals.
"Ted was quite a hard taskmaster but Julie was a lovely girl and you could see right from the start she had star quality.
"But the greatest performer I've seen is Danny Kaye. I saw him the night before I enlisted at the London Palladium. He sat on the front of the stage and held the audience in the palm of his hands. Everyone, including myself, was totally mesmerised."
After two enjoyable years in the forces, Herbert was demobbed in 1957, and returned to his first love, the theatre.
"I got a job with Howard and Windham in Edinburgh as assistant stage manager for the Five Past Eight revue at the King's Theatre. Stars of the show included Alex Finlay, Rikki Fulton and Kenneth McKeller.
During the day I also worked at The Howard and Wyndam stores in Roseburn, Edinburgh, building scenery and props.
"I learned a lot about theatre such as lighting and building scenery. In other words, how to make magic work.
"I even appeared on stage myself as part of the contract stated that if a star needed a fall guy or straight man for a sketch, you had to be it.
"I'd deliver the line, they'd get the laugh, but I never saw myself as an actor – it just wasn't my forte."
He then moved to the Alhambra Theatre, Glasgow, as assistant stage manager for the panto Mother Goose, starring Stanley Baxter and Duncan Macrae.
Former child star Baxter was hugely popular in Scotland. A few years later he'd go on to become one of UK's biggest TV stars, with his shows drawing in millions of viewers.
Macrae was a leading stage and screen actor who'd appeared in the classic Ealing comedy film Whisky Galore!, and the TV series Para Handy. Famous for playing "daft laddie" roles, he could deliver laugh-out-loud lines with a deadpan expression.
"Stanley was a real perfectionist, serious at times and someone who didn't suffer fools gladly. I admired him as a professional, but he could be difficult to work with.
"Duncan, a former school teacher, was a great character and there was quite a bit of competition between him and Stanley as to who could be the funniest.
"Duncan didn't like it when Stanley got big laughs. He'd come to the side of the wings and watch Stanley to see what sort of reaction he was getting and if he got a big laugh, he'd try to upstage him. I found quite a lot of artists like that.
"I remained in Glasgow throughout 1958, and following on from the panto I was promoted to stage manager of the summer revue, Five past Eight, starring Stanley Baxter, Rikki Fulton and David Hughes.
"During our run at The Alhambra, we staged the first Scottish Royal Command Performance. It was during the season that I met my future wife, Diana Taylor, who was a dancer with Lionel Blair. She was very glamorous and often appeared as principal girl in pantos.
"It was a case of love at first sight and we were married for 28 years and had two sons before we divorced in 1987."
Sixty years ago this year, Herbert answered a call from his father to return to Aberdeen and sample the family business, but it was the bright lights of London which really attracted him.
Don't miss this week's YL magazine for more stories from Herbert's life in showbusiness.