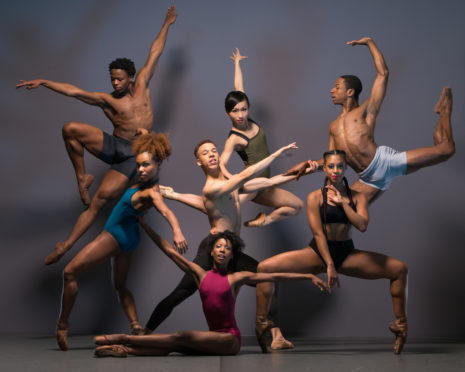 Susan Welsh saw Ballet Black at Eden Court Theatre, Inverness.
An evening at the ballet will never be the same for me.
Monday night's double bill from Ballet Black was a game changer, an evening of dance that raised standards to an impressive new high and left the audience whooping and yelling for more.
I don't think I've witnessed such a wildly enthusiastic reaction from a ballet audience before, but then this contemporary company founded in 2001 and showcasing black and Asian dancers,  aims to change the look of ballet and attract a broader audience.
The company is one of the most prolific commissioners of new work in the country.
The evening began with The Suit, co-commissioned by the Barbican and set in 1950s Sophiatown, a suburb of Johannesburg, South Africa.
Matilda (Cira Robinson) and Philemon (Jose Alves) appear to be happily married and have a comfortable routine they follow each morning before he sets off to catch the bus to work.
But having forgotten his briefcase he returns to find his wife with her lover, Simon (Mthuthuzeli November).
He quickly escapes but leaves behind his yellow suit which becomes a metaphor for her long-gone lover. She tries to rebuild her life, but the suit is always present causing her to feel shame, resulting in tragic consequences.
The dancing was simply superb.
At times sultry and sensuous; dramatic, graceful and athletic. You simply couldn't take your eyes off the stage for one minute.
It was hard to imagine anything bettering this but the second ballet, A Dream Within A Midsummer Night's Dream, succeeded.
An adaptation or imagining inspired by Shakespeare's tale, it took a traditional route to start, with tutu-wearing dancers gracefully performing to Handel's superb, Sarabande Keyboard Suite in D Minor.
But they took a road less familiar when a character, a sort of cross between Shakespeare's Puck and a punk boy scout with green hair and beard appeared, and using glitter, cast a spell over the dancers.
With a tremendous soundtrack that included Eartha Kitt's Let's Do it; Lilac Wine sung by Jeff Buckley and a sultry version of Bewitched, Bothered and Bewildered by Barbara Streisand, the dancers were transported to a mysterious forest-like setting where the naughty scout created all sorts of mayhem.
Dramatic, moving and very funny a times, it allowed the dancers to show off their immense skills, strength and poise.
My reaction was the same as everyone around me – we were simply blown away by this superb company of dancers.
If they were here for another night, I'd go and see them again.
The next performance takes place at the Tramway Glasgow on Friday, June 8.
Hopefully they'll return to the Highlands again soon.