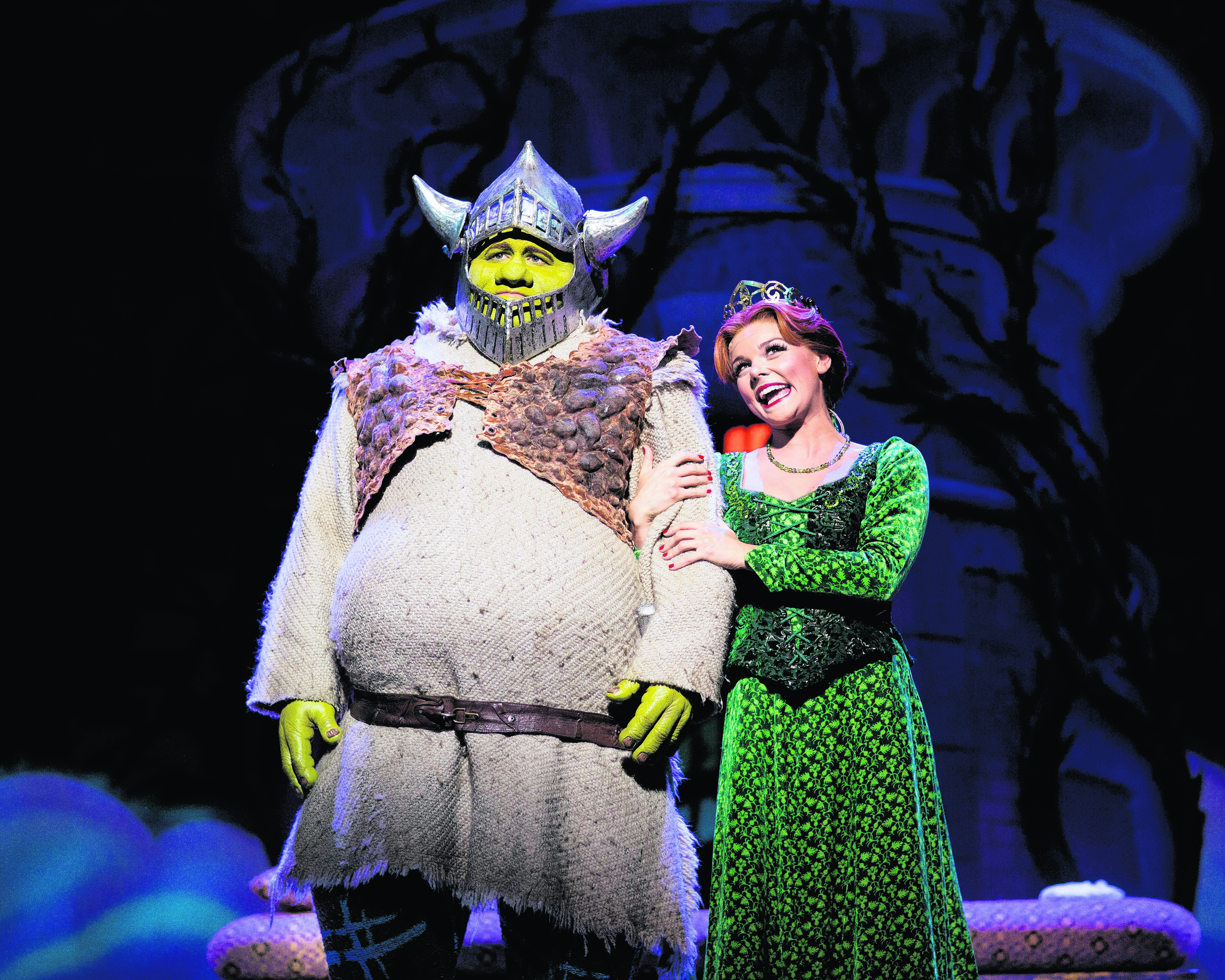 The slate is green and clean for Dean Chisnall. The musical actor tells Andrew Youngson about finding his inner Shrek
For Lancashire-born performer Dean Chisnall, adopting a Scottish accent on stage hasn't actually been a problem. In the four years he's been playing the role of Shrek – the distinctly un-jolly green ogre – first in the London musical production and now on the UK tour, the Scots brogue has come quite naturally. In fact, his forthcoming run in Aberdeen is the first time he's had any concerns about it.
"I've got to say, I'm slightly nervous. This is the first venture into Scotland with the show, so I'm slightly panicking that I'm going to be jumped for my accent," said the 32-year-old musical actor.
"The important thing to remember is I'm not doing a Glasgow, Aberdeenshire or Edinburgh accent. It's a general Scottish one. And luckily it's an accent that I can do, he says, touching wood. But if Shrek was Welsh or Irish, I wouldn't be doing this show."
Given that his partner, fellow-musical star Jenna Lee-James – who last year performed in Rod Stewart's musical Tonight's the Night – is Glaswegian, you might think Dean would be getting some handy elocution lessons at home, but not so.
"Well, Jen has a Scottish accent when she goes home, but, when she's in London, she doesn't any more, which is very bizarre, and I give her hellish grief for it. John Barrowman has the same problem."
Accent aside, Dean has never been more comfortable as Shrek – the character first made famous globally in the 2001 Dreamworks film. Like the animated comedy, and the 1990 picture book which inspired it, the musical adaptation's plot follows the adventures of the unlikely hero as he treks through a fairytale landscape, with a mouthy donkey as his companion, on a quest to save a princess who probably doesn't need saving, anyway. An offbeat romantic comedy, Shrek has captured the hearts of viewers and spun out into a handful of sequels, and latterly a musical stage adaptation.
When the musical first hit London's west end from the US, Dean was among the original cast, then as one of the three little pigs. But he was soon thrust centre stage to understudy as Shrek, and latterly handed the role all to himself on the nationwide tour.
"The one thing I was so keen to bring out was the real heart and soul of this guy," Dean explained of his aims when it came to making the role his own.
"He really is a very nice, friendly, heartfelt ogre and sometimes that gets lost in translation. And that's because we first see him when Donkey is annoying the hell out of him and so he's a real grumpy git. But when you strip it all down, it's a love story and the heart and soul of this guy is so important to the whole piece, just as it was for the movie."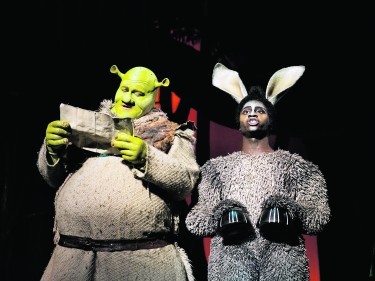 Taking the show on the road for this Nigel Harman-directed tour had presented opportunities to fine-tune the production, Dean said. But to do that, he understood he would need to "leave the baggage" from the west-end show behind.
"I was a bit worried about it when I went into rehearsals for the tour in June. But it has allowed us to find the real detail we didn't get to do before. While I tried to make the role my own in London, there was a model there from day one, whereas this is a clean slate. And it's now a much tighter, slicker and funnier show than it was before, and that's no disrespect to anybody who has gone before," he said.
Audiences at the three-week run in Aberdeen can expect everything they loved about the movie, from the spectacle to the comedy and great musical numbers – the majority of which have been written especially for the show, but with a healthy dose of The Monkees' I'm a Believer for movie purists.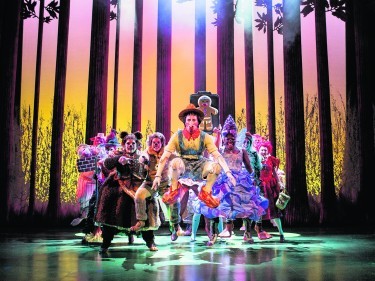 Behind the scenes, it's a huge, technically complicated production, but, thanks to the aforementioned slickness, audiences are kept blissfully unaware. Take Dean's make-up and costume: it takes up to three hours to get greened-up ready for the stage.
"You get used to it," he shrugged.
"The first few times I got into it, which is four years ago now, I didn't know what was going on. But thankfully, I'm not a claustrophobic person."
And with eight performances each week, it's just as well he has developed the zen-like frame of mind for the job, and that his fitness levels are so high.
"The gym membership has gone out of the window. I mean, I go onstage at 7pm, and leave at 9.30pm and between that time I've drunk seven or eight litres of water. You're just losing fluids and salt all the time, so you have to be careful what you're replacing it with – not just water, but salts and sugary energy drinks as well."
Not that he complains. When I asked the slightly twee question of what his happily ever after looks like, he glowed about his chance to star as the grumpy ogre.
"There aren't many bigger roles than this at the moment. I'm living the dream. As pathetic as that sounds, it's really true. This is a bizarre and wonderful way to make a living."
Shrek the Musical will run at HM Theatre, Aberdeen, from Wednesday, January 21, to Sunday, February 8. Show times include evening performances Wednesdays to Saturdays at 7pm, 2pm matinees on Thursdays and Saturdays, and performances on Sundays at 11am and 3pm. Tickets are available from www.aberdeenperformingarts.com or by calling 01224 641122.