ADVERTISING FEATURE
Barbara Landis, artistic director of Chamber Opera Chicago, found Jane Austen's language so perfect that it begged to be adapted to theatrical lyrics.
The newly adapted original musical of Jane Austen's Persuasion, which first premiered at the Athenaeum Theatre in Chicago in 2011 and has been touring domestically and internationally since 2013, is set to open at the Tivoli Theatre in Aberdeen for one night only on July 31, before heading to this year's Edinburgh Festival Fringe on August 6-9.
Chamber Opera Chicago is a professional not-for-profit opera company devoted to making great opera and musicals affordable, presenting them in English in intimate settings and providing performance opportunities for Chicago-area singers. The Chamber Opera Chicago Orchestra is distinguished by first-rate conductors and orchestral players and has been highly praised by both critics and audience members alike. With award-winning designers and acclaimed directors from around the world, audiences can expect high-quality, innovative productions that bring opera to life.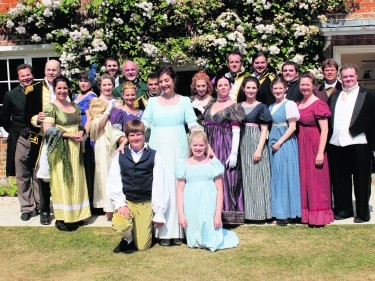 Austen's text is set to music culled from the period. Susan Hall, reviewer from Berkshire Fine Arts, writes of the show: "The music of composers from many different genres is woven so skilfully that it seems of a piece. Most successful musicals, from operas to rock, come through the sensibility of one person. This is Landis's show, even if she has used Jane Austen's story, Persuasion, and the music of Corelli, Haydn and an interpolation of Beethoven, as well as Scottish tunes Austen is known to have admired."
The performance timeline begins with Austen recounting her story to a niece and nephew, and then as Anne Elliot, the protagonist of Persuasion. Anne has rejected a proposal of marriage from the one man she truly loved, Captain Frederick Wentworth. She was persuaded by her godmother that Captain Wentworth was unworthy, but, after a separation of almost a decade, he returns from sea with both rank and fortune. The tables have turned; Anne is nearly an old maid, and her once-rich family is on the verge of bankruptcy.
Can Anne win him back? Can he forgive her for breaking off their engagement rather than following her heart? And can their lost love be rekindled?
One of the most powerful love stories ever written, this authentic rendering of Jane Austen's novel will transport you back in time.
This widely acclaimed stage production features stage direction by Nick Sandys (British director/actor, Metropolitan Opera, Lyric Opera of Chicago) assisted by Kyle Dougan, musical direction by Nyela Basney, choreography by Sara Stewart Schumann, projected scenery design by John Boesche and costuming by Emily Nelson.
Chamber Opera Chicago's adaptation of Persuasion has often been compared to an operetta in the style of Gilbert and Sullivan. Add to that over 30 singers and a 10-piece chamber orchestra, Regency costumes, beautiful projected scenery, and world-champion Irish dancers from the Trinity Irish Dance Company, and you have an evening of spectacular entertainment.
For tickets and more information, go to www.chamberoperachicago.org