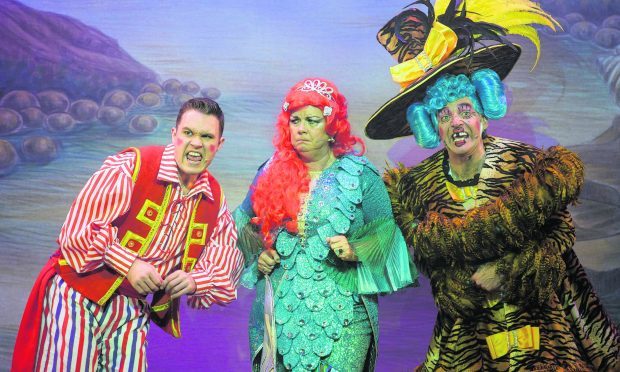 It's Peter Pan like you've never seen it before. Cheryl Livingstone joins Elaine C. Smith, Alan McHugh and Jordan Young as they once again bring festive joy to the north-east
Taking on 100 little Tom Hardys would be like getting mugged by a bunch of Glasgow school kids on the way home. They would kill us. Whereas with a duck, you have the opportunity of pulling out its feathers and doing things to it. Oh God I am going to have nightmares about this now."
This was Alan McHugh's – aka Dame Maggie Celeste in this year's Aberdeen panto of choice, Peter Pan – answer to my question, would you rather fight a Tom Hardy-sized duck or 100 duck-sized Tom Hardys?
I hadn't planned on asking it, but at the end of my interview with
Alan and fellow cast member and panto regular Jordan Young, the "dame" asked me to think of a question on the spot – and this is what I came up with.
"I think you'd get overpowered by the 100 wee Tom Hardys," Jordan, who plays Smee in the swashbuckling adventure story, added.
"Every time you get rid of one, there would be another one on you. It would just be too much."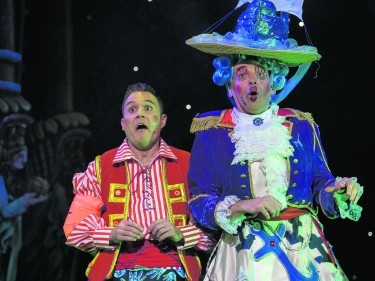 I met Alan and Jordan at Aberdeen's HMT as rehearsals were beginning to get under way for the festive extravaganza. The pair are regular faces on the north-east panto scene and this year they will once again pick up their roles as "dame" and "daft wee boy", as Jordan described it.
"They get us back on the strength that if it's not broke, don't fix it," Alan, who also wrote the script, said.
"We're good pals in real life. We stay close to each other in Glasgow so there's no escape."
Having started writing the script back in March, Alan said the show audiences started going to see last week is around 60% of the very first draft. Since then, topical jokes and local humour have been added in as well as suggestions from the cast – which also includes panto queen Elaine C. Smith as the magical mermaid.
Alan said: "You've got your traditional story, you'll always have your Tiger Lily and Tinkerbell, those kind of characters, but it's what we do with that traditional story to put a north-east twist on it and make it fresh and funny. So my job is a mix of giving people the story that they know so they've got something to hang on to but put a funny, fresh and local twist on it."
The story is now in the hands of director Nick Winston, but Alan said he isn't protective of the work. In fact, he is the complete opposite.
"I am not precious at all. Because I've been living with the script for six months I can't wait to hand over to the director and a bunch of actors to get their input into it. The suggestions these guys put into it only improve it," he added.
Jordan, meanwhile, will be reuniting with a role he played almost seven years ago and said it is a character "he loves to play".
He added: "My Smee is just a dafty, a daft wee boy. He's silly, up to no good, lots of jokes. It's not a nuanced performance, I think you could say big broad brushstrokes, he's not layered."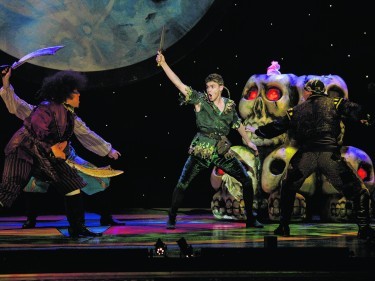 Last year, the famous trio entertained crowds with their tale of Beauty and the Beast, with the panto queen Elaine giving a particularly memorable performance – including her take on Miley Cyrus' Wrecking Ball.
Elaine, who came up with the idea herself to include the stunt in the show, said she had "despaired" when she first saw the young singer perform the stunt.
"I just thought, oh is that the only way women can actually get, particular female musicians, attention for themselves?" she said.
"You are either a wee girl as Miley Cyrus was or you re-invent yourself into an outrageous sex machine. And in actual fact, neither gets you taken seriously. The industry don't take you seriously.
"I really do despair at really, really talented women feeling that what they have to do is dress like a hooker. So that's what was going through my head as I watched it and then I thought that'd be great to take the Mickey out of because the wrecking ball was just so recognisable."
It is one of the most talked about parts of last year's show but Elaine said she isn't feeling the pressure to top it this year.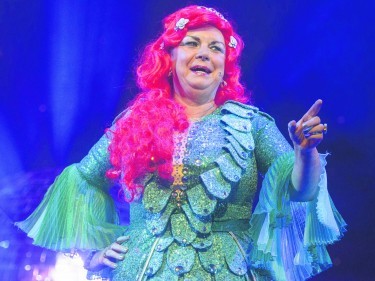 "Therein lies destruction if you start saying, we have to make it better," she said.
"No, you just have to make a good show. And because last year's was so good, I said maybe I'll have a year off. I don't know how to make this better. But then February came around and I started thinking about ideas and what we could do. What you want is people going out saying that was a good show, I had a great night."
And from what I've been told is included in the show, it sounds like people will definitely leave the theatre with a smile on their face. Elaine will appear in a number of different guises throughout the night from Bruno Mars to a particular Star Wars character. But would one of her most memorable on-screen characters ever make an appearance?
"No I just think it's cheap and Ian Paterson, the writer of Rab C. Nesbitt, created it and it would be up to him," she added.
"I remember years ago a director wanted me to come on to the Nesbitt theme song and I said absolutely not. I think it's tacky, I don't mean Mary Doll isn't, but I think the shows have got to stand on their own. It would worry me if you have got to come on in a panto as the character you are known as on TV.
"I've been really lucky in that people know me as me and I think they want that."
Peter Pan is on at His Majesty's Theatre in Aberdeen until January 3.