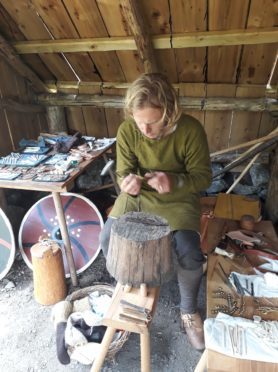 An opportunity to explore and delve into the history and making of medieval coins is to take place in the Highlands.
The exhibition and workshop will take place next Saturday between 11am and 3pm in the Inverness Library with living history specialist Stuart Strong delivering his expertise to show how medieval craftsmen made coins, with particular emphasis on a coin issued by Alexander III in Inverness.
Susan Kruse, of Archaeology for Communities in the Highlands (ARCH), the organisers of the event, said: "We're really looking forward to Stuart's visit. Other workshops in the series have shown how exciting it can be to have a craftsperson who also knows about the historical finds and context. It makes us look at objects in a new way and appreciate the skills their creators had.
"Where did they get their raw materials? Where might they learn their skills? How long would a die last before it needed to be replaced? How did they manage to make the coins so similar to each? How close in weight could they make them – or did this not matter? Where did coins circulate once they were issued and what was their worth?
"I'm looking forward to this afternoon where Stuart will address a number of these issues – and offer us a chance to have a go at striking a coin or two."
The event is aimed at the whole family and is free to attend.
Inverness acted as a frontier area in many ways during the medieval period, however; it is only during the reign of Alexander III between 1249 and 1286 that coins which were minted in Inverness are found.
Mr Strong has had a special die of one of these coins made for use during the workshop, where an opportunity to see how the coins were made – and construct your own – will be available.
The event is the part of a monthly series organised by ARCH with funding for the events secured from Historic Environment Scotland and the Heritage Lottery Fund.