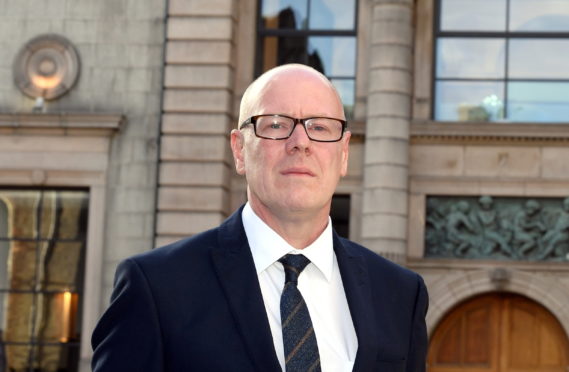 The revamped Aberdeen Art Gallery will host the UK's largest touring exhibition of contemporary works when its much delayed reopening finally takes place.
The historic building was closed for a £30 million refurbishment in 2015, with the work expected to be completed last year.
However, last week it emerged that the venue would not be open to the public again until the end of next year – prompting a flurry of complaints.
Yesterday, the beleaguered project received a boost when it was announced that the gallery would be the only one in Scotland to host the British Art Show 9 when it tours in the coming years.
The exhibition will open in Manchester in 2020 before moving to Wolverhampton, Aberdeen and Plymouth.
Aberdeen City Council's culture spokeswoman, Marie Boulton, yesterday argued that the costly revamp was already proving its worth.
She said: "The gallery will reopen in 2019 following a once-in-a-lifetime redevelopment project, which is making our Grade-A-listed building fit for purpose, allowing us to bring the best and most exciting exhibitions from around the world to the city.
"This project will bring hundreds of thousands of visitors to Aberdeen."
The show, which is staged every five years by Hayward Gallery Touring, attracted more than 300,000 people during its last tour, between 2015 and 2017.
Hayward Gallery director, Ralph Rugoff, said: "We are very excited to be taking the latest edition of this landmark Hayward Gallery Touring show to four exciting cities across the UK."
The council stressed that construction works at the building will finish in the coming weeks, but said an "extensive fit-out" was required to prepare for the return of its collections.
Aberdeen Central MSP, Kevin Stewart, said it was fortunate that arts organisations were willing to place their trust in the venue.
He said: "It is incredibly lucky that, despite numerous delays and cost overruns, there are still art shows looking to come to Aberdeen Art Gallery – even if they are around three years from now.
"I sincerely hope the art gallery is thriving by then because at this moment in time Aberdeen City Council have still not confirmed how many staff it has lost in this overrun and over-budget refurbishment, which they have had numerous unspecified issues with."
Mr Stewart has now written to the council's chief executive seeking answers on the reasons behind the setbacks and the increase in costs they have caused.