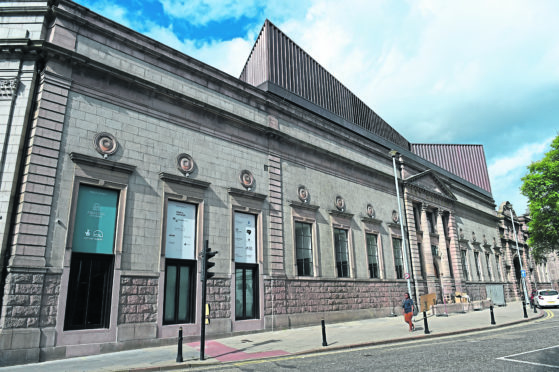 The multi-million-pound construction work on Aberdeen's long-awaited art gallery refurbishment is "nearing completion".
And a new report has revealed that the city's most cherished art treasures will start being re-installed from the middle of next month.
The council document confirms that the £30million redevelopment is on course to be finished by the autumn.
The massive project, which includes the likes of a new copper-clad roof, new exhibition space and a glass-fronted rooftop space, has been hailed by council chiefs as a means of creating one of the "best regional galleries" in the world which will draw tourists to the city in substantial numbers.
The initiative was initially slated to open in 2017, but has suffered several delays, yet the latest report to councillors underlines the project is close to fruition.
And the gallery unveiling will be graced by 1881 painting Le Passeur (The Ferryman), by British artist William Stott, as part of a partnership with the Tate in London, which brought the work for £1.5m.
It reads: "The main construction works are nearing practical completion with only a very small number of critical outstanding actions to be closed out.
"Looking ahead and taking a positive outlook, the redevelopment fit-out programme is currently planned to commence in mid-February.
"The art gallery is therefore planned to re-open to the public in the autumn, following a comprehensive marketing and communications plan designed to generate a sense of excitement and anticipation.
"This high-impact re-opening will be enjoyed by the maximum numbers of local people, building on the strong sense of local pride in the gallery and its collections, and generating positive exposure for the council."
Opposition SNP city growth spokesman Alex Nicoll said: "It is comforting to know that, after being plagued with delays from the outset, we appear to be almost approaching the start of the end of this redevelopment saga."
Council co-leader Jenny Laing said: "We are confident the revamped gallery will rival regional galleries around the world and it will provide residents and visitors with a greater opportunity to view the city's outstanding art collection."