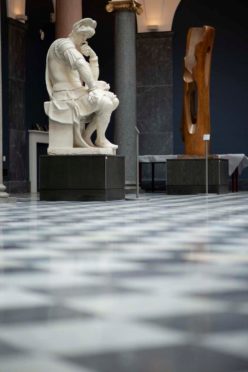 Aberdeen residents keen to get the first glimpse of the city's revamped art gallery will be able to apply for free tickets today.
The offer, which starts at 10am, will allow people the chance to explore the exhibits during special slots during the grand reopening at the start of November.
The council explained that advance bookings will be in operation to manage demand over the first two days, to "ensure the best experience for visitors".
There will be seven timed slots available on Saturday, November 2, and seven the following day.
Tickets will be available online at www.aagm.co.uk/opening but those who would prefer to book in person can reserve them at the city's libraries or at the Maritime Museum's information desk.
Those visiting will be able to take in works by artists, designers and makers such as Henry Raeburn, Joan Eardley, Samuel Peploe, Rachel McLean, Bill Gibb and James Cromar Watt, as well as nationally and internationally-acclaimed artists like Barbara Hepworth, Francis Bacon, Tracey Emin and Claude Monet.
Aberdeen Art Gallery manager, Christine Rew, said: "We're excited to get even more of Aberdeen's amazingly rich and varied collection out on public display, and to present it in a fresh and engaging way."
The £34.6 million revamp of the city centre attraction was initially planned for completion at the end of 2017 and its doors have now been closed for four years.