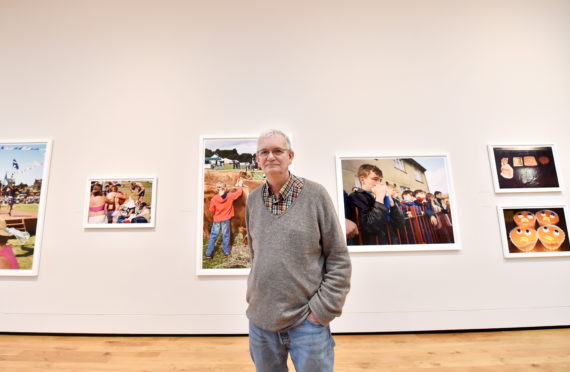 A photographer whose work will be the first to go on show in newly created space at the revamped Aberdeen Art Gallery yesterday took in the "impressive" surroundings.
Documentary photographer Martin Parr was commissioned to produce a new series on the theme of "Aberdeen at Leisure" to celebrate the venue's reopening tomorrow.
During several visits in 2017, Mr Parr snapped locals at Dons matches, in nightclubs, attending places of worship, celebrating annual events and even getting married.
Yesterday, Mr Parr returned to Aberdeen and took in the display – which has been arranged on the newly created gallery on the top floor.
He said: "I'm impressed, I've walked in today and seen the gallery for the first time.
"It's an amazing new space and, of course, this floor didn't exist before."
Some of the exhibition features events which dominated local news at the time, such as the saga of the Indian crew who were stuck aboard the offshore supply boat Malaviya 7 after its owners went bust.
Mr Parr added: "I am excited to share my portrait of Aberdeen with citizens who appear in it.
"There is never a better audience than the subjects themselves, who are pictured here enjoying the incredible variety of leisure of activities Aberdeen has to offer.
"We picked out the important shows, like the Highland Games and the spring flower show, and then we wove in the half-marathon.
"If you're doing Aberdeen at Leisure, you have to have these bigger events included."
When discussing one of his photographs, which shows gardener Doug Gerrard holding his prize for the heaviest onion at the Royal Horticultural Society summer show in Duthie Park, Mr Parr said he wanted to help highlight the "time" and "dedication" that goes into the hobby.
He added: "I just love the idea of these growers, who contribute things to these agriculture shows.
"I know growing an onion that size takes a lot of time, effort, concentration and dedication.
"It's therefore the kind of thing I like to illustrate in my pictures."
Another display, entitled Think of Scotland, explores leisure, landscape, food and community as Mr Parr visited locations across the country over a span of 25 years.
Mr Parr, who is from the south of England, has won fans across the globe with his work.
Public access to the gallery this weekend will be for ticket holders only, with more than 5,500 visitors expected.
Regular opening times will be from 10am to 5pm Monday to Saturday. and from 11am to 4pm on a Sunday.