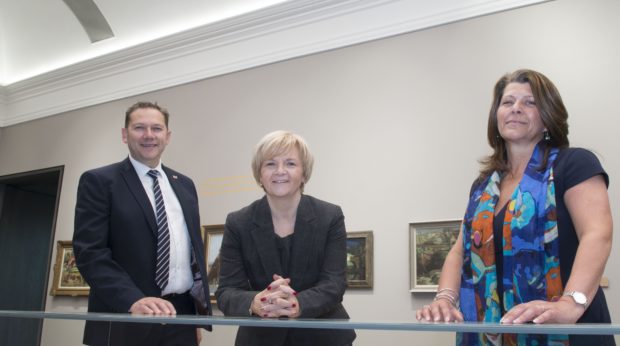 Aberdeen council's co-leader has demanded the First Minister "apologise" to the city's residents as a bitter row over the funding of the multi-million pound art gallery renovation deepened.
Nicola Sturgeon has been accused of misleading parliament after she chastised city leaders and politicians this week, telling Holyrood the council had failed to apply for any Government funding for the project.
But yesterday Conservative council co-leader Douglas Lumsden said that was "simply not true" as he produced letters dating back to 2016 requesting £1.6 million in support.
The revamped Aberdeen Art Gallery will open fully to the public on Monday following a four-year, £34.6 million project which added a new floor, copper-clad roof and six galleries.
It's hoped it will have a "transformative" impact on the city's arts sector and help draw visitors from around the world to the north-east.
But as city leaders look to plug a gap in the funding for the project, they have complained they received no Scottish Government support for the venture – despite the significant Holyrood funding afforded to Dundee's V&A design museum.
At First Minister's questions at parliament this week, Nicola Sturgeon rubbished those claims, delivering a withering put-down to a question from north-east Conservative MSP Tom Mason on the issue and comments earlier this week from others such as council co-leader Jenny Laing.
Ms Sturgeon said: "Let me set the record straight. During the planning or business case phase, no approach was made by Aberdeen City Council to the Scottish Government, Historic Environment Scotland or Creative Scotland.
"I really do think it's a bit rich to criticise the Scottish Government for not giving funding when the council in question didn't ask us for funding."
Her comments were greeted by laughter in the Holyrood chamber, but Conservative council co-leader Douglas Lumsden said he had copious evidence such a bid had been made – more than once.
One asking The Scottish Government to match-fund a UK Government grant was rejected by culture secretary Fiona Hislop in 2016.
An earlier application for £2 million was submitted to Creative Scotland in 2013 for £2 million but this was also rejected.
Mr Lumsden said: "Once again we see the First Minister trying to mislead parliament and for this she must apologise both to parliament and the people of Aberdeen.
"We have asked for funding several times in several different ways. In 2013, the council asked for funding before construction, when still in the planning phase.
"For the First Minister to stand up in parliament and say we 'didn't ask for funding' is simply not true."
The funding formula for the gallery project has been continuously criticised from opposition leaders, while the ruling administration has also come under fire for the numerous delays.
Work began in 2015 and was due to be completed by 2017 but it is only now finished, while a public donation drive to raise £10 million towards the cost is still millions short of target.
SNP Aberdeenshire West candidate Fergus Mutch said: "While it's great to see Aberdeen Art Gallery reopen, the Tories have badly mismanaged the finances and the public will be left footing the bill."
A Scottish Government spokesperson said: "No formal funding application was made to the Scottish Government in the planning and business case stage of this project and the First Minister correctly set this out to Parliament.
"The First Minister was given information regarding Creative Scotland that it is now clear omitted an earlier application for funding, and was therefore – in this regard – inaccurate."