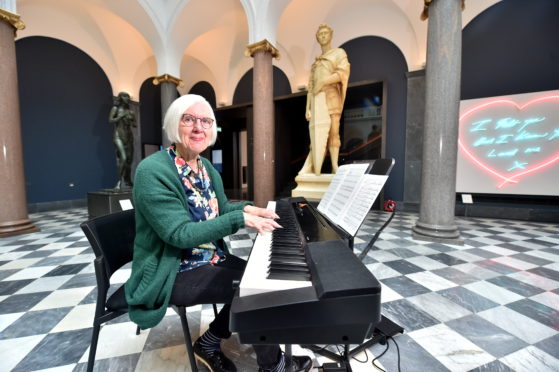 Aberdeen Art Gallery will roll out the welcome mat to more than 5,500 visitors today as it reopens to the public.
Those who managed to secure pre-booked tickets will have the chance to listen to a unique musical experience created by Judith Weir, the first woman to be appointed Master of the Queen's Music.
Ms Weir has written a piece for the public opening of the museum, which will be played over the three levels and with the help of 90 musicians.
Aberdeen's Con Anima Chamber Choir, Big Noise Torry and a variety of other individual musicians will be lending their talents.
The 65-year-old composer, whose parents both came from Aberdeenshire, said she put together Big Picture to be a "bright" and "celebratory" score.
Councillor Marie Boulton, Aberdeen City Council's culture spokesperson, said: "We promised a world class visitor attraction for Aberdeen and that is what has been delivered.
"The reopening week is an opportunity to showcase the incredible end result but also to reflect on the experiences of a once-in-a-lifetime project for all those who have been closest to it.
"It has been quite emotional to see how much the Gallery means to so many people.
From Monday, the gallery will open from 10am to 5pm, Monday to Saturday, and from 11am to 4pm on Sundays.