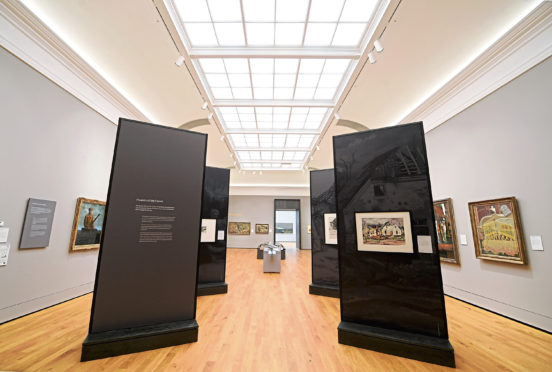 What a fabulous day for The Arts! I'm sure you will be in attendance at today's grand reopening of Aberdeen Art Gallery.
It promises to be a once-in-a-lifetime opportunity to visit when it is guaranteed to be over-filled with 5,500 jostling people – a searing metaphor for global overpopulation.
Kudos to local arts collective Aberdeen City Council, they have at last reopened the venue a mere two years late and anything up to £9 million over budget.
A tremendous situationalist arts prank, in which successive tiers of government shirk responsibility for under-funding in a Kafka-esque nightmare.
I, of course, need not attend with the hoi polloi today, as earlier this week I took an evening off from making pointed comments on social media to be at a special advance viewing.
Knowing the value of peaceful contemplation of art, I ensured I was first to arrive, so I could tour the building alone at my leisure.
And truly, it was stunning! The brutalist lines of the grey exterior may not be to everyone's taste, but within there was much to enjoy – 13 storeys worth, in fact.
Yes, it is true that the old-fashioned marble staircase has been removed, but in its place I beheld a variety of "artistic alcoves", all done up in the manner of modern studio apartments, each one ready for a "tenant" to move in, (very much in the manner of Tracey Emin) symbolising of course the commodification of art.
Spaces are also laid out as "a cafe", "a gym" and "cinema" – all empty, all full of potential, all blank canvases tantalising with the promise of future vitality.
The piece-de-resistance of the new gallery was the extension, which some have seen as controversial but which I fell in love with.
A bold, vibrant and distinctive architectural feature, taking the form of a red brick church spire, jammed right in the centre of the building, as if to say "here the traditional is nestled incongruously within the modern".
I was highly impressed, and even more so when art gallery staff appeared clad in their remodelled uniform of hard hats and fluorescent jackets, shouted at me in an incomprehensible dialect and bundled me out.
All in all an unsettling, exhilarating experience, but most of all, an artistic triumph!
Back out on the pavement I glanced up at the original building across the street and beheld a number of besuited journalists and VIPs looking down at me.
The poor befuddled fools had wandered into the wrong place. For them, I felt only pity. I wept.
Struan Metcalfe, MP for Aberdeenshire North
Now, look, let me be absolutely clear on this. The Conservative Party is either going to win this general election or it isn't. It's that simple. And I don't think I could be any clearer.
Now that Boris has had to write that blasted letter to the EU (didn't sign it though – great wheeze, statesmanlike!) and delay Brexit again, Parliament finally decided the country will have an election on December 12.
Yazooks! The Tory party line for this one is to keep things as simple as possible, as in "Do you want Jezza Corbyn as PM to ruin the country – or shall we just get Brexit done and let Boris ruin the country?" It's something like that anyway. Will swot up.
Although, I for one am none too keen on an election this side of December 25. It's bally inconvenient. December is usually a booze-fest. When else can you get rat-bottomed at lunchtime for three weeks solid?
Now it appears poor Struan is going to be expected to get sharn on his Oxfords trudging up dark farm roads in inhospitable environments – and Mintlaw – at the coldest time of the year in an effort to appeal to his constituents.
And given Boris's latest shenanigans, I fear I'll get the frostiest reception since Santa's vestibule!
Cava Kenny Cordiner, the football pundit who goes in studs up
Old Kenny has been taking a trip down memorial lane this week, seeing my old boss, the gaffer, Fergie himself, roll into town to open the Dons' new training facilities at Cormack Park.
Our relationship got a bit stained when I kept getting sent off in big games, and he stuck me in the reserves then sold me to Hearts, so I was delighted to blag an invite to the robin-cutting, to catch up and bury the ratchet.
When we arrived, we got a tour. The Dandies has named all their training pitches after club legends. I certainly never expected there to be a pitch named after Old Kenny, and there wasn't.
Anyway, Fergie done the needleful, opened the faculties, and we went inside for a look. When we found the big bath, Fergie turns around and he says: "Kenny! They should've named this bit after you. You were always the first one in it on matchday."
It's good to know that what Fergie remembers me for is my personal hygiene, instead of all that red cards. Top man!