Thousands turn up for Aberdeen Art Gallery opening following £35million redevelopment
By
Gregor Aiken
November 3, 2019, 7:00 am
Updated: November 3, 2019, 11:57 am
After a four-year closure, the Aberdeen Art Gallery reopened to the public with crowds lining up for the special occasion.
Despite the rain, visitors flocked to the historic venue to be one of the firsts inside the revamped A-listed building.
Making their way into the gallery, people were met with an impressive chorus as Aberdeen singers filled three floors as part of Judith Weir's new commission The Big Picture.
Aberdeen City Council culture spokeswoman councillor Marie Boulton said: "The redevelopment has transformed Aberdeen Art Gallery into a world class visitor attraction – and it has been brought to life today by the enthusiasm, excitement and joy of everyone who has been part of a special day."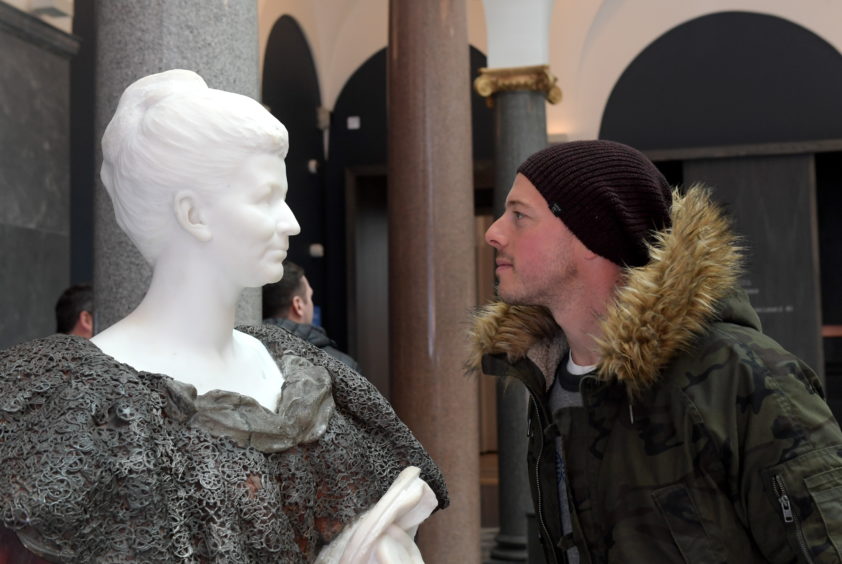 Gallery and museums manager Christine Rew, who officially opened the gallery cutting the ribbon alongside Councillor Boulton, said she was overwhelmed: "I'm feeling a mixture of all emotions. I'm just bowled over by the reception from our visitors – you can hear the noise and chat of people loving the new displays.
"I think this is really important to Aberdeen, people love their gallery and they have missed it for the past four years – it's important for Aberdonians to come back to their gallery.
"It's going to draw lots of visitors to the Granite City and it puts us on the map of must see places in Scotland."
Public access this weekend will be for ticket holders only, with the timed slots in place to ensure the best experience for visitors. From tomorrow, regular opening times will be 10am to 5pm Monday to Saturday and Sunday from 11am to 4pm. Admission is free.