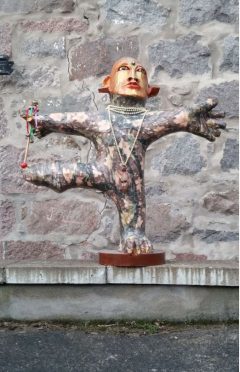 A group of north-east artists are preparing to paint a vivid picture of their own struggles with mental health.
Penumbra Art was established by charity Penumbra to encourage creativity as a means of overcoming mental health issues.
And now the north-east members are staging the Life Is Your Very Own Canvas exhibition which will illustrate their battle with illness.
Some of the artwork featured includes a collection of dragon sculptures, black and white street photography and a comic strip based around the idea of time travel.
Kenny Thom, the charity's services manager in Aberdeen, said: "It can often be difficult for a person to find something meaningful and positive when living with mental health problems and art is a hugely positive tool when trying to bridge that gap.
"The Penumbra Art group provides a supportive, encouraging and safe environment where everyone has a voice and a creative platform to express themselves.
"We have some amazing artists and you can expect to see a really eccentric collection at this exhibition, all made somewhere along each artist's road to recovery."
The week-long exhibition starts tomorrow and will be held at Seventeen on Belmont Street.
A special showcase is being held on Tuesday, featuring live music from local musician Best Girl Athlete, and a talk by art blogger, Kate Davey.
Penumbra runs a range of mental health services in the city.