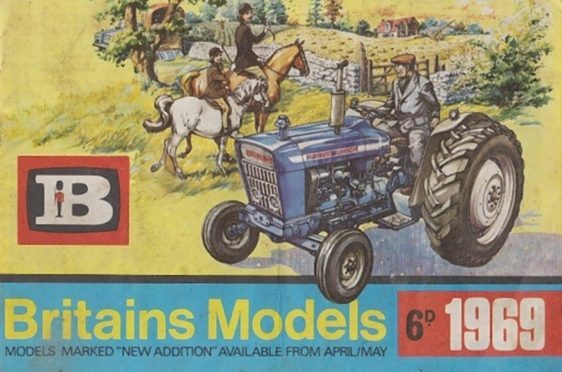 It's the time of year when little boys or girls are dreaming about getting an addition to their tractor fleet.
Perhaps dad is doing the same but unlike the little "uns" he will have to wade through piles of literature and speak to countless salesmen to build up a deal for a new tractor.
Youngsters won't have to worry about finance arrangements and the delivery date will be December 25. Mum might question the economics of financing a new toy combine for the limited acreage carpet farms in rain-free climates.
Today the choice for youngsters is fantastic and truly international, with every make of tractor and a range of implements for every crop.
Fifty years ago, just like the full size machines, it was an all British line-up. Britain's reigned supreme with a fantastic range of 1/32nd models of tractors and implements. They also offered other equipment staff, animals, buildings, trees, hedges, walls and gates plus all the little ancillary parts such as troughs, bales, sacks and milk cans to bring toy farms to life. They had chosen the scale of 1/32nd because it fitted with the size of their model soldiers which William Britain had started to make in 1893 although it is thought they began making toys in the 1850s.
In 1921 they launched the Home Farm series featuring figures, animals, hay stacks, hedges and a horse and cart. However it was not until 1948 that they released their first model tractor, a Fordson E27N, a popular model on real farms at the time.
Eleven years later they introduced their second tractor model with the new style Major, then in 1965 the Ford 5000 and in 1968 the MF 135. Britain's had cemented themselves as the company for farm toys with an accurate tractor model that had an excellent working linkage design to hitch implements. This design and scale has been accepted as the standard method with today's European manufacturers.
Not using 1/32nd scale but basing model size on an overall dimension to fit packaging were Dinky models. Roughly equating to 1/43rd scale Dinky had established die cast vehicle models in 1932/3. They were one part of that triple alliance of creator Frank Hornby's Meccano and Hornby Railway sets who introduced Dinky toys to complement railway layouts. These toys were produced at their Binns Road Factory in Liverpool which shut down in 1979. Farm animals and figures and a basic tractor based on a Fordson F were Dinky's first foray into farm miniatures.
Compared to Britain's, Dinky models were more basic but more robust. They were a bit behind the times compared to Britain's in the 1960s they were still offering a dated Massey Harris based on the 44 model from the late 1940s and a Field Marshall. They also did a Series One Land Rover but farm implements were limited to a trailer, discs, rake and dung spreader. Later in the decade they upped their game considerably with launch of two cracking David Brown 990 Implematic and Selectamatic models followed by Leyland 384 tractors.
New at this time was Corgi who had a much more modern approach. In the 1960s they offered a Fordson Power Major, a Roadless half-track version and a Massey Ferguson 65. Later in the 1960s they offered Ford 5000s with chromed plastic detailing and jewelled headlamps and the MF 165 model with a built in clicking sound when pushed along the floor to represent the engine noise.
Another manufacture from this period was Lesney who produced both the little Matchbox models and the larger King Size range which contained a Fordson Major and an International B250.
Lesney and Corgi offered combines in the 1960s, the first harvesting machines since smaller British manufacturer Charbins offered a crude tractor and binder in the 1930s. Lesney would offer a Claas Matador while Corgi launched the Massey Ferguson 780 in 1959 giving them the edge over Britain's in this department for many years.
Corgi had begun in 1956 as part of the Mettoy Company with the name chosen as manufacturing was based in Swansea. Mettoy called in the receivers in 1983 with low sales and rising costs. The Corgi name continues today with a range of collectors' lorry and bus models.